Free Bets & Promo Codes for Betfair, BETDAQ, Matchbook, and Smarkets
The free bet sign up promotions and promo codes available with sports betting exchanges match the offers and promo codes on offer with most bookmakers. In the table below we have set out the free bet offers, promo codes and promotional commission offers available when signing up to all of the top 4 betting exchanges, Betfair, BETDAQ, Matchbook, and Smarkets.
BETDAQ's promo code is a simple bet £10 get a £10 free bet offer. While Betfair's free bet offer provides a refund on losses up to £20, they also have a sportsbook promo code available, which when used fully pays out up to £100 in free bets. We have direct links to the betting exchanges promotional signup pages at the ready below.
Not only do the sports betting exchanges give out promo deals, also available are 0% commission deals for a set period, BETDAQ go on to extend this promotion offering 0% commission on a lot of markets 7 days a week, and also run a Super Saturday deal with 0% commission across all markets.
With the odds available at sports betting exchanges up to 50%-200% better than betting industry standard prices, making use of the deals listed in our table below should be an easy choice to make.
Sports Betting Exchange Signup Promo's
New Customer Promotions
BETDAQ
Betfair
Matchbook
Smarkets
Free Bets:
Bet £10
Free £10 Bet
Bet £20
Free £20 bet if you lose
Bet £10
Free £15 Bet
Bet £20
Free £10 refund on losses
Free Bets Promo Code:
BDQ10
No Betfair Promo Code Required
Matchbook15
No Smarkets Promo Code Required
Standard Commission %:
2%
2% (Basic Plan)
2%
2%
Reduced Commission %:
0% Commission
Cash Back
For 100 days
–
0% Commission For 30 Days
Reduced Commission
Promo Code:
0COMM100
COMMFREE
Casino Bonus:
50 Free Spins
Included
Sportsbook Promo:
Place 5x £10 bets to get a £20 free bet
Up to £100 in total!
Sportsbook Promo Code:
ZBBC01
Sign up Link:
Click here!
T&C's Apply, 18+ Only
Click here!
T&C's Apply, 18+ Only
Click here!
T&C's Apply, 18+ Only
Click here!
T&C's Apply, 18+ Only


Promotions for New & Existing Customers
BETDAQ
Betfair
Matchbook
Smarkets
Reduced Commission:
0%
Everything except:
Football, Horse Racing, Greyhounds & Cricket.
0% On ALL MARKETS
every Saturday.
–
Free Bets:
£5 Free Bet Per Month
(Only on 8% commission plan)
Free ACCA:
£2 Free ACCA Per Month
(Only on 8% commission plan)
Casino Bonus:
10 Free Spins Per Month
(Only on 8% commission plan)
Refund on Losses:
10% Refund on Losses
(Only on 8% commission plan)
Signup Link:
Click here!
T&C's Apply, 18+ Only
Click here!
T&C's Apply, 18+ Only
Click here!
T&C's Apply, 18+ Only
Click here!
T&C's Apply, 18+ Only
As summarised in the table above the free bets offers from Betfair, BETDAQ, Matchbook, and Smarkets rival those available at bookmakers, with in some cases 50%-200% better prices. Check the picture below from a popular odds comparison site Timeform. Pictured are the 2021 Grand National Results & Starting Prices, there is a considerable difference.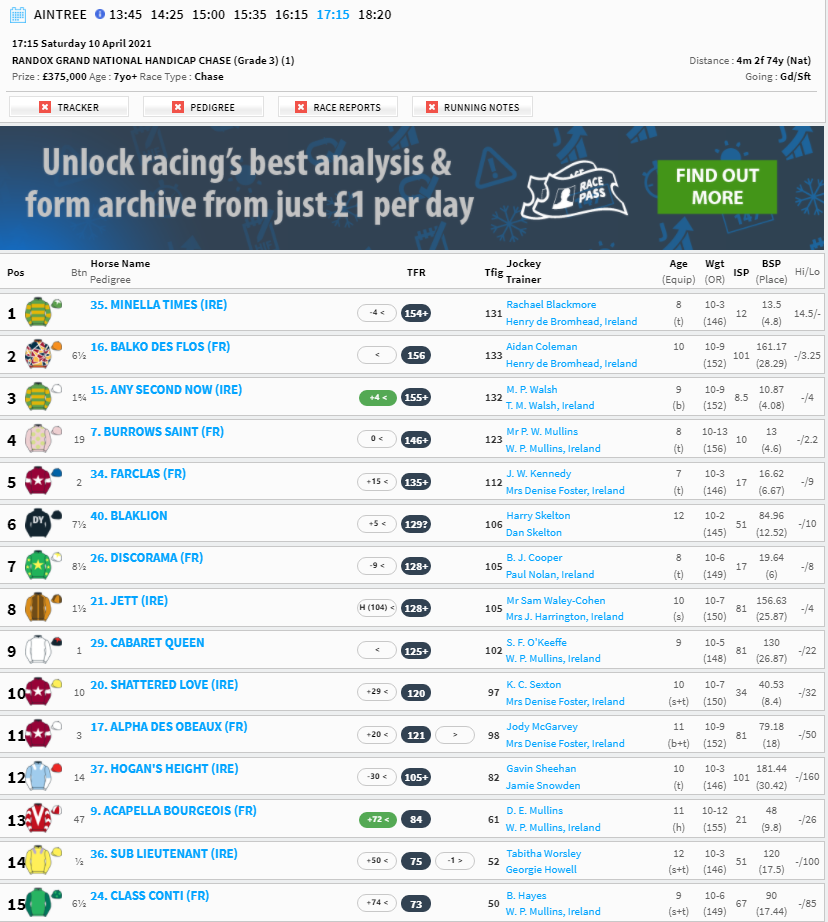 Coming in 1st was Minella Times available on sports betting exchanges at a BSP (Betfair Starting Price) of 13.5, the industry starting price (ISP) was 12.0 which after exchange commission would be slightly over a 10% better price. In 2nd was Balko Des Flos at a whopping 161.17 compared to the ISP of 101, which after exchange commission is a well over a 50% better price. Some of the runners were available at double the price, 100% better odds!
The overrounds figures for this race were, an ISP Industry Starting Price 146%, and BSP Betfair Starting Price 104.9% If you're unsure about what the overrounds figure means (the closer to 100% it is, the better the odds), check our in depth sports betting exchanges and bookmakers comparison article.
Not only do exchanges offer better odds, there are numerous online services available to the punter for live score betting, and picking out well priced winners at the races. Check our sports betting services category for more details. One of the most popular is InplayTrading, they have an interface that allows gamblers to quickly click directly through to Betfair Exchange football markets, at important points of a match. Follow the banner or check the screenshots below of the IPT interface.

Along with the better prices, sign up deals, and 0% commission offers, betting exchanges also encourage the use of betting API software. API software is applications that interface directly with the betting exchange markets. This includes sports betting bots and sports market exchange trading software. If you follow the links provided, there's detailed information on some of the API betting software available.
For a brief sports betting exchange review of the exchanges mentioned on this page, we have a summary review of the Betfair Exchange, BETDAQ, Matchbook, and Smarkets.
---
IMPORTANT NOTE: Don't forget to LIKE and FOLLOW us on the various social media channels we post updates on, also on our homepage we have a Newsletter Subscription form. Like, Follow us & join the Newsletter to be sure you don't miss a thing!
Feel free to use the social sharing buttons included on this page, they're there for your use.
Thanks for visiting TheBetMatrix.Win – We've plenty more sports betting content, available at your convenience.