Currently available for both the Betfair Exchange and BETDAQ, Gruss Betting Assistant from Gruss Software offers users an alternative, more advanced and intuitive betting exchange interface to bet on, and trade markets with.
For anyone unfamiliar with exchanges, we've a detailed guide on the differences between sports betting exchanges and sportsbooks/bookmakers.
Gruss' betting assistant software provides a betting interface which is capable of quickly flicking through multiple markets, and able to place or hedge and trade out of bets with a single click.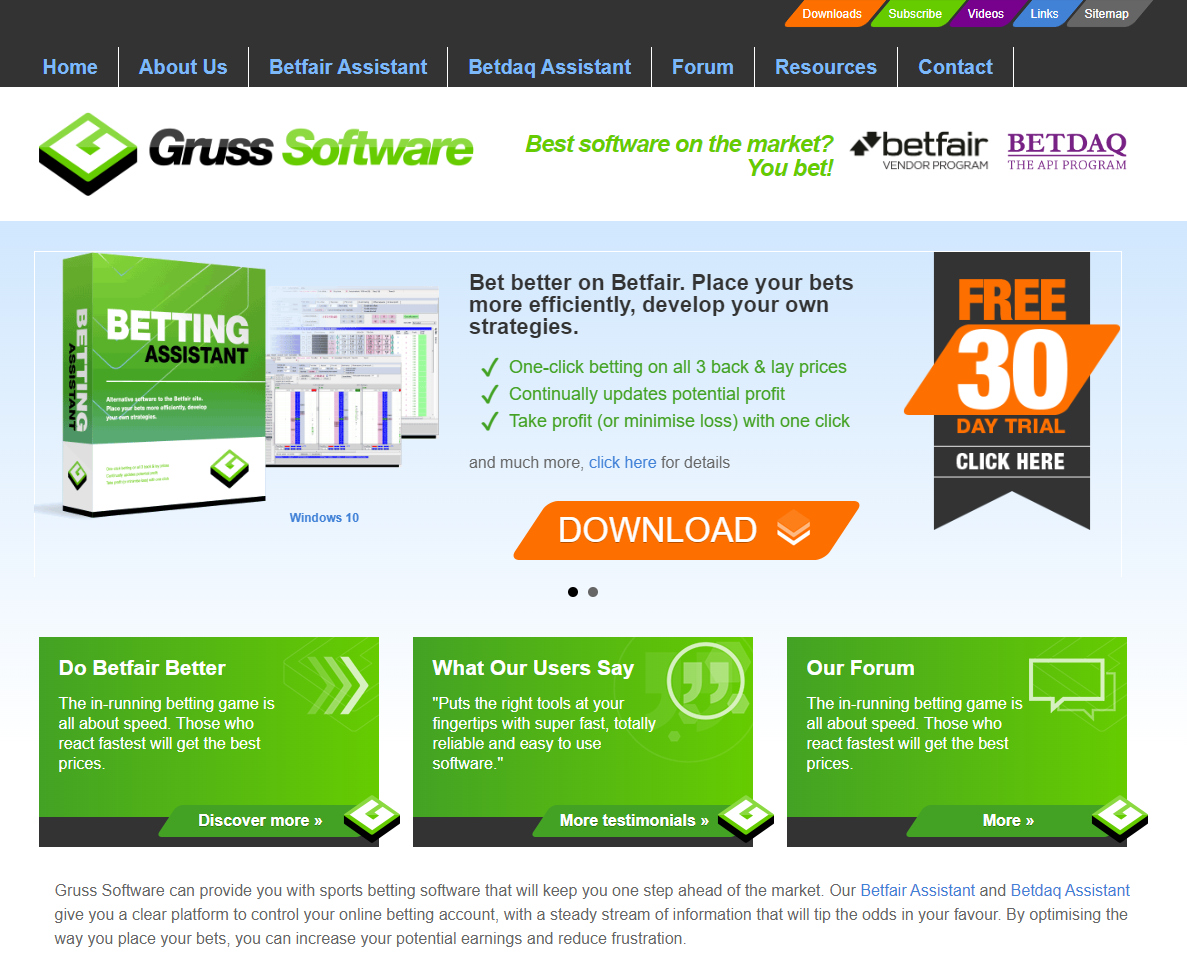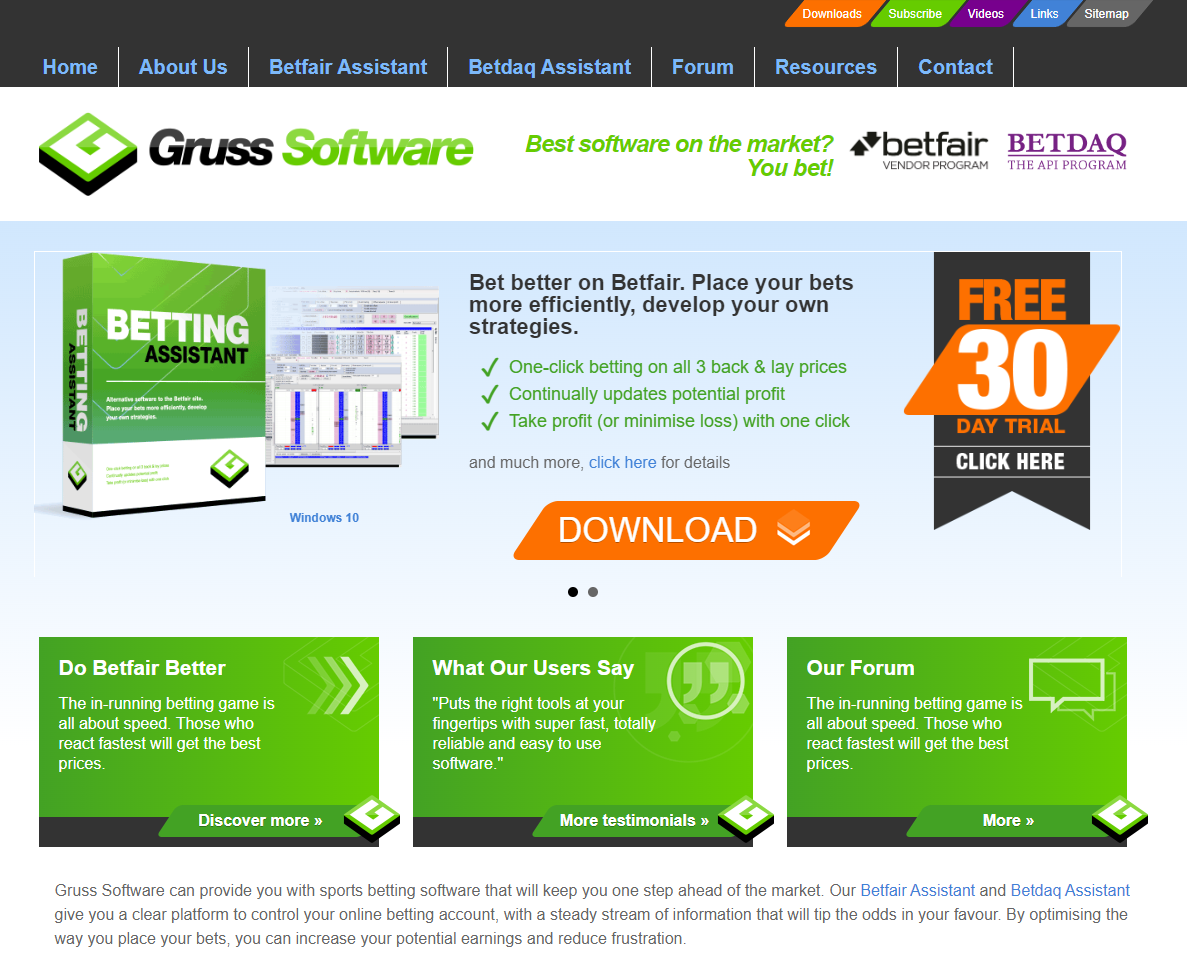 Regardless of whether you're pre-inplay or inplay betting, the advantages of using sports betting software for betting exchanges, can't be overstated. Continue reading our Gruss Betting Assistant review to find out more.
Some key features both the Betfair Exchange and BETDAQ versions offer users of the Gruss trading software are:
One-click betting on the first 3 back & lay prices

Potential profit or loss display continually updated

Hedge and trade out options to take profit (or reduce loss) with single-click

Auto calculated stakes when hedging & trading out (greening up or taking the red out)

Dutch bet facility on back and lay bets

Ladder Interface displaying full market depth

Tabbing of multiple betting markets

Tick offset bets with sliding stop loss

Gruss Excel spreadsheet triggered betting and VBA bet triggers

Betting Bot COM interface connection
With a 30 day free trial available for the Gruss Betfair Assistant, and the Gruss BETDAQ Assistant being free of charge. Gruss Software provides an ideal opportunity for anyone using betting exchanges, to try out some exchange sports betting software at no cost.
Along with the above demo video, a full suite of video tutorials are available on the Gruss Betting Assistant website under the resources/videos section, covering every aspect of the Gruss trading software.
We'll go on to provide a brief overview of the two versions of the Gruss trading software, and the key functionality and best usage, while also providing some details on Gruss betting software automation within this Gruss Betting Assistant review.
Gruss Betfair Assistant Review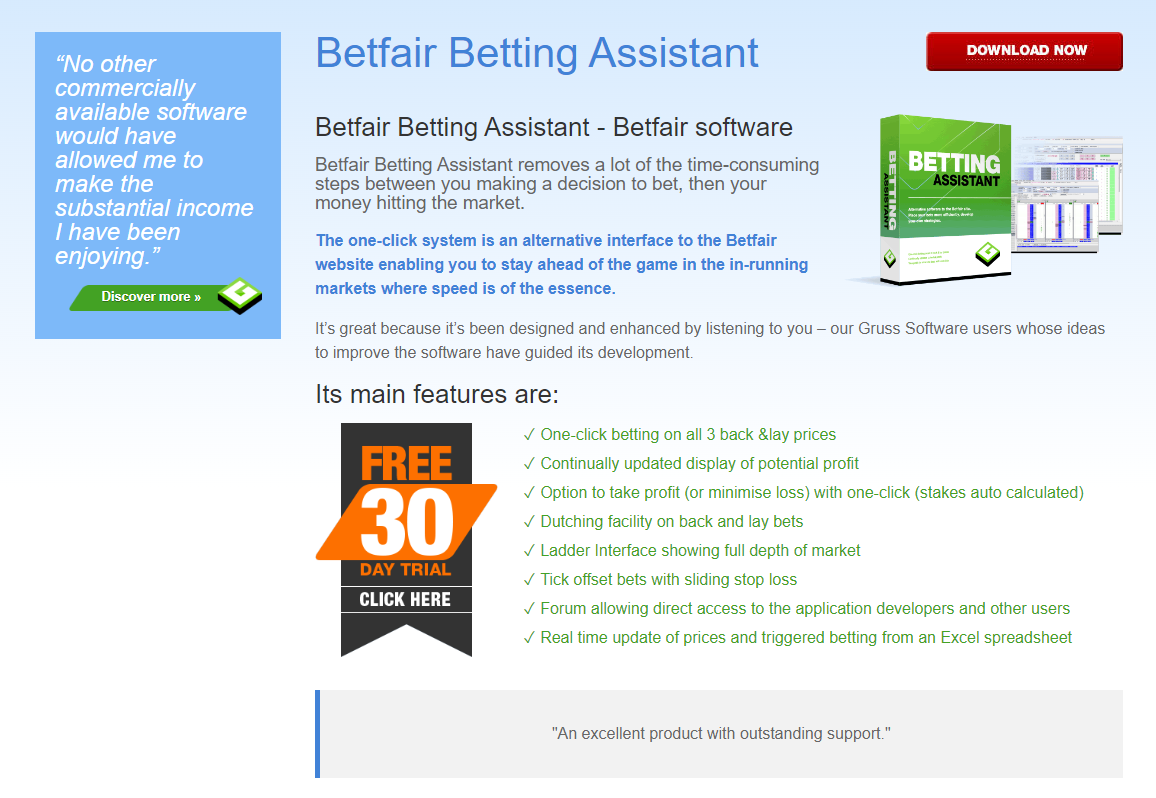 Gruss Software's showpiece is the Gruss Betfair Assistant, this is their most favoured piece of sports trading software. Largely due to the liquidity available within the Betfair Exchange for both pre-inplay and for inplay betting. As the Betfair Exchange is the largest betting exchange on the planet, this isn't surprising.
Betfair boasts excellent market liquidity for every sport A-Z, and also hosts additional betting markets for politics and special bet markets for non-sporting events such as The Oscars, Eurovision, BBC Sports Personality of the year.
While the Gruss betting software may not be as pleasing to the eye as the Betfair Exchange website itself at first glance, users will soon see the advantage of using this alternative betting exchange software to zip between markets and place bets with much more transparency and efficiency.
Gruss – 'Bet better on Betfair. Place your bets more efficiently, develop your own strategies.'
Rather than having to confirm bets, or set up hedge out bets and trade outs bets including calculating their amount manually, Gruss Betfair Assistant does all this with a single click!
The Gruss Betfair Assistant software comes at a small charge. This is paid either monthly or yearly, but as we mentioned earlier, it's available for the first 30 days completely free of charge!
Gruss BETDAQ Assistant Review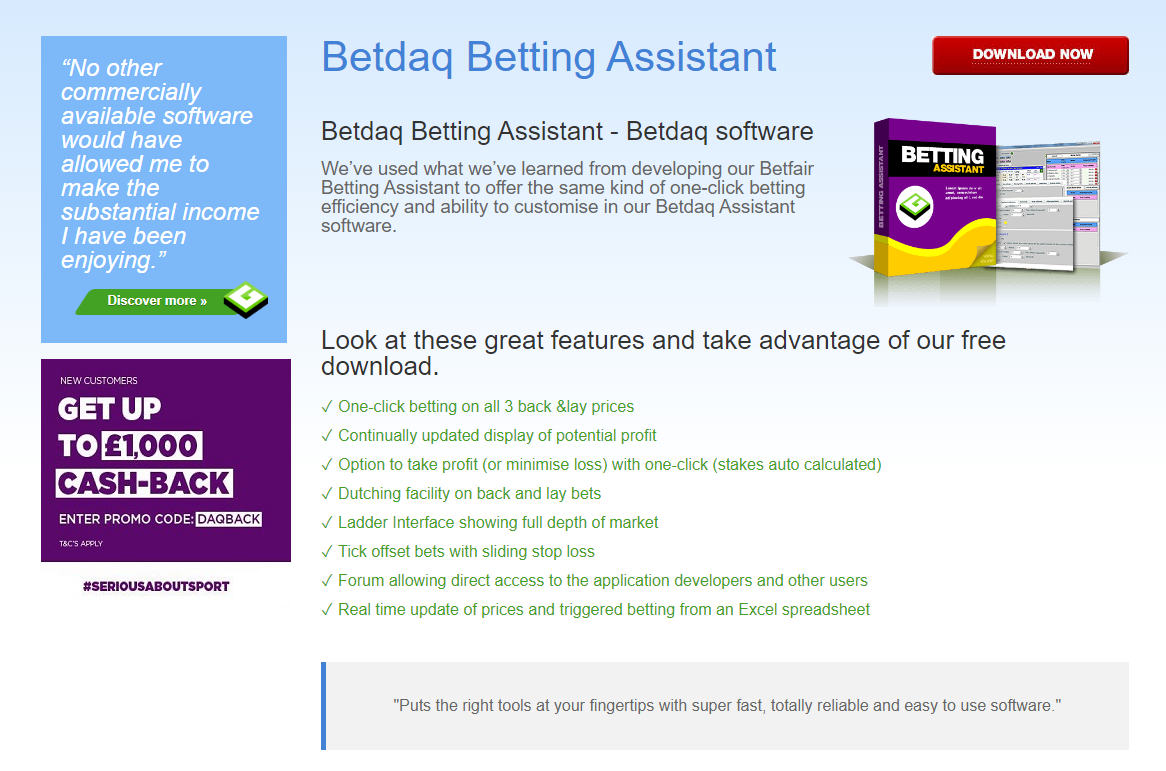 Although the BETDAQ exchange doesn't have the liquidity of Betfair outside horse racing and the greyhound racing markets, users placing bets on those aforementioned exchange markets really shouldn't see much difference.
Other pre-inplay betting markets popular on BETDAQ are more high profile football matches, tennis, cricket and golf. Most of these markets turn to inplay betting, with the level of liquidity present being dependent on the popularity of any given event.
While fewer markets and events will be found using the Gruss BETDAQ Assistant. Users of BETDAQ may argue that this saves them time, as the pre-inplay and inplay betting markets available are automatically drilled down to the most prominent for them.
Gruss – 'Place bets more efficiently with the BETDAQ Assistant – an alternative interface to the BETDAQ website.'
While NFL, NBA, MLB, Boxing and UFC are gaining popularity on the BETDAQ exchange, with increasing pre-inplay liquidity. Gruss BETDAQ Assistant is better suited to horses and greyhounds, and bigger events with higher liquidity pre-event.
The Gruss BETDAQ software is however completely free and with regards to functionality, runs exactly the same and has all the features of Gruss' Betfair Exchange software counterpart!
Gruss Software Automation
Both versions of Gruss Betting Assistant have a COM interface function for Gruss Software automation which allows 3rd party software, or Excel spreadsheets to connect via the Gruss software to betting exchange markets, and use their API data to trigger bets, monitor market prices, etc.
Gruss Excel Spreadsheet Automation
Microsoft Excel spreadsheets can be connected to Gruss in order to perform calculations against market data and trigger bets derived from the betting exchange API market data. These Excel bet triggers can be created with just Excel formulas, the option to use VBA is also present however.
There is no limit to the complexity of spreadsheets which can be attached via the COM interface to Gruss Betting Assistant. The Gruss Software forum has plenty of example spreadsheets available to trigger bets.
The Gruss software forum also contains a sub forum for anyone looking for a Gruss betting trigger developer. Gruss developers are available for the creation of basic spreadsheet triggers to more advanced VBA visual basic application enabled Excel trigger sheets.
Commercial Gruss Excel spreadsheets are available too, which are capable of applying more complex mathematical equations such as MA moving averages, MACD, WOM weight of money, volume, etc. Users wanting to scalp markets automatically may find these very useful.
With a good Gruss developer it's possible to bring any trading or betting system trigger to life.
Gruss COM interface for Betting Bots
The Gruss Betting Assistant COM connection is required by a number of betting bots for them to connect to, and place bets on betting exchanges. Some of the more popular among these bots come from the following providers:
Bettingdev has betting bots for just about everything. From inplay betting on football and horse racing, to market movers in greyhound racing, and just about everything else in between. Their most popular being a football betting bot, read our full Soccer Supervisor 2 review, or visit Bettingdev's SS2 product page directly.
TheBetMachine, whilst primarily being focused on horse racing betting with their own quite complex horse ratings form system builder, and backtesting function, alongside which also features a full racing tipsters and football predictions integration.
TheBetMachine's football tipsters and racing tips function predominantly requires an additional subscription to a pro tipster, but all resulting bets are placed on the Betfair Exchange or BETDAQ, automatically.
While BettingDev's betting bot offerings only run on the Betfair Exchange, TheBetMachine will run with either the Gruss Betfair Assistant or the Gruss BETDAQ Assistant trading software's COM interface connection.
Gruss Software Forum & Support
As we mentioned above, the Gruss Software forum allows direct access to application developers for those seeking to automate their betting methodology or system with Gruss Excel automation.
Also available within the forum is a FAQ subforum, a general help and discussion folder, and new releases threads.
For those new to Gruss Betting Assistant the Gruss Software forum is an ideal place to learn and digest information on the Gruss Trading Software's features and functionality, for users from beginner to advanced.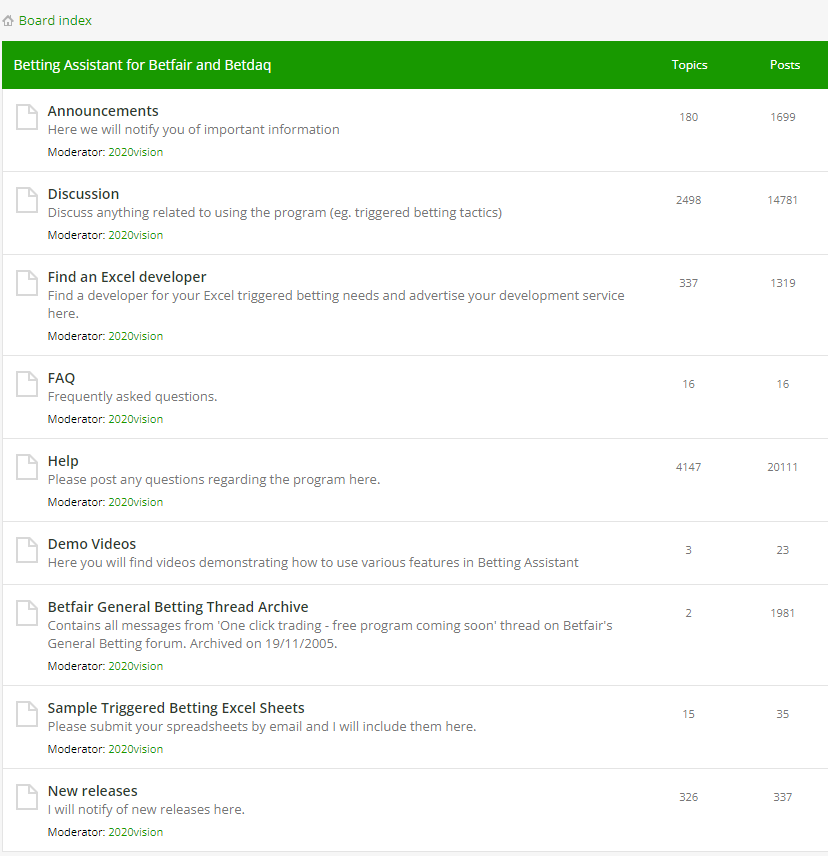 Gruss betting software support is also available via eMail and Gruss has an active Twitter feed plus a Facebook page. So anyone requiring help or support beyond what's available through their tutorial videos and help section within the Gruss Software forum won't be left scratching their heads.
Conclusion – Gruss Betting Assistant Review
With versions available for the two of the most popular betting exchanges online, Gruss Software is an official API partner with the Betfair Exchange and BETDAQ, through the Betfair Vendor Program and BETDAQ API Program. Although Gruss is only available for Windows, it is still possible to run Gruss on a Mac, or betting VPS.
The Gruss Betfair Assistant and Gruss BETDAQ Assistant are ideal for those wanting to check out sports betting software for the first time, or seasoned pros.
Gruss Betting Assistant software contains features and functionality that won't be found on sports betting exchange websites themselves. For anyone looking for an alternative more intuitive interface to exchanges, or who runs betting bots or Gruss Excel betting sheets, what Gruss software offers is a budget minded or free piece of software that does just this!
Finally, the Betting Assistant software price. Gruss Betfair Assistant comes with a 30 day free trial, after which there is a small monthly or yearly fee paid by PayPal, Neteller or Skrill. While the Gruss BETDAQ Assistant is completely FREE.
We hope you found our Gruss Betting Assistant review useful. Simply click through any of the highlighted links to visit their site directly, and download whichever version of the Gruss betting software suits your betting and trading, best.
---
IMPORTANT NOTE: Don't forget to LIKE and FOLLOW us on the various social media channels we post updates on, also on our homepage we have a Newsletter Subscription form. Like, Follow us & join the Newsletter to be sure you don't miss a thing!
Feel free to use the social sharing buttons included on this page, they're there for your use.
Thanks for visiting TheBetMatrix.Win – We've plenty more sports betting content, available at your convenience.
---
Frequently Asked Questions (FAQ):
What is Gruss Betting Assistant?
The Gruss Betting Assistants are Windows software packages which offer users an alternative, more intuitive interface to sports betting exchange markets. The software also supports betting bots and Excel sheet bet triggers to place bets automatically.
What is Gruss Betfair Assistant?
Designed for the Betfair Exchange. The Gruss Betfair Assistant provides users with a more efficient and advanced software interface, to trade, and bet with. Excel sheets and betting bots can also be connected via the Gruss COM interface, to automate betting.
What is Gruss BETDAQ Assistant?
Gruss' BETDAQ Assistant is an alternative software interface to the BETDAQ exchange. Not only providing a more efficient interface to bet and trade with, it also offers the ability to automate betting with betting bots and Excel sheet bet triggers.