In this article we'll go on to cover the best inplay football trading websites, and their usage with inplay football betting systems. If however you're looking for details on inplay scanners to generate inplay betting alerts and tips, check this inplay alerts article.
Inplay trading and inplay football betting systems for trading are almost exclusively geared towards users of sports betting exchanges. Inplay football trading using bookmakers is not preferred due to the simple fact that bookies don't offer a trading market for punters to bet on, and of course the overrounds.
Sports betting exchanges offer the ability to place both back and lay bets, with the only limit on exposure being the liquidity available on the specific betting market. This allows inplay traders the capability to set their own bet limits with very low overrounds on the various different bets placed during an inplay football trade.
We have a detailed explanation on the difference between sports betting exchanges and bookmakers for readers unfamiliar with betting exchange usage, including a summary of why there are much better odds available with betting exchanges.
As you'll discover, there is a huge difference in football betting strategy and inplay scanner usage to get involved with inplay trading at sports betting exchanges. As opposed to inplay football scanner sites, for generation of custom inplay football betting tips via inplay alerts.
For the purposes of this article we'll focus on the top two inplay trading websites available online:
While they are similar in context to inplay alerts websites, the end usage of inplay alerts from betting exchange football trading websites is very different. If you're looking for live stats football scanner sites to generate some inplay betting tips rather than inplay football trading, we can recommend the following two sites.
InPlayGuru and StatisticSports use more of a drag net football stats scanning setup to generate inplay football betting tips from inplay football stats, to outline potential betting opportunities.
All four football scanner sites we mentioned above have either an exclusive free tier, or free first week trial. Or offer an almost free inplay football stats scanner, £1 for the first week or two weeks deal for TheBetMatrix.Win readers.  Follow the links above to take these offers up.
Trading Inplay Football Betting Systems and Inplay Alerts, What's the Difference?
While it is possible to place bets generated from inplay alerts on sports betting exchanges, there is a difference between football stats alerts websites, and inplay trading websites.
The Goal Profits LSM Live Stats Module inplay football scanner does not contain any fixtures that won't be found on the Betfair Exchange sports betting exchange.  Goal Profits advises football traders to stay away from fixtures that don't already contain pre-match statistics which aren't specifically inline and automatically matched with any of their football trading systems.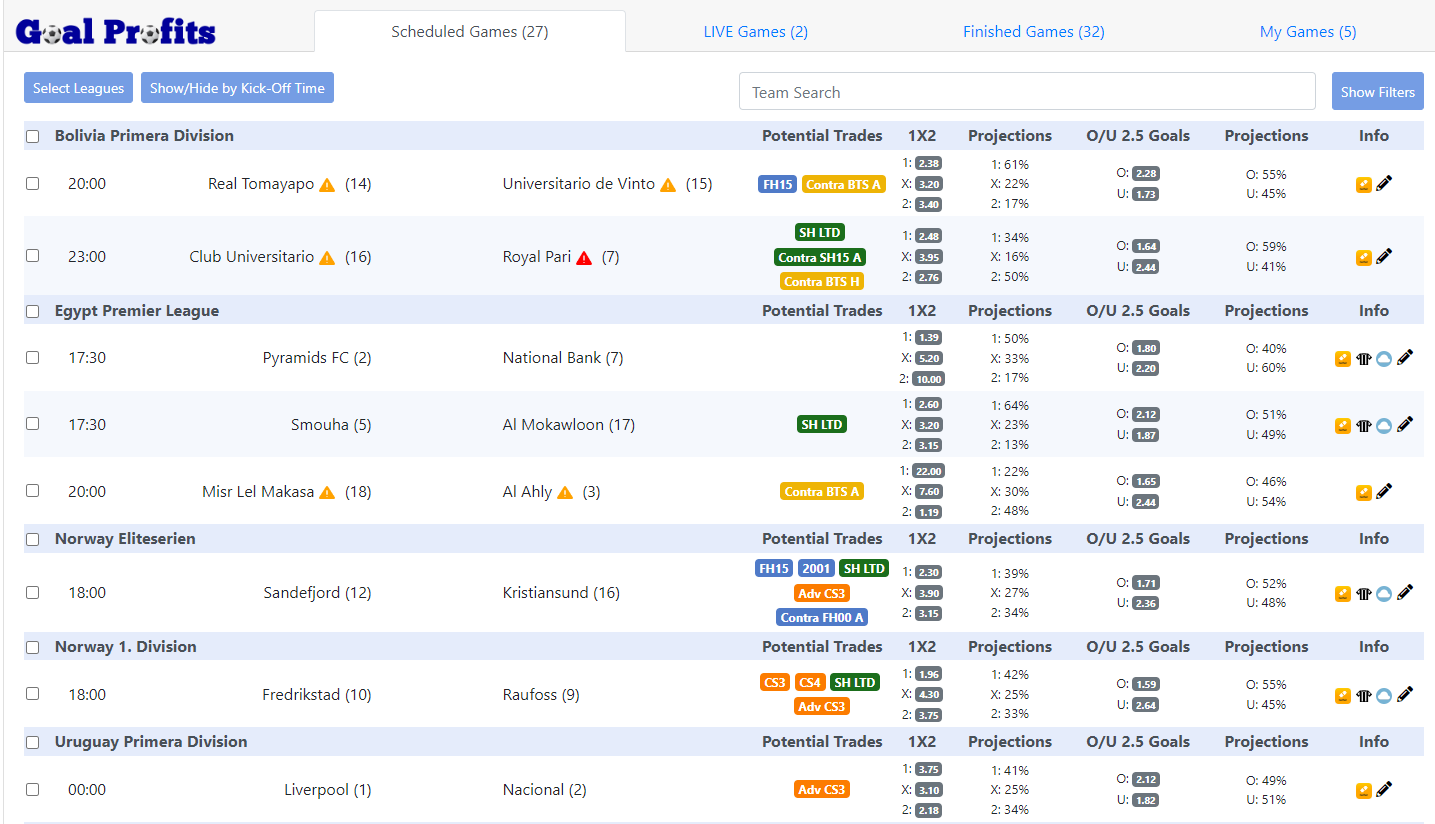 InplayTrading.com / IPT has both bookmakers and Betfair Exchange football scanners available which offers subscribers a slightly hybrid inplay alerts and inplay trading solution. Their bookmakers inplay scanner features a multiple of the amount of inplay matches available to bet on, over half of which won't be found on sports betting exchanges.
Strictly speaking, punters cannot trade football inplay at bookmakers due to the lack of the option to place lay bets.
So in summary a line can be drawn between the various live football stats scanner sites available online and their usage, be that with a betting exchange or bookmaker, as follows:
Betting Exchanges = Inplay Trading Scanners & Inplay Alerts Scanners
Bookies / Sportsbooks = Inplay Alerts Scanners
Inplay trading can offer football traders higher profits with less risky exposure. As betting exchanges make it much easier to cover multiple match outcomes, whilst using a smaller volume of football betting markets overall. Betting exchanges also include the ability to bet against a result with the use of lay bets.
At football trading websites, potential bets for inplay trades are more focused on specifically identified fixtures that fit pre-match statistical performance criteria of inplay betting strategies, before any inplay football trade entry conditions are met.  This narrows down the number of potential matches for inplay football trading to only the absolute best betting opportunities.
Goal Profits for example offers users of their Team Stats and LSM Live Stats Module the following system to refine selections and trading shortlists, using their huge array of historic statistics and custom generated upcoming match stats.  This is all done prior to any matches going inplay on the LSM Live Stats Module inplay scanner.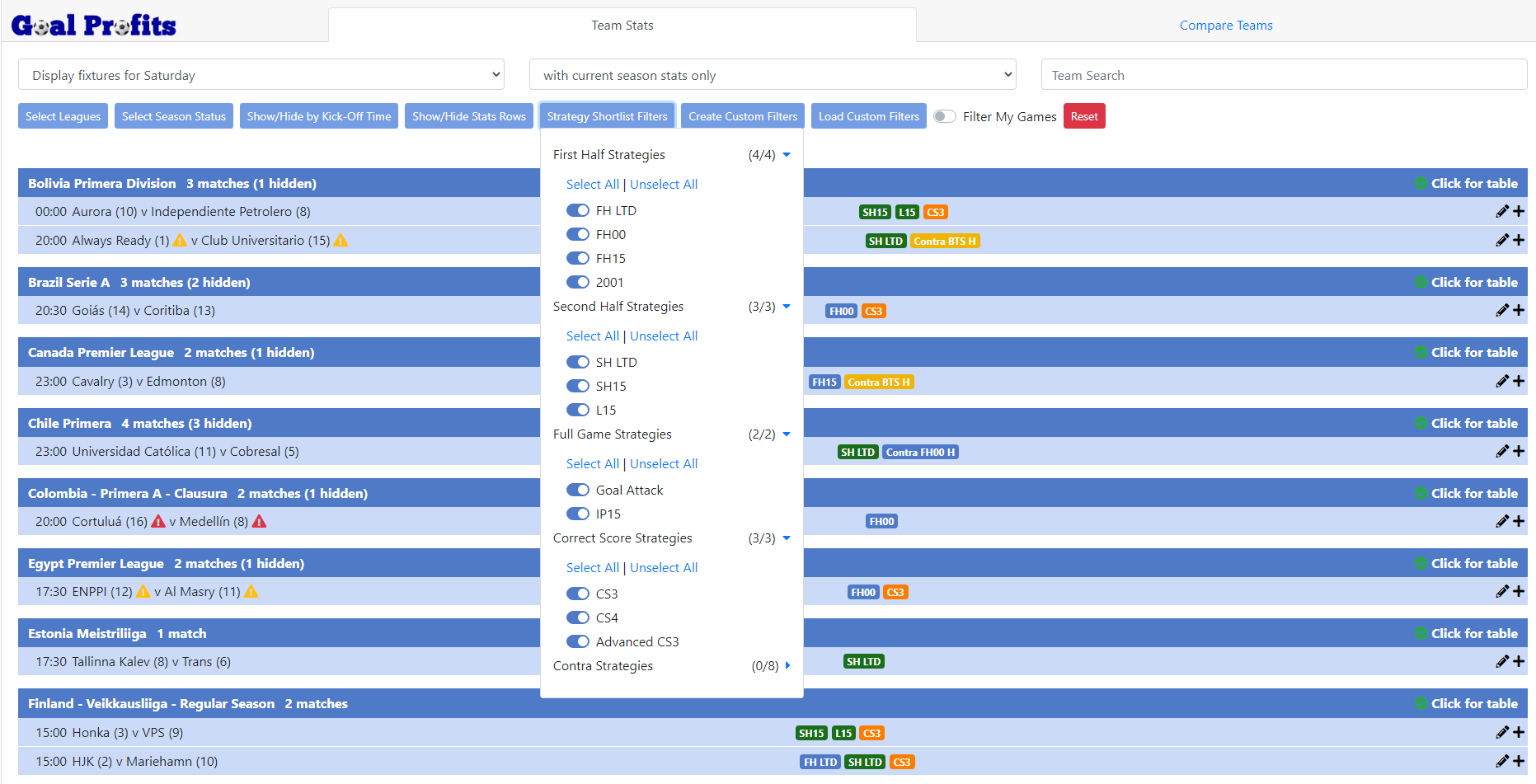 The Goal Profits Team Stats Strategy Shortlist Filter draws down the days, or any of the seven following days fixtures that have been matched to specific inplay football betting strategies.
As pictured, even during the European summer football break there are plenty of fixtures taking place with historical match performance stats that indicate profitable inplay trading strategies and opportunities.  Displayed are only matches on a single day from countries alphabetically ordered from Bolivia to Finland.
In total over 40 fixtures had been matched with a Goal Profits inplay football betting system on the Saturday displayed.  Throughout the middle of the year there are plenty of top flight leagues in action with matches taking place around the globe, alongside their associated football betting exchange markets which are active and full of liquidity.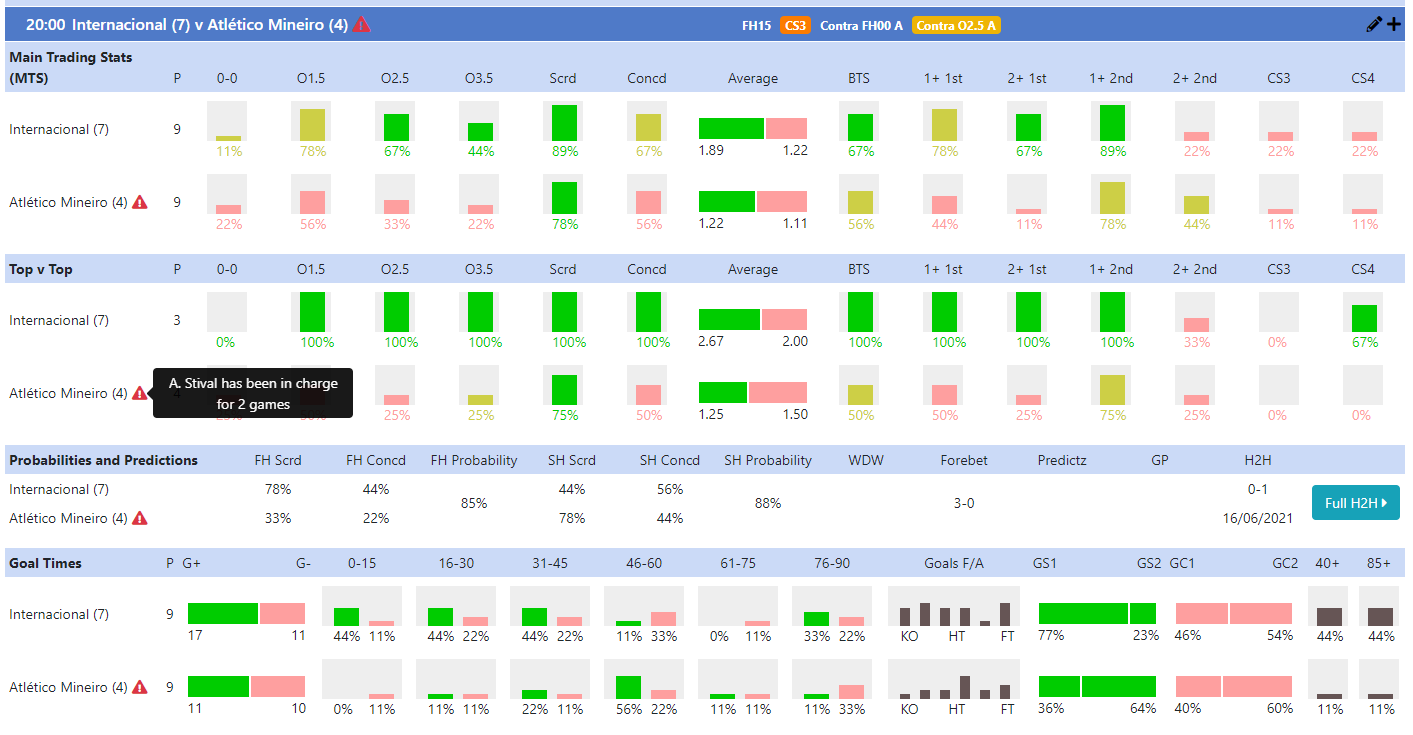 Clicking on any of the individual fixtures will bring up Goal Profits' detailed Team Stats page filled with historic stats and their custom pre-match stats for each individual match.
Goal Profits has so many historic match statistics and custom generated stats for upcoming fixtures, they even have a filter to draw down the amount of stats displayed when looking through fixtures on their Team Stats page!
The Team Stats display stats filter, allows for more detailed filtering of the team stats on show.
Users of Goal Profits are also able to create their own custom filters which can use any of the above stats, and a host of other criteria to further refine selections for inplay trading.  Any number of historic stats, customs stats, betting strategies can be added to a single filter, with the option to create as many filters as required.
These tools are just the tip of the iceberg of what Goal Profits has available for users, all coming with a full suite of tutorials on their best use. To see what's on offer there's a 2 weeks for £1 Goal Profits new signups deal.
If you've read our inplay alerts betting article you'll see these use more of a drag net approach to find inplay football betting tips derived from inplay football stats and match pressure indicators, sometimes in combination with pre-match statistics across the multitude of additional fixtures available with bookmakers.
The inplay football betting tips generated from inplay alerts will generally come at a much more rapid and unpredictable pace, than potential inplay football trading opportunities via the inplay trading shortlisting methods we've detailed above.
Inplay Football Trading Systems, Strategies & Tools for Inplay Trading
Goal Profits offers all the tools on a single website site for successful inplay football trading. If you're interested in inplay trading, Goal Profits aims to be your first and last stop, and they're doing an incredibly good job of it.
Goal Profits – Key Members Tools Include:
LaunchPad:
Detailed Guides (Full tutorials for all of the Goal Profits website's features and tools).
Betting Strategy Guides (Beginner to advanced, football betting strategy tutorials with example inplay football trades).
Team Stats Tool:
Strategy Shortlists filters (Match schedule can be filtered to specifically suggested inplay trading strategies).
Alternative Shortlist (Pro trader selected football betting strategies fixtures shortlist).
Custom Filters (Custom match filtering system which can implement any of the stats from the Team Stats tool).
League / Season Progress Filter (Matches on show can be filtered by league groups, and season % progression).
LSM Live Stats Module:
Live Match Stats Scanner (Custom match pressure gauge, inplay match stats, subs, live scores, team lineups, etc).
Strategies Quick Filter (Inplay matches can be filtered to specific matching strategies).
Quick Filters (Live matches can be refined with Goal Profits quick inplay stats filters).
Leagues Filter (Displayed inplay fixtures can be refined to Goal Profits custom league groups).
Pro Filters (Shortlisted inplay matches can be additionally filtered by user defined inplay match stats).
PSM:
Pre-Match Scalping Module (Including six scalping strategies).
Inplay Alerts:
Telegram & eMail alerts (For both Goal Profits inplay betting strategies and custom inplay stats filters).
Audible Alerts (Sound notifications for inplay stats, quick filters and pro filters).
Between just the Goal Profits Team Stats, LSM Live Stats Modules and Launchpad, everyone from beginner to advanced should be able to pick out successful trades, and be trading inplay almost right away.  We'll go into greater detail later on in the article on some of the other tools available, and more on the Goal Profits site usage.
InplayTrading (IPT) – Trading Tools Available:
Market Matcher MM Tool:
A custom tool that matches upcoming fixtures' historic team stats to InplayTrading's in-house inplay football trading strategies.
Betfair Scanner:
Inplay Football Scanner (Fixtures refined to those available on the Betfair Exchange).
Custom Inplay Stats Filters (Inplay match stats filters for live matches).
Draw Inflation Tool:
Pre-match Scalping Tool (To lock in some profit or cover, prior to matches going inplay on the Betfair Exchange inplay scanner).
Inplay Alerts:
Telegram & eMail alerts (For custom inplay stats filters only, available for both the Betfair Exchange and bookies scanners).
Audible Alerts (Any inplay betting strategy configured on IPT can trigger audible alerts when inplay match conditions are met).
While InplayTrading doesn't offer subscribers the depth found at Goal Profits, especially in relation to pre-match stats and the inability to shortlist fixtures with the Market Matcher tool, which lacks direct integration to their inplay football scanner.  IPT's inplay trading offering does come at a slightly lower cost, and there is a bookmakers scanner included too.  Ideal for those wanting a more hybrid inplay football betting tips, and trading solution.
Goal Profits – In a League of Their Own, for Inplay Football Trading
Goal Profits hosts by far the most comprehensive set of inplay football stats, historic match analysis data sets, trading shortlisting tools, and pre-match trading tools available in a single location online. Also incorporated is a web community with a fully loaded online classroom dedicated to trading football at sports betting exchanges.
The range of football trading tools and football stats available at Goal Profits covers the board for both pre-match and inplay traders, offering subscribers a single go to venue for all their football trading needs.  The attention to detail offered at Goal Profits for potential football traders or seasoned pro's simply won't be found anywhere else online.
We'll go on to provide a brief breakdown and summary of the various tools and features Goal Profits has on offer for members, but readers really need to take advantage of their 2 weeks for £1 Goal Profits new signups deal.
Launchpad:
The Goal Profits journey begins with Launchpad, where football traders from starters to pros will find unique and detailed information on the Goal Profits websites football trading tools usage with both pre-match, and inplay football betting systems and strategy from beginner through to advanced.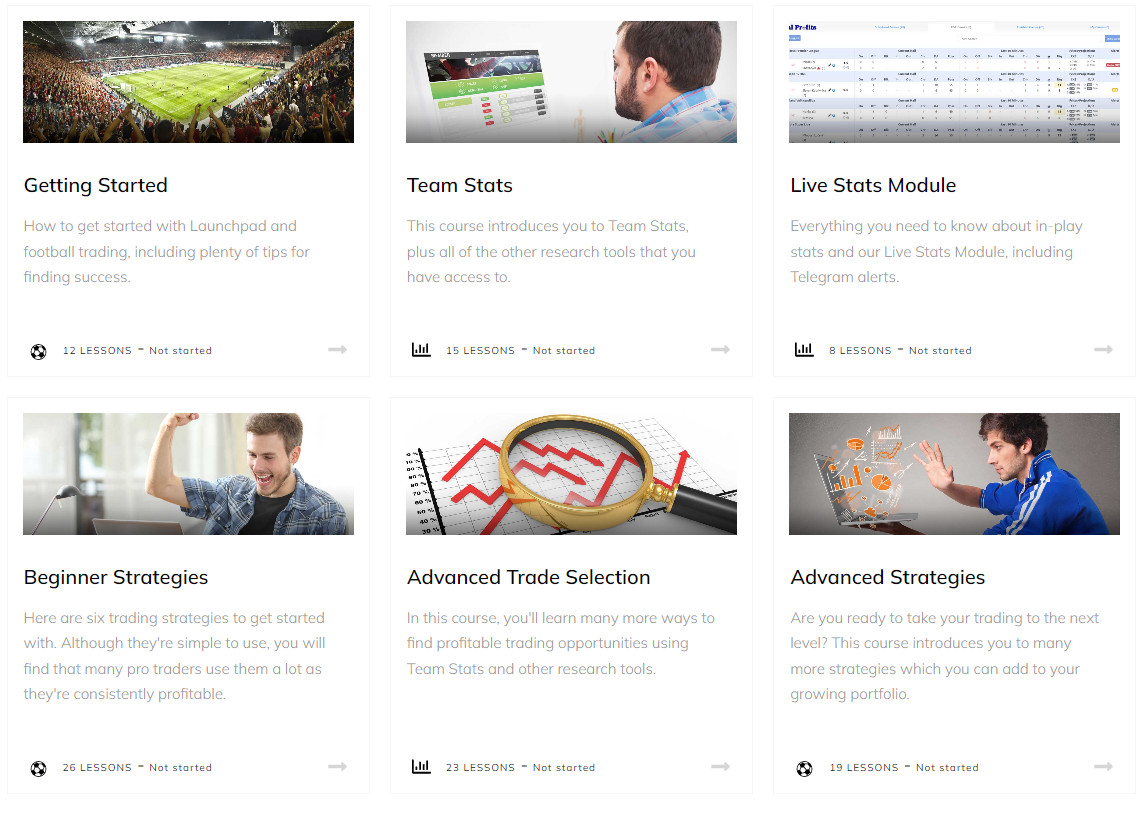 Something important to note before moving on, is that all of Goal Profits statistical and inplay tools have the world's various leagues grouped and filterable into six different groups.  As such it's easy to draw down the amount of fixtures on display, so inplay trading and match shortlisting doesn't become overwhelming during busy periods.  They are as follows: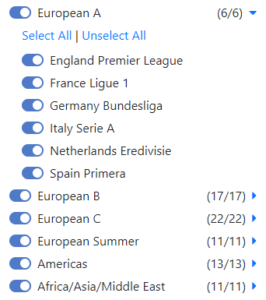 European A – (The big six European leagues)
European B – (Mid tier European leagues)
European C – (Lower liquidity Euro leagues)
European Summer – (Euro leagues which play through the summer)
Americas – (The best leagues from North and South America)
Africa/Asia/Middle East (Top leagues from outside Europe & the Americas)
The LSM Live Stats Module also contains filters for 'Cup Matches' and 'International Matches' plus 'All Other', so all matches which have betting markets on the Betfair Exchange are covered.  These additional filters are only available on their inplay football scanner however, as the Goal Profits Team Stats and other historical performance stats tools don't contain the relevant league or competition data.
Goal Profits nonetheless constantly update their Team Stats and other statistical modules with new leagues and data, with well performing leagues being added or moved between groups, when their pro football traders find it suitable.
Most Goal Profits tools also allow the filtering of the season stage to further refine selections for use with inplay betting strategies.  Leagues/matches in their early or late stages of the season can be easily filtered out where performance data and stats may be limited or less relevant.  Season progression is filterable to the increments displayed in the picture.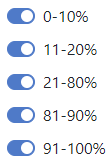 A weekday filter is also present within all tools and match stats modules for the following 7 day period, filtered on a daily basis. Used with the built in Goal Profits shortlisting and inplay football betting system alerts features it's easy to keep track of and receive notifications for upcoming fixtures, which may be suitable for your inplay trading schedule.
Below we've detailed the various pre-match and inplay trading tools and features available at Goal Profits, with a brief summary of each. Following this we'll take a closer look at some site tools and features that Goal Profits & InplayTrading consider to be major instruments for inplay football trading.
Football Stats:
Team Stats – Comprises a full list of the day's match fixtures that will be going inplay on the Betfair Exchange for inplay trading. The team stats page also includes filters allowing users to filter the days matches for those that fit the pre-match historic results statistics that fall in line with their various inplay football betting systems.
The Goal Profits team stats database offers much more functionality than just the above inplay trading strategy filters. As we mentioned earlier in the article there are 8+ filter types that can be applied to match fixture lists.

League Group Filters
Season Progression Filters
Kick-off Time Filters
Betfair Price Filters
Strategy Shortlist Filters
Custom Filters
Next 7 Days Filter
Stats Period (Current seasons, last 5, 10, 15 matches)
Goal Profits custom filtering system allows subscribers to combine as many statistical team performance attributes as they wish into either a single or multiple custom filters.  All of which can be saved on site for usage as and when required.  The amount of team and match stats available for use is vast, with all the logical operators one could imagine ready for usage.

These custom filters allow inplay traders or pre-match traders to create custom and unique strategy shortlists based on their own betting filters and strategies, and can also be used in conjunction with Goal Profits own Strategy Shortlists to further refine trading selections.
Second Half Stats – As the name suggests, the 2nd half stats page details second half statistics only. There is an additional filter available here, whereby users can view additional match stats based on historical match results dependent on the current matches actual half time score.
For example, with 1-0 highlighted the statistics are displayed for all matches where the home team was ahead by a single goal at HT. The Goal Profits live stats module LSM pre-fills the live score data automatically.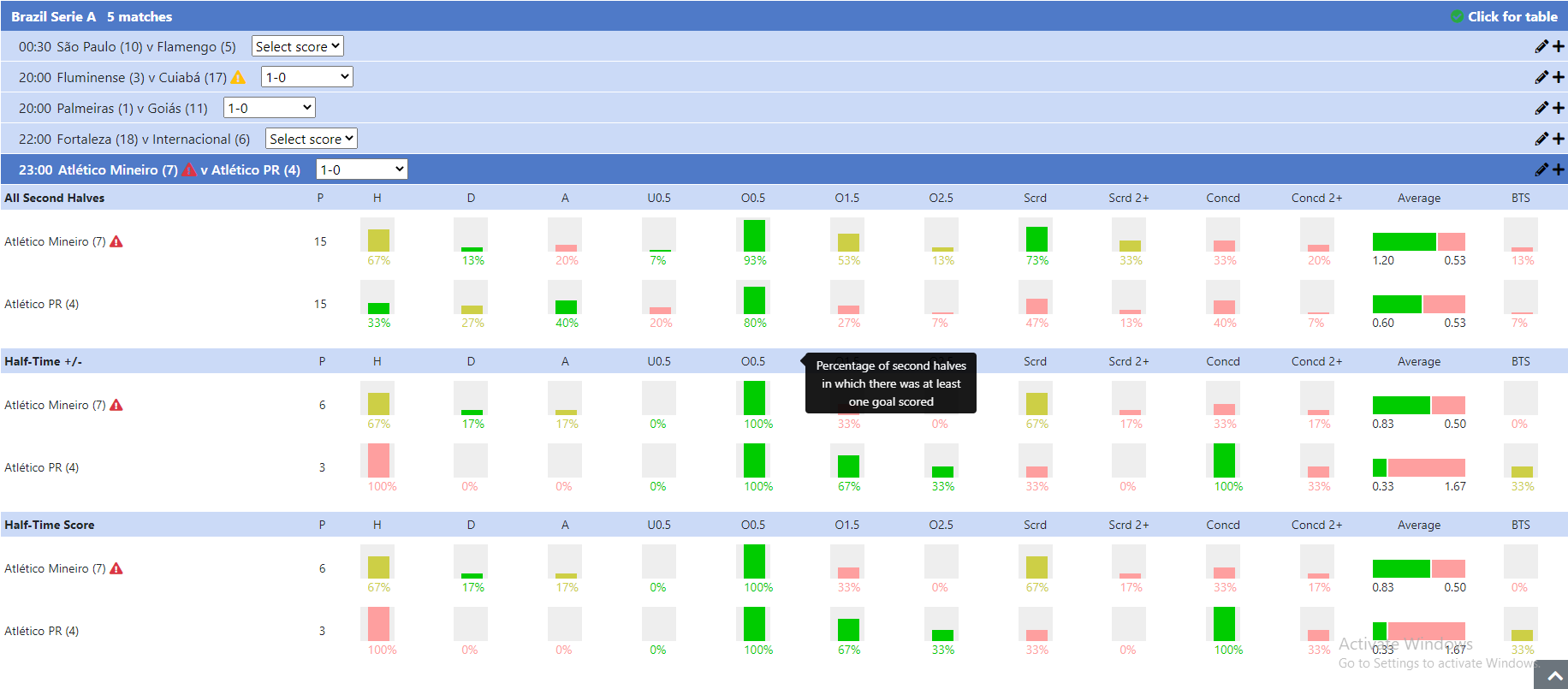 As a lot of the inplay football betting systems available at Goal Profits are focused on 2nd half inplay trading, this feature is an incredibly useful inplay football stats tool for these betting strategies. Especially from midway into the season once more historical match stats have built up.
The option to include some of the previous seasons data is also available, when current season data is short and inplay stats indicate a good trading opportunity.
Trends – Is a dataset on a league level basis, that displays all current seasons trends in relation to all popular betting markets. Match odds 1X2 windrawwin, overs unders, BTTS, and goals per game (total, home, away).
This historic match data isn't only available for the current season inplay, Goal Profits has it available on a per season basis going back a full decade. Not just for the full 90 minutes, but also filterable to the 1st or 2nd half match stats only.
Streaks – Is based on streaks from a team level dataset of upcoming fixtures, again with all the inplay seasons trends for all popular betting markets. Match odds 1X2 windrawwin, overs unders, BTTS, attack/defence streaks for goals scored and conceded per game, and also won/lost by +1,+2, -1, -2 goals.
This historic match data is not only filterable for the 1st/2nd half and 90 minutes, but also by the teams home or away appearance for the next match, and home or away of all previous matches played creating the various streaks.
Alternative Shortlists (Pro Shortlists) – While subscribers to Goal Profits are able to create their own match shortlists for inplay trading, either manually, or by using Goal Profits pre-match stats suggested inplay football betting strategies. Additional pro selected shortlists are further available, displaying the suggested inplay football betting system for usage with each selected match.
The alternative inplay trading shortlists follow Goal Profits suggested inplay football betting systems but offer a much more finely selected pro preferred fixture list, and applicable betting strategies. They are available for 1st and 2nd halves of matches with all the relevant historical match statistics available, with a click for each selection.
Contra, goal value and asian handicap suggestions are also on offer, which are automatically narrowed down to high value bets depending on the current betting exchange odds.  These suggestions and strategies are more focused on betting and trading the full 90 minutes of matches, or when a suitable trade out or hedge position is reached.  Historical stats for 90 minutes as detailed, are available on the main Team Stats page.
League Tables – On top of the standard league table display, which by default includes total and home/away performance, Goal Profits has over 30 additional league table filters available. The supplementary filters include home/away recent form, 1st half and 2nd half tables, overs unders stats, goal difference margins, and a huge array more.
Database – The dataset available is based on historic match stats on a league level basis dating back over a decade, this is filterable using over 18 different search and filter criteria.  And they're required, considering there are 100's of thousands of individual match result stats data sets.
All the historic match stats you would expect are available, including correct score market results, overs unders, BTTS, and a huge variety of other goal and performance related stats.
Team Stats Excel – Containing around 300 columns of historic match stats and inplay stats, the daily team stats excel spreadsheets comprise of 2x files (eMailed by Goal Profits daily) with the following data:
Team Stats Daily: Contains stats for all match fixtures for the next 5 days.
Team Stats Archive: Contains the same data as Team Stats Daily, plus results, goal times, pre-match Betfair prices and Live Stats Module stats.
This allows subscribers to build up a database of pre-game stats, and also see exactly what happened during inplay matches themselves.  Thus offering a much more detailed view of historic inplay stats than what's available anywhere else on the Goal Profits website.
For those looking to carry out more detailed analysis of results and inplay data. There are potentially limitless opportunities for profitable new football betting systems.
Goal Profits – 'For members who think in an analytical way and who have the patience and tenacity to test ideas thoroughly, this is a massive opportunity.'
Live Match Stats Tools & Calculators:
Live Stats Module (LSM) – Goal Profits inplay football stats module is one of the centrepieces of their inplay trading platform. The LSM comprises an inplay football scanner which also integrates with all of Goal Profits various other tools.
Most notably Goal Profits inplay football betting systems are automatically matched to their various different inplay betting strategies for both pre-match matches, and on the fly to matches which are already inplay. This is all displayed directly on the LSM football scanner.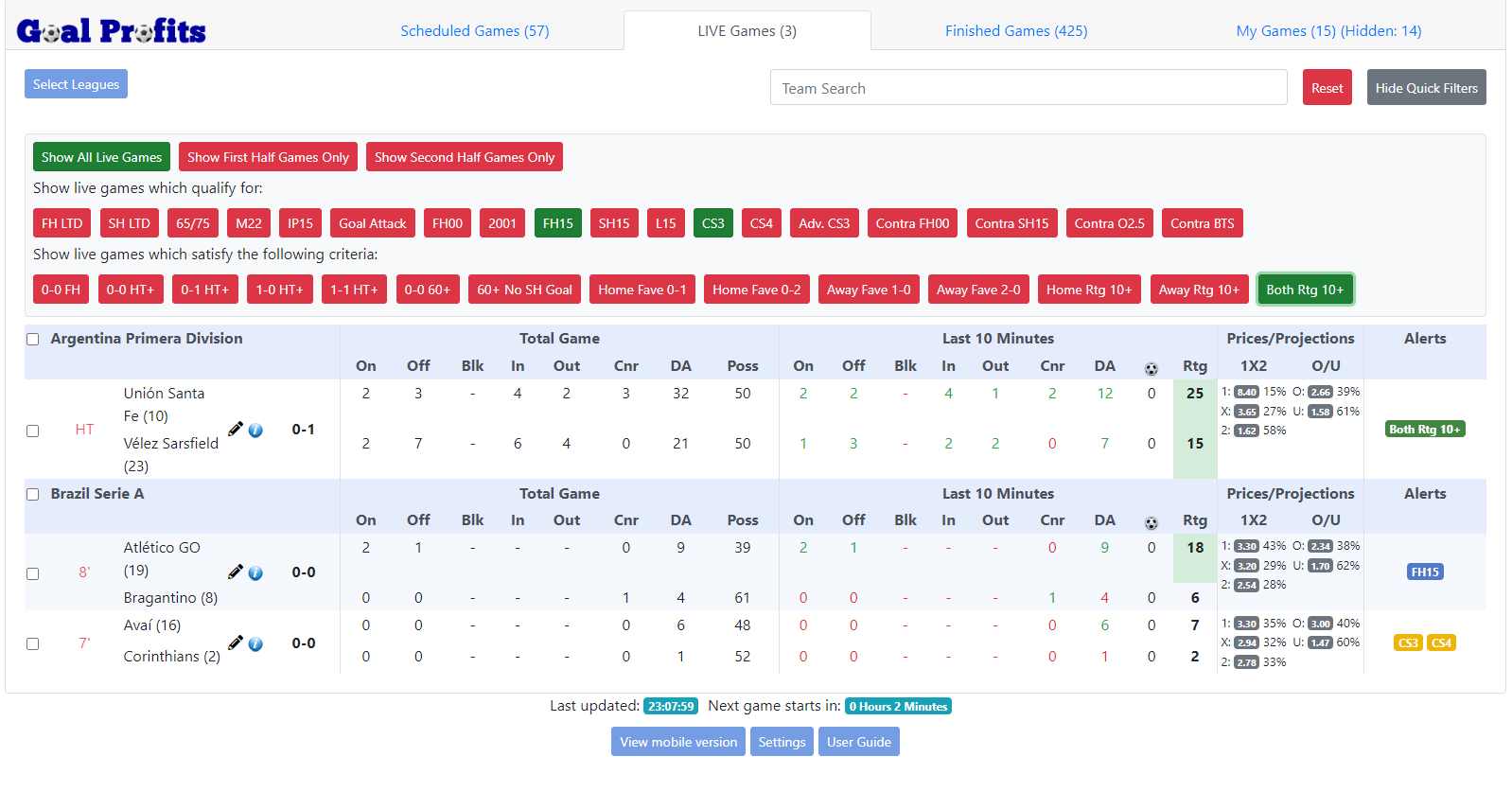 As pictured multiple views are available within the football scanner, including scheduled and live games, finished games, and matches which have been added to shortlists. And as we mentioned earlier, the LSM inplay football scanner can also have Goal Profits league filters applied along with kick off time filters, so however busy the day's match schedule is, inplay traders can easily focus.
The scheduled games feature which not only displays potential trading strategies to be applied to upcoming fixtures, but also percent based projections for the overs unders and match odds 1X2 windrawwin betting exchange markets.
The Goal Profits LSM live stats module is linked directly to the aforementioned betting markets on the Betfair Exchange, and also includes the various current market volumes. Users can click through the market prices which are linked to their associated match pages on the Betfair Exchange.
There are both mobile and desktop versions, with easily configurable betting alerts via eMail and Telegram, while also including the option for live audible alerts.
For those wanting to get involved with inplay football trading, the Goal Profits LSM live stats module is by far the most advanced inplay scanner available online.
Dutching Calculator – A calculator for dutch betting. Goal Profits most popular inplay football betting strategies use multiple bets to cover multiple outcomes when inplay trading. The dutching calculator will output the correct stakes for each bet to ensure the same profit across selections and markets.
Hedging Calculator – When using a combination of back and lay bets or vice versa to lock in a profit from price moves on football betting exchange markets, a hedge bet is required.
While the Betfair Exchange website has a cash out option which calculates this stake automatically, inplay traders wanting to add a little more profit may opt to wait for the market price to decay in their favoured direction. This calculator will work out the correct stake for the desired odds at which traders wish to close their position, and is especially useful when scalping with the Goal Profits pre-match scalping module.
Football Club Twitter Lists – Goal Profits have put together 'Twitter Lists' for all of the teams within their outlined European A (top six Euro leagues), and the most popular leagues within the Summer and Americas filters. For those unfamiliar with 'Twitter Lists', they are uniquely formulated lists of twitter accounts.
Most football clubs have a Twitter account on which live information relating to injuries, lineups, etc is posted. This info is usually made available by clubs on Twitter before appearing elsewhere online. It's especially useful to pre-match traders, as details like a key player unexpectedly returning from injury, will cause a significant price movement and profitable football trading opportunity.
Pre-Match Trading Tools:
Pre-Match Scalping Module – Using the match odds 1X2 windrawwin market the scalping module contains a selection of fixtures automatically selected by Goal Profits in house algorithm.
These sports betting exchange markets should be suited to lock in some profit pre-match, using back and lay bets. Goal Profits have six pre-match scalping strategies available for members to use, along with a complete guide to trading them and the modules general usage.
Inplay Trading Community:
Trading Sessions – Multiple chatroom trading sessions are scheduled well in advance every week with Goal Profits resident inplay football trading pro's. Saturday and Sunday are always covered for winter leagues along with any busy days midweek, and during the summer leagues there'll be at least one live inplay trading session per week, sometimes two or three.
These trading sessions are an ideal way for those new to inplay trading, to get to grips with Goal Profits inplay betting systems and strategies in a live trading environment.
Chat Room – While the chat room is used as the venue for Goal Profits pro inplay trading sessions, it is open all hours. Dozens of traders use the chatroom as a social trading venue almost 24hrs a day, providing a wealth of inplay football trading experience around the clock.
Subscribers from beginner to advanced are welcome, and for anyone with questions there should be support available.
Forum – The Goal Profits forum contains sub-forums dedicated to various trading levels and their specific inplay football betting strategies, beginner to advanced.
The Goal Profits forum also hosts additional sub-forums for new inplay trading ideas, and also one for those wanting to share any additional research on the day's matches.
Archive – Inplay trading on sports betting exchanges is constantly evolving along with the Goal Profits site, tools and inplay football betting systems. Within the archive members can find links to all of Goal Profits legacy pages, tools, and betting strategies.
My Trading Bank – Alternative investment suggestions from Goal Profits inplay football trading pro's. Covering everything from cryptos to NFTs, this page is full of useful info for traders with a bit of spare time and cash, during days where there are few inplay football tips.
Goal Profits Football Trading Blog:
Goal Profits hosts a blog which is open to subscribers and non-subscribers alike, while it doesn't contain access to their in-house inplay football betting systems, strategies or inplay scanner, readers will find a wealth of inplay football betting tips and advice for inplay football trading.
As we mentioned at the start of this section the football trading tools and football stats available at Goal Profits, offers members a single go to site for all their football trading needs. This won't be found elsewhere online, and Goal Profits have won plenty of awards over the years to prove this.
Best Football Service 2021 – Honest Betting Reviews

Best Football Betting Product 2021 – LB&GR
Year on year, Goal Profits wins these best football betting service and product awards.  And they are GPWA Gambling Portal Webmaster Association approved.
For access to their award winning Team Stats, LSM Live Stats Module inplay scanner, and all the other tools a subscription is required. Goal Profits has a 2 weeks for £1 inplay football stats free (almost) trial deal available.
InplayTrading IPT – Inplay Betting with 2x Inplay Football Scanners
As far as inplay football trading using sports betting exchanges is concerned, those looking for an inplay football scanner for exchanges with pre-match plus inplay football betting strategies and tools, the search ends here.
Between Goal Profits and InplayTrading they have online football trading venues covered from top to bottom, with no other sites really offering a similar user experience. InplayTrading offers a cheaper alternative to Goal Profits, albeit without a lot of the match stats frills.
InplayTrading hosts inplay football scanners in two separate versions:
Betfair Exchange Football Scanner
Bookmakers Football Scanner
As the names suggest, the Betfair Exchange scanner only covers the football betting markets which are available on Betfair. While the bookmakers scanner contains many more fixtures, a lot of which won't be found on sports betting exchanges. Both these inplay scanners are included with their subscription, check this article for a full review of InplayTradings offerings.
Scalping – Goal Profits Pre-Match Scalping Module Vs IPT's DI module
Both Goal Profits and InplayTrading offer subscribers a pre-match scalping tool. These tools are an ideal way to lock in some pre-match profit which can either be banked or used within inplay trading to add cover to any additional bets or inplay betting strategies used.
Depending on any inplay bet selection, scalping can also be used as a profit multiplier where the cover gained using back and lay bets or vice versa, can also cross over any potential profits from inplay trading.
There is a key difference between Goal Profits and InplayTrading's pre-match scalping tools, which is the specific outcome in the match odds 1X2 windrawwin and overs unders markets that the sports betting exchange back and lay bets cover.
Goal Profits = Scalping the home/away outcome in the match odds 1X2 market.
InplayTrading = Using a poisson distribution draw inflation model to scalp the draw or home/away outcome in the match odds market, and also to predict moves in the overs unders markets.
Regardless of which market and specific result, both back and lay bets can be used, then either a trade out bet can be placed to lock in a profit on that specific result, or a hedge bet can be used to secure a profit regardless of the match or goals market's eventual result.
The unique advantage Goal Profits and InplayTrading offer their inplay traders with these tools, not only provides cover for inplay bets, but also allows the opportunity to supercharge potential profits when used correctly.
Goal Profits Live Stats Module Vs InplayTrading Betfair Football Scanner
While we've already covered the main features of the Goal Profits and InplayTrading inplay football stats scanners in this inplay scanners article. And football betting alerts in our inplay alerts article, and also summarised the main features and tools differences within this article, it's worth highlighting their best end usage again, to allow readers to pick the correct football scanner to suit their needs.
For those using sports betting exchanges with the sole intention of inplay football trading, Goal Profits stands out as the logical choice to make.
Readers wanting a more hybrid inplay betting, trading, inplay alerts and live football stats scanner solution for usage across betting exchanges, bookmakers and sportsbooks. Which also comes at a significantly lower price when using monthly payments and annual subscription, and who're willing to carry out the additional research required for successful inplay betting off site, InplayTrading may be preferred.
Goal Profits = A first and last stop for inplay trading.
InplayTrading IPT = A more hybrid inplay football betting alerts and trading solution.
We have an exclusive £1 for 2 weeks inplay football stats free (almost) signup offer available for readers at Goal Profits, and InplayTrading's two inplay football scanners with a £1 for 1 week trial. Simply click through the links above to take up this offer.
Major Differences Between Goal Profits and InplayTrading IPT
InplayTrading is more focused on displaying a larger volume of fixtures on their inplay football scanners heads up display, all sorted by pressure, then selecting inplay bets or generating inplay betting alerts using their in-house pressure gauges PI1 & PI2 as a basis for them.
IPT is probably more suited to those without a stricter trading schedule, who know where the additional historic football stats are available and don't require them.  Or those that don't want to pay a little extra for all this data already on hand, and organised in the same place. Which is what Goal Profits provides.
Additionally InplayTrading hosts both Betfair Exchange and bookies/sportsbook football scanners. So a much higher volume of fixtures are available to subscribers for inplay stats filters and inplay betting alerts when the bookies/sportsbook scanner is used in combination with their sports betting exchange Betfair scanner.
Goal Profits is aimed more towards fitting historic match data to fixtures pre-match and trading with their inplay football betting strategies depending on both pre-match and inplay stats.
Goal Profits hosts first half betting strategies, 2nd half strategies, and match goal market based betting systems. All of which are easily sorted and filterable using their custom world league groups, Euro A, B, C, European Summer, Americas, Asia & Middle East, Cups, and Internationals filters, alongside the season progression filter (0%-100%).
During busy periods the Goal Profits inplay scanner can also be filtered to display only fixtures that are fitting match stats for a specific inplay football betting strategy or numerous inplay strategies. Also by using their other in-house predefined inplay football stats filters such as the home or away favourite being behind, high match pressure, or user defined custom pro filters and a whole host more.

Goal Profits is likely better for those able to set aside a trading schedule based on upcoming fixtures, and for beginners with Goal Profits' wealth of inplay betting tutorials and bet advice from the pro trading sessions hosted in their chat room. Alongside all the necessary tools and features to successfully trade football inplay, all under one roof.
With the volume of fixtures and leagues available on sports betting exchanges, in particular the Betfair Exchange increasing on a month to month basis, there is however no reason those without any specific schedule can't use Goal Profits LSM Live Stats Module to pick out profitable inplay football trades almost 365 days a year, when used correctly.
Inplay Football Betting Strategy Alerts – A Huge Trading Time Saver
For those without the time to monitor the Goal Profits LSM live stats module, or InplayTrading's Betfair Exchange and bookies inplay scanners. All the inplay football scanners we have covered in this football betting strategy article, can be configured to generate and send inplay alerts via Telegram and eMail, when the user defined conditions of those inplay trading alerts are met. Audible alerts are also available.
At Goal Profits trading alerts can be set for shortlisted inplay betting selections, or for their custom football trading systems and quick filters. The option is also available to create custom pro filters to trigger inplay alerts based on live inplay stats alone, or using a combination of the aforementioned when configured correctly.
Both of InplayTrading's inplay scanners can be configured to trigger inplay alerts, based on any inplay football stats filters their interface is programmed with.
Inplay alerts are generated regardless of whether a browser is open and their inplay football trading sites are logged into, or not.
Automation – SoccerSupervisor 2 an Inplay Football Trading Bot
Although the inplay football trading strategies available at Goal Profits and InplayTrading are focused on inplay trading using multiple bets across multiple markets, there are football betting bots available which can be configured to place the various bets automatically.
Inplay trades can be triggered in a variety of different ways:
Manual fixture selection and instant bet placement
Manual fixture selection with timed bet placement
Manual fixture selection with bets triggered depending on inplay football stats
Automatic fixture selection and bet placement using inplay stats
Once the football betting bot has been configured with a single or multiple inplay football trading strategies, any of the above methods can be used to initiate an inplay trade. The SoccerSupervisor 2 betting bot is capable of placing multiple bets across multiple markets, including the ability to hedge and make trade out bets depending on live score and live stats data.
Did we mention that SoccerSupervisor 2 also has the ability to test and simulate inplay betting strategies using any of the above inplay betting trigger methods, whilst automatically logging all strategy results to boot? For this reason only it's worth the monthly subscription, or software purchase cost multiple times over.
For any visitors interested in automating their inplay football trading you can either click directly through one of the SoccerSupervisor 2 links or check out our full SoccerSupervisor 2 review.
Inplay Football Trading Options – Conclusion / Subscriptions / Support
For inplay traders to receive the best monthly subs cost, subscribers must pay for a yearly package. Heavily discounted yearly subscriptions are available from both Goal Profits and InplayTrading, with up to 40% off. These yearly subs payments can be split over three months too, using PayPal's 'Pay In 3' with three consecutive monthly interest-free payments.
At Goal Profits an annual subscription also comes with additional benefits:
Free Team Stats Daily and Team Stats Archive files
Free access to the Pre-Match Scalping Module
First access to new inplay football betting systems
Discounted 'Trade Your Bets' membership
Guaranteed seat at our free trading workshops
Priority booking for our free social events
While Goal Profits comes at a slight premium to InplayTrading they do offer all the tools including both the pre-match, and inplay stats which are required for inplay football trading.  Historical stats tools, preset filters, custom filtering options, inplay trading systems and shortlisting along with inplay football stats, are provided in a single online location with an active trading community to support this.
InplayTrading however provides users with two inplay football scanners for both the Betfair Exchange, and a bookmakers/sportsbooks live inplay football stats feed as we covered earlier. More in depth match stats, and historical results stats need to be found elsewhere, and users are encouraged to use their own football betting strategies and systems. IPT does however come at a lower cost when paying either monthly or annually.
TheBetMatrix.Win has an exclusive inplay football stats free (almost) £1 for 1 week joining deal available at InplayTrading, with Goal Profits offering a 2 weeks for £1 signup offer to their inplay football trading platform.
If any readers are still unsure if an inplay trading scanner or inplay alerts football scanner would best suit their needs, we have a Top 4 Inplay Football Stats & Scanners article which outlines all their main features and functionality.
Follow any of the above links to receive these special offers. If you have any additional questions, both sites have quick email support. Best of luck with your football trading, inplay football betting tips and alerts!
---
IMPORTANT NOTE: Don't forget to LIKE and FOLLOW us on the various social media channels we post updates on, also on our homepage we have a Newsletter Subscription form.  Like, Follow us & join the Newsletter to be sure you don't miss a thing!
Feel free to use the social sharing buttons included on this page, they're there for your use.
Thanks for visiting TheBetMatrix.Win – We've plenty more sports betting content, available at your convenience.
---
Frequently Asked Questions (FAQ):
What is inplay trading?
Inplay trading or betting allows traders to bet on events once they have started, or gone 'inplay'. With a combination of back and lay bets, inplay traders can profit from a betting exchange market's volatility.
What is a good inplay betting strategy?
The best inplay betting strategies use a combination of back and lay bets, across a single or multiple betting exchange markets, for an event. Locking in a profit or risk free bet, before the event has even finished.