Using the Overs Unders, Asian Handicap, and Goal Lines football goal betting markets. Punters are able to bet on the total number of goals in a match, apply a goal handicap to either team in the match, or bet on the goal line market for a set number of goals.
When handicap betting with the asian handicap or on goal lines there are more outcomes than just the win or loss seen in overs unders markets. These two goals betting markets also offer, depending on the result, settlement as a half win, half loss, or a voided bet where the entire stake is returned.
While the WinDrawWin Match Odds, or as some prefer 1X2 football betting markets see the most bets placed, and in turn the most money wagered, the goal related markets are hot on their tail, and attracting the attention of more and more punters.
As far as popularity goes, footballs goal betting markets can be placed in this order:
Overs Unders
Asian Handicap
Goal Lines
In this article we'll go on to explain the differences between these goal markets, and how they can be used in both pre-match and inplay football betting.
When using sports betting exchanges rather than bookmakers, there is also the option not to just place a back bet on goal markets, but also place lay bets. A lay bet, is a bet on the exact opposite outcome of a back bet on any given sports betting market. If the back bet wins, the lay bet loses, and vice versa.
Lay bets are available with betting exchanges for all markets they offer. Both pre-game and for inplay betting, and form the basis of the sports betting exchange system. We'll provide a few examples, along with the various goal markets meanings and explanations.
Overs Unders – Over 2.5 Goals Meaning, and Other Overs Unders Markets
By far the most popular overs unders goals market is over 2.5 goals, with football bettors scouring the internet daily for over 2.5 goals tips and predictions. Over unders betting markets start at 0.5 and usually go right up to around over under 8.5.
If a match is particularly high scoring while betting is inplay, sports betting exchanges and bookmakers have been seen to add over under inplay football betting markets, right up to over and under 14.5 goals and more!
So what is overs unders goal betting? Out of the three goal market types we'll cover in this article, it's the most simple to follow.
Using the popular over under 2.5 market as an example, it simply means that within 90 minutes, plus injury time. The match will finish with over or under 2.5 goals.
Over 2.5 goals – Any full time scoreline of 1-2, 2-1, 3-0, 0-3 or higher and you've won. While the football betting market's name is over 2.5, it simply means that there will be 3 goals or more in the game.
Under 2.5 goals – Any full time scoreline of 1-1, 0-1, 1-0, or 0-0 and you've won, the match has finished with under 2.5 goals.
And there you have it, the over 2.5 goals meaning. The same applies to all other over under goal betting markets. The bet is on the amount of goals to be over or under the specified amount at the full time whistle, after 90 minutes.
Why is a .5 used? If a whole number were in use, in the under over 3.5 betting market for instance. The only market would be over or under 3 goals, missing out the actual 3 goals score line match results themselves, and the same applies to all other overs unders goals betting meanings.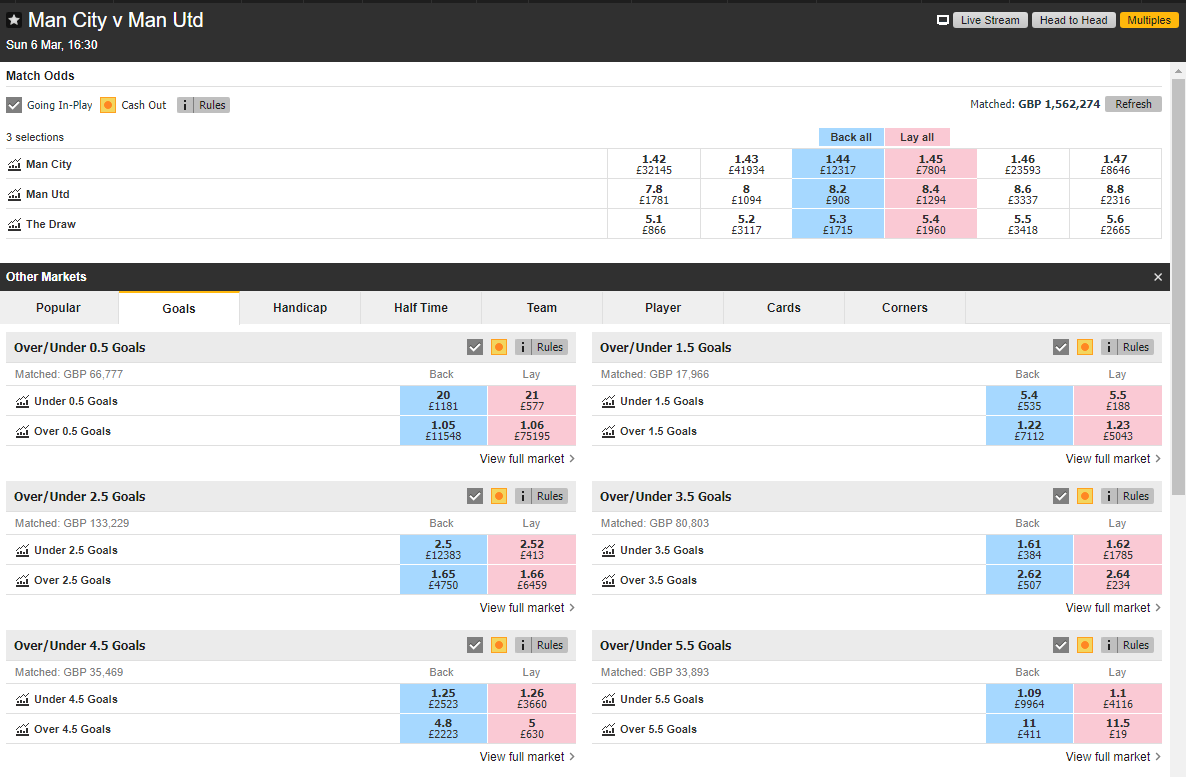 Whilst bookmakers only offer back or win bets for these over under goal markets, sports betting exchanges also have the option to place a lay bet. So in our examples above the result would effectively be reversed, a lay bet on over 2.5 goals would win if the match finished under 2.5 goals, and vice versa if the lay bet was placed on under 2.5 goals.
This may sound a little pointless, as you would be betting on the same outcome with a lay bet on the unders market as you would with a back bet on the overs market, but this forms the backbone of a sports betting exchanges system and functionality.
Back bets are matched with other users' lay bets to create a sports betting exchange trading market.
If you're not already a member at a sports betting exchange, check out our signup offers page for some free back or lay bet promos. The odds on offer at betting exchanges are much higher than bookmakers for almost every single bet a punter would want to place.
Overs Unders First Half Goals
Betting on overs and unders in the first half of a match only is also possible, from under or over 0.5 to overs unders 2.5. Usually only the 2.5, 1.5, 0.5 first half goal over under betting markets will be available pre-match, and at kick off.
More markets will be added should there be a lot of goals, under over 3.5 and higher for example.
Rather than counting the total number of match goals, the first half overs unders betting markets are for goals in the first half of matches only!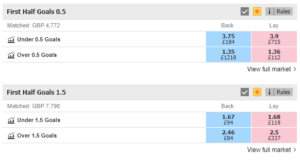 Over under, first half goals markets are gaining in popularity. If there are no goals early on in a match, at least one team, possibly both will likely increase pressure towards the end of the first half. Wanting to take the lead, before going back into the dressing room at half time.
By the time the match is half way through the first half, the over 0.5 first half goals and other related overs unders first half betting markets will have increased in odds significantly, giving punters a good opportunity for a well valued bet if pressure is increasing from sides wanting to take a half time lead.
Check out our inplay football scanner article, providing details on websites which provide a heads up display with inplay football stats of all currently inplay matches. Enabling users to easily monitor multiple matches on a single inplay scanner, and see exactly where the high pressure games are taking place.
Matches can even be filtered and ordered by the streaming inplay stats, pressure/momentum indicators, and other custom filters. The inplay football scanners are well worth a look.
Asian Handicap Explained in Handicap Football Betting
Handicap football betting AKA, the Asian Handicap is a football betting market focused on goals. As the goals betting market name suggests, a handicap is applied to either the home or away side in relation to the number of goals they score, opposed to the number of goals their opponent scores.
While the overs unders betting markets have just two outcomes, win or lose. With handicap betting there are numerous different outcomes of a bet. Handicap football betting results range from stake returned, winning or losing half your stake, to a straight win or loss.
Typically handicap football betting is used by punters when there's a strong favourite, to apply a handicap to the amount of goals the match favourite finishes ahead, against the opposition.
We'll go on to provide you with a concise asian handicap explanation, and by the time you've finished reading this section, you'll know exactly what handicap betting is all about.
An asian handicap explanation is easiest if we break it down in to three forms of handicap football betting markets:
Level Asian Handicap Betting
Single Asian Handicap Betting
Split Asian Handicap Betting (quarter goal)
While an explanation of the asian handicap markets is a little more difficult to follow than the overs unders betting markets we covered above, broken down into the three forms of handicap betting markets bullet pointed above, it's much easier to get a grasp on them.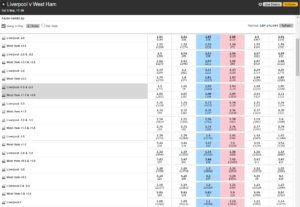 When you lookup handicap football betting markets on a sports betting exchange or bookmakers website, they'll all be listed together however.
While all these markets may seem a little daunting, read on for the asian handicap explained, and you'll be able to see exactly what's going on in the various handicap betting markets available from the Betfair sports betting exchange, and other online betting platforms.
Note, that because the markets pictured are from a sports betting exchange, there is the option to place, back or lay bets. A back bet is no different to a standard win bet placed with a bookmaker. Back bets prices are in blue, with lay bet prices in pink.
Level Asian Handicap Betting
The most basic form of handicap betting is the same as the 'draw no bet' market. In that, no goal handicap is applied to either team and should the match finish in a draw, the stake is returned in full. Essentially, if the match finishes in a draw, any bets have been voided.
See in the table below the various outcomes of a 0 goal handicap bet:

* Bet Void: Stake is returned.
Single Asian Handicap Betting
With single asian handicap football betting there are again three possible outcomes to a bet, win, lose or void. The goal handicap can be specified by a full goal or half goal.
With full goal markets settling as a voided bet should the scoreline difference be equal to the selected markets match goal difference amount, and half goal markets settling as just a win or loss, as the football match results can't have a half goal difference.
If a top of the table team were playing a side in a relegation position for example, a punter may want to place a handicap bet of -0.5, -1, -1.5 or -2 for example, assuming the pre-match favourite would win the game by either 1 goal, 2 goals, or 3 more goal margin.
Single asian handicap football betting markets are available with both positive and negative goal difference amounts, so should a bettor want to apply a goal advantage to a bet, be that +0.5, +1, +1.5 or +2 which may be likely if a bettor sees value in an underdog holding off stronger opposition, this may be a viable bet to make.
A positive goal difference handicap bet may seem like a good value option when a team is struggling against relegation, versus an opponent with nothing to lose.
These bets would be settled as per the asian handicap explanation table below: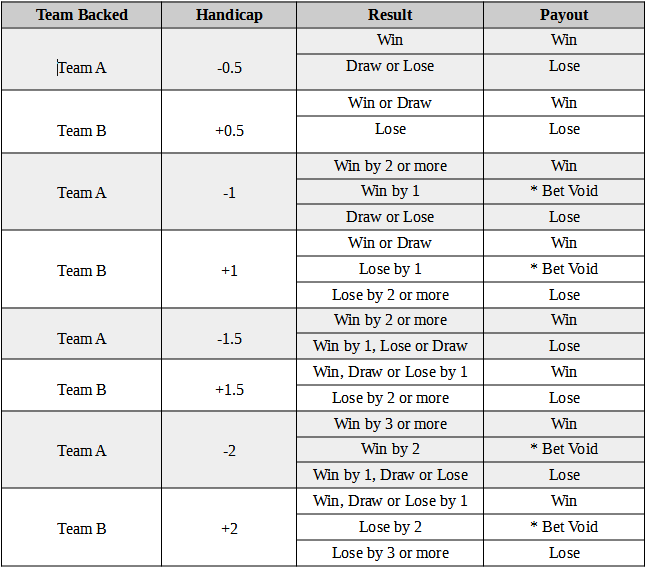 * Bet Void: Stake is returned.
Split Asian Handicap Betting (Quarter Goal)
The split asian handicap betting market allows the punter to split the stake over two handicaps, sometimes this is referred to as the quarter goal asian handicap markets.
In the quarter goal asian handicap markets there are four possible outcomes, win, lose, lose half stake, and win half stake.
Win and lose half stake are settled as follows:
* Win half stake: Half the stake is voided, half the stake is won, and applied to the odds of the handicap bet.
* Lose half stake: Half the stake is lost, half the stake is voided and returned.
Some example markets of the split asian handicap or quarter goal handicap markets are (0 & -0.5), (-0.5 & -1), (-1 & -1.5) which are sometimes shortened to -0.25, -.75, and -1.25 respectively.
Again, there are positive split stake handicap football betting markets available too. These handicap bets are settled as per the table below: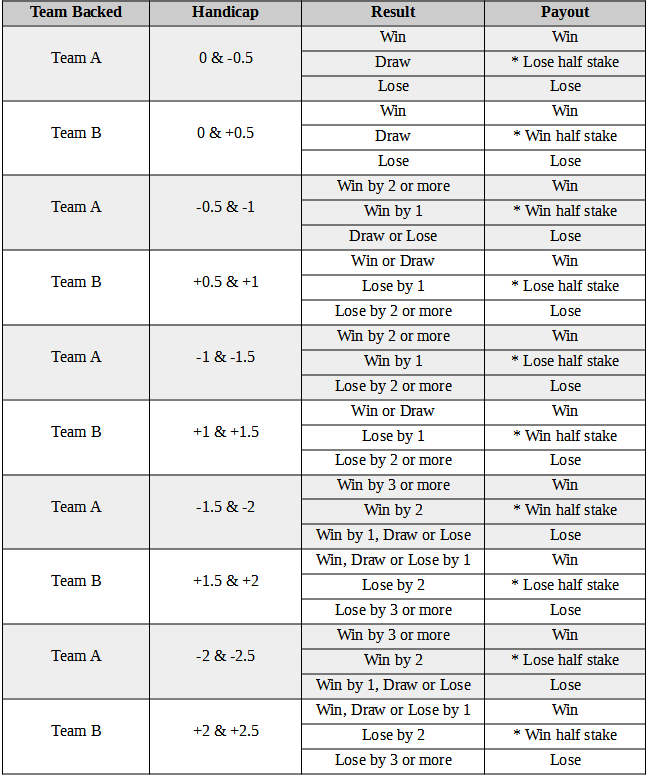 As pictured in the handicap column, two handicaps are applied to the bet which allow the punter much more versatility in bet placement. In relation to possible results and bet settlements, the half stake bet settlements are made, as there were two separate handicap bets rolled into one.
Goal Lines Explained in Football Betting
Goal line betting is essentially a cross between the overs unders markets, and the single and split asian handicap markets. In that the goal line bet is placed on either single or multiple lines, and then settled much in the same way as handicap betting markets.
The major difference being, goal line bets apply to the total amount of goals in the match, similarly to overs unders betting markets. Single and split goal line betting markets are available, offering the punter much more flexibility with their choice of bet in relation to the possible total amount of total goals scored in a football match.
Example goal lines:
Single goal line meaning – Over 2.0 has three separate settlements, a loss if there's 0 or 1 goal, 2 goals is a void, 3+ is over 2.0 and a win.
Split goal line explained – Over 2.0 & 2.5, as above the over 2.0 part of the bet would settle as above, with the over 2.5 part of the bet being either won or lost if there are more than or less than 3 goals respectively.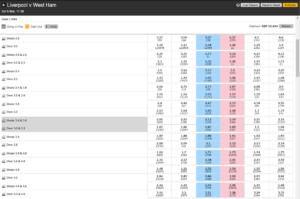 If you followed the section of this article relating the single and split asian handicap explanations of bet settlement, you'll have no problems looking at the table below to see how goal line bets are settled.
Five different bet settlements can be applied. A win, loss, half win, half loss, or a voided bet.
Here's a goal line win or lose, half stake won, half stake lost, and voided goal line bet settlement explanation table. Goal line bets are settled as follows: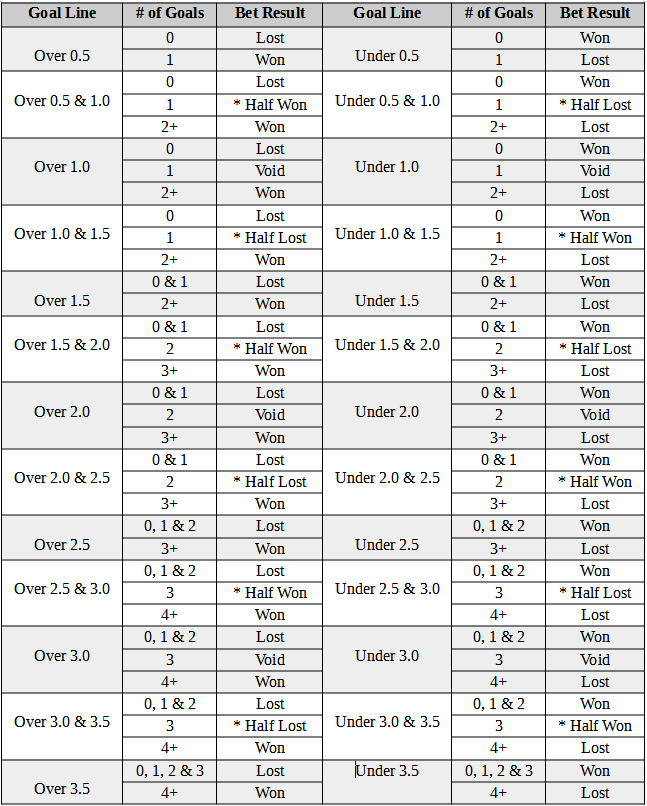 * Half Won: Half the stake is voided, half the stake is won, and applied to the odds of the bet.
* Half Lost: Half the stake is lost, half the stake is voided and returned.
* Bet Void: Stake is returned.
Broken down into all the various different bet types and settlements, an understandable explanation of goal lines betting markets is relatively easy to follow. Especially with the results and settlement tables we've provided for the numerous goals markets available with both, sports betting exchanges and bookmakers.
Next time you see goals betting opportunities pop up, you'll have much more versatility in the type of bets placed, and varying results covered with your goal line bet.
InPlay Football Betting on Goals Markets
Nowadays inplay football betting on goals markets and the windrawwin match odds, 1X2 betting markets, accounts for more volume in relation to the amount of bets placed, and volume of money wagered, than bets placed before football matches start and go inplay.
As pictured in our example below, the popular over 2.5 goals odds have almost doubled between kick off and 24 minutes into the first half, around the time teams can start to battle it out to take the lead before going into the dressing room at half time.
Should there have been an early goal, the odds available in overs unders goal markets, goal lines, and the asian handicap would obviously move significantly. Perhaps to your advantage, perhaps not, fully dependent on whether you bet overs or unders, or which team you applied a handicap bet to.
If you're looking for over 2.5 goals predictions for today, over 2.5 tips, or inplay betting tips in general we highly recommend you take a look at our inplay football scanners article.
As mentioned earlier in this article the inplay scanners display the various match stats, of all matches currently inplay around the planet. In once nice neat heads up display of inplay football stats.
All the common football statistics are available, including shots on and off target, corners, cards, dangerous attacks, possession, etc. Inplay football scanners have their own unique pressure gauges too, inplay matches can also be ordered by games with the most attacking pressure and shots, from top to bottom in a single interface. Providing you with unique inplay football tips.
Users of inplay football betting scanners are also able to configure their own personal alerts based on the inplay match stats, pressure gauges. These inplay scanners can also apply pre-match and historical results data to the configured inplay alerts too, for a little more fine tuning of the alerts received via app, eMail, Telegram, etc.
They're well worth checking out, with most offering a free trial period! Be done with scouring the internet for free inplay football betting tips, generate your own daily pre-match and inplay football predictions and tips.
---
IMPORTANT NOTE: Don't forget to LIKE and FOLLOW us on the various social media channels we post updates on, also on our homepage we have a Newsletter Subscription form. Like, Follow us & join the Newsletter to be sure you don't miss a thing!
Feel free to use the social sharing buttons included on this page, they're there for your use.
Thanks for visiting TheBetMatrix.Win – We've plenty more sports betting content, available at your convenience.
---
Frequently Asked Questions (FAQ):
What are overs unders in sports betting?
Overs unders in sports betting is a pregame or inplay bet placed that a specific sports statistic will finish over, or under a specific amount. Common overs unders bets are goal and card totals in soccer/football betting.
What are goal lines in sports betting?
Similar to overs/unders betting, except goal lines offer the bettor additional bet options or 'lines'. Combined with standard overs unders are single goal lines, and split goal lines, which can be settled with win/lose/void bets, and half wins/half loses.
What is the asian handicap in sports betting?
The asian handicap is a form of betting, most commonly on football. Either team can be handicapped by level, single, and split lines goal amounts so that a team must win or lose by a specific amount of goals for a bet to win.  Bets can be settled as win/lose/void, and a half win or half loss.