Introduction – Sports Tipping and Predictions Services, Paid & Free
Good quality tipster sites and indeed good quality tips are hard to find.  At TheBetMatrix.Win we've done our best to bring you some of the best football tipster sites and horse racing tips available online.
While the majority of sports tipping sites focus on horse racing predictions and football betting tips, other sports are included too.  If you're interested in golf tips or greyhound predictions some of the tipster websites we've shortlisted won't leave you disappointed.
Most of our shortlisted tipping websites offer high quality free tips, along with a premium sports tips service.  All offer up to the minute daily picks.  So if you're looking for some football predictions for today, or horse racing tips for today, you've come to the right place.
Football Tips Services, Horse Racing, Golf & More – Method of Review
The internet is overrun with poor quality tipping and predictions sites that fabricate results or the odds at which their paid tips performed.  You will not find that here, we've applied a strict protocol to our method of review on the sports tipping sites we've covered.
Our method of review aims to provide you with factual proofed information set on the following criteria:
Sports Covered?
Free Tips Available?
Proofing of Tips?
Quality of Tipsters?
Additional Services?
Subscription Tiers Available / Price?
You'll find detailed information proofing the integrity of the tipping and prediction websites we've covered in our sports tipping websites reviews.
The sports betting tips websites we've covered and reviewed are:
It's worth accepting that not every sports betting tip or prediction is going to be a winner.  To squeeze the maximum potential out of the free tips and premium sports betting predictions these sites provide, you should place the resulting bets from the racing tipster or football betting prediction at the best possible odds.
You'll find details on how to do this in the summary section at the end of the article.  But for now, let's get on with taking a closer look at the best tipping sites available online.
SmartBettingClub.com – Smart Betting Club Review
As the name suggests, Smart Betting Club isn't just a tipster website providing premium and free tips.  Smart Betting Club have created a members only betting club providing free racing tips, football predictions, and golf tips for subscribers.
They've been around for the best part of two decades, and all the information on what it takes to successfully use tipsters to make a consistent profit is included within their membership fee.  We'll detail what's on offer in our Smart Betting Club review.
Currently, for those who want to test the Smart Betting Club service out, there are two golf tipsters who provide completely free golf tips.  Not only this, but they're also delivered directly to your email address each week 100% FREE!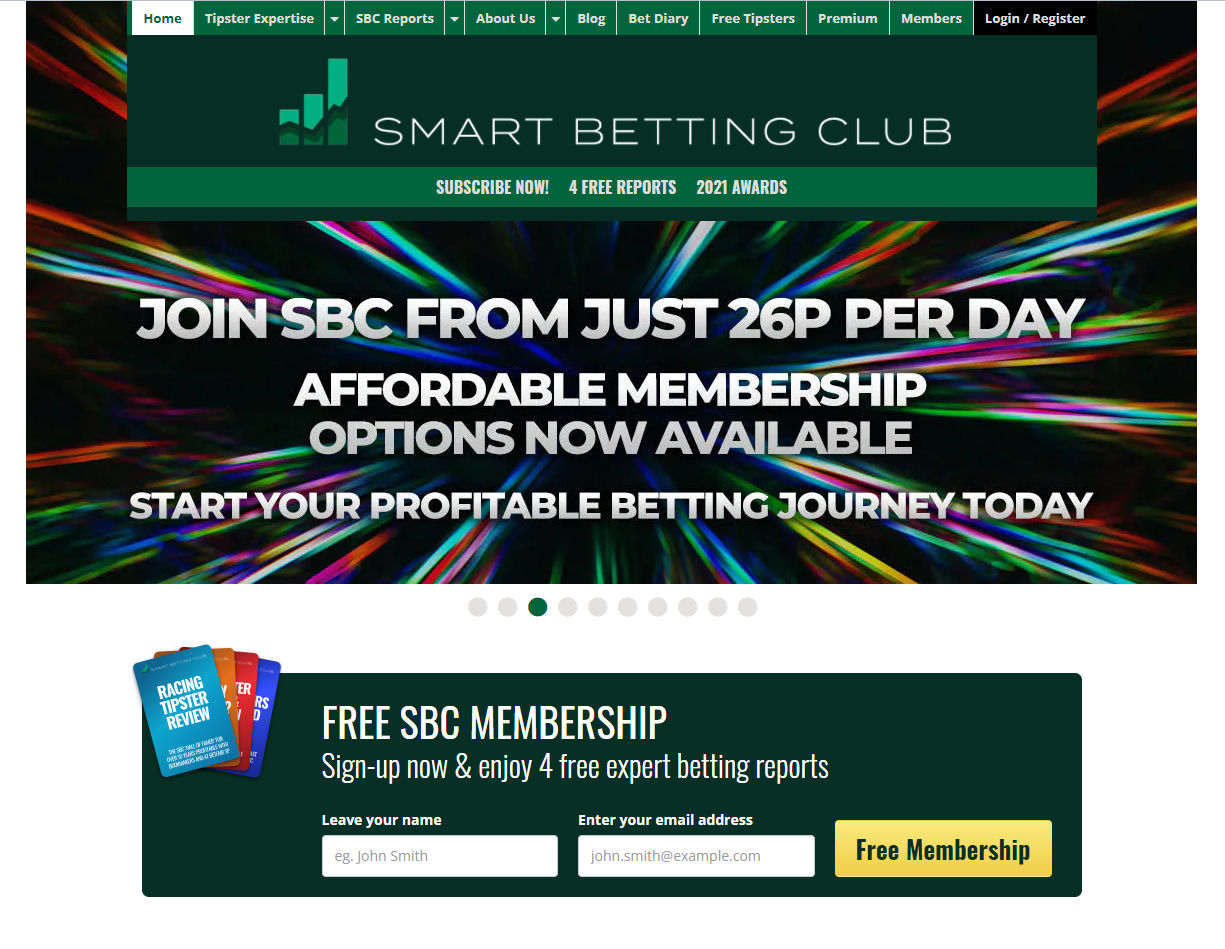 Sports Covered – At Smart Betting Club:
The sports covered at Smart Betting Club isn't the widest selection you'll find online, they do however cover and provide tips for all of the most popular sports punters are seeking out betting predictions for.
You'll find within the members free tips section, an array of tipsters covering the following sports:
Horse Racing
Football Tips
Golf Predictions
An NFL Tipster
Basketball Tips
Darts Predictions
Currently there are 13 free tipsters included within Smart Betting Clubs membership fee. These are mostly football tipsters and racing tipsters, there are some very good golf prediction specialists too though.
Along with their free tips included with membership, SBC as they're known to subscribers, also offer a premium tipster service.  There are a variety of premium tipsters covering football betting, golf, and horse racing.  Some of these tipsters are exclusively available to members only, others can be subscribed to by non-members for a slightly higher fee.
These guys are good, most hold a record of not having a losing year over the last 3-5 years.
Free Tips Available – At Smart Betting Club?
On top of the two free golf tipsters, SBC offer multiple free trials to tipsters ranging from 7 to 30 days.  Sports covered are horse racing predictions, and darts tips.  Unfortunately, currently there are no free football tips, you'll have to sign up for these.
Proofing of Tips – At Smart Betting Club?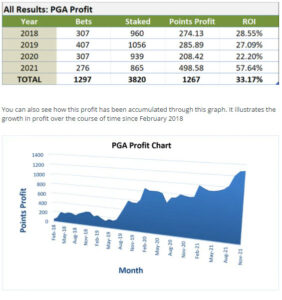 Smart Betting Club provides profit records of each tipster, including all the usual figures.  Points profit, % ROI, including a line chart and bar graph dating back over a decade in some cases.  All tips and predictions are proofed, be those football tipsters, racing tipsters, golf predictions, or any other sport covered.
Checkout the individual tipsters pages for full profit reports.  You'll soon see why Smart Betting Club charges a little extra for their premium tipsters!
The premium golf tipsters performance chart doesn't require much further explanation.
Quality of Tipsters – At Smart Betting Club?
The quality of the tipsters on a whole appears to be excellent.  As mentioned in the above paragraph, each tipster is profiled and proofed providing subscribers and website visitors a view of the tipsters betting performance.  We found the horse racing tipsters and golf predictions providers to be particularly high performers.
Additional Services – At Smart Betting Club?
While a lot of Smart Betting Clubs content is available to members only, they provide four full reports on betting profitably, for free.  Including a racing tipster review, a golf tipster review and interview, an insight on backing to win or each way and a full report on their top 50+ tipsters compared.  Just sign up for a free SBC membership account, and they're available for download right away.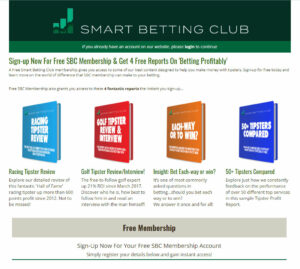 For members of SBC there is a wealth of betting information and reports available for subscribers.  Smart Betting Club publishes a magazine 6 times per year with tipster performance details, betting reviews, awards, winning betting strategies and much much more.
You really need to head over to the SBC website to see exactly what they have on offer, there's just too much to cover in our Smart Betting Club Review.
To get hold of the free eBooks simply navigate to the SBC reports tab and click through 'Free Membership Reports'.
Subscription Tiers Available / Price – At Smart Betting Club?
First of all, Smart Betting Club offer a 90 Days Money Back Guarantee – SBC states 'Try The SBC Service Risk-Free For Up To 90 Days – If We Don't Help Your Betting – Get A Full Refund!' You can't say fairer than that.
Yearly membership is much less than £100 which provides access to everything we've discussed above, including over 13 fully profiled and proofed profitable tipsters for multiple sports.  Price wise this is an absolute bargain.  Individual betting tipsters can, and do, charge this and more just for a single month.
While the premium tipsters do come at a premium cost, they provide a premium service.  And most importantly, premium tips and results!  SBC has a premium service for football tipsters, racing tips, and golf predictions.  You can join any of these premium tipping services with a heavily discounted trial period.
Check out the Smart Betting Club website for full details of the sports betting and tipping services, plus all the additional sports betting content they have available for subscribers.  That's it for our Smart Betting Club review, we hope you head over to their site, and at least make use of some of the free tips on offer.
BettingGods.com – Betting Gods Review
Purely a sports tipster site, Betting Gods have top performing tipsters for all popular sports.  Their best tipsters provide daily betting tips, so if you're looking for racing tips for today or daily greyhound predictions, this is definitely a tipping website worth taking a closer look at.
Betting Gods is not a betting membership site, tipsters can be paid for and followed on an individual basis.  We'll provide you with all the details in our Betting Gods review.
They have an Android and iPhone app available from the Google Play store, and Apple App Store respectively, to be sure you don't miss a single valuable tip!
Sports Covered – At Betting Gods?
While Betting Gods don't have the most tipsters available that you'll find at sports tipping websites online, they do have some exceptional sports tipsters, covering almost any sport most punters would want to bet on or find a paid pro tipping service for.
The sports covered by Betting Gods best tipsters are as follows:
Daily Horse Racing Tips
Football Predictions
Greyhound Tips
NHL Betting Tipster
Basketball Predictions
Golf Tipsters
Betting Gods is not an open access site for any wannabe tipster to sign up to and try their luck.  To make it onto BettingGods.com as a professional tipster, historic performance must be proven.  More on this later in the article.
Free Tips Available – At Betting Gods?
Daily free tips are available from Betting Gods, if you're looking for some free horse racing tips today, this is the place.  Just a name and eMail address are required, and you'll receive free daily betting tips directly to your inbox.
There's always a horse racing prediction, however there are two tips per day for free, each and every morning.  The second tip could be from any sport in our list above.
The Betting Gods blog monthly reports posts provide a 15 day FREE trial to the month's top 3 performers at absolutely no cost.  Just head over to their blog and look up one of the monthly reports articles.
Proofing of Tips – At Betting Gods?
Betting Gods rigorously proof their tipsters.  Most were proofed for the best part of a year before being added as pro tipsters on the Betting Gods tipping website.
With 100's of positive reviews on TrustPilot it appears that Betting Gods screening process is working very well indeed, over 90% rate them great or excellent!
Quality of Tipsters – At Betting Gods?
Their best tipsters have been offering services on BettingGods.com dating back to 2014.  To this day they still provide a consistent strike rate, and profitable tips with a high ROI %.  Specifically their top horse racing tipster Quentin Franks and their premier greyhound tipster have significantly and reliably outperformed the market over this period.
As you can see on the betting performance graphs above, these guys provide premium tips for golf, greyhound predictions and horse racing betting tips of the very highest quality.  Their experience is clearly at the top of the game.
It's worth heading over to the Betting Gods website and having a good look through the quality tipsters they have on offer, we're limited to how much detail we can provide in this Betting Gods review.
Check out Quentin Franks Racing predictions, the Premier Greyhound Tips, or PGA Profit now.  Just follow the link and hit tipsters on the menu to find them.  All three pro tipsters have discounted 15 day trial periods available.
Additional Services – At Betting Gods?
As mentioned above, Betting Gods have both iPhone and Android apps available providing notifications the second your tipster posts a tip, so you won't miss a bet.
Also available for free to all users, is their betting blog providing valuable insight into the world of betting.  The blog covers subjects such as the use of sports betting exchanges to place bets at much better odds, and a monthly tipster performance report.
Subscription Tiers Available / Price – At Betting Gods?
Betting Gods have a 30 day money back guarantee on all tipsters, and a refund can be requested at any time for the previous 30 days subscription.  They also host a promotional joining offer of £1.99 for the first 15 days on all tipsters, this even includes their top performers.
It's definitely worth following our free tip posted above in our Betting Gods review, and heading over to their blog to take up the 15 days free trial for the top 3 performing tipsters from the previous month, you'll find this in the 'monthly report' blog posts.
Betting.com – Betting.com Review
Betting.com follows a different tips and predictions model to the sites we've already covered in our tipster website reviews.  Firstly, their tipster site is open to anyone for registration as a tipster.  If a tipster performs well there is an option to have their betting statistics reviewed and become a paid tipster, rather than posting their daily tips for free.
At Betting.com they hold a monthly tipster competition, so the site attracts some very good tipsters.  The domain name suggests betting.com is one of the biggest tipster and betting websites you'll find online.  As far as tipster and betting domain names go, they don't come much bigger than betting.com
We found, however, that their coverage in the case of sports betting predictions and tipsters, is somewhat limited to some exceptional football tipsters.  They also host an AI Artificial Intelligence driven football prediction engine and service which seems to work very well indeed.
The betting.com sports predictions website is available in over 5 different languages, including English, Finnish, Spanish, German, and Swedish.
We'll go into some finer details on exactly what their daily sports tipping, predictions, and betting services website provides in our Betting.com review.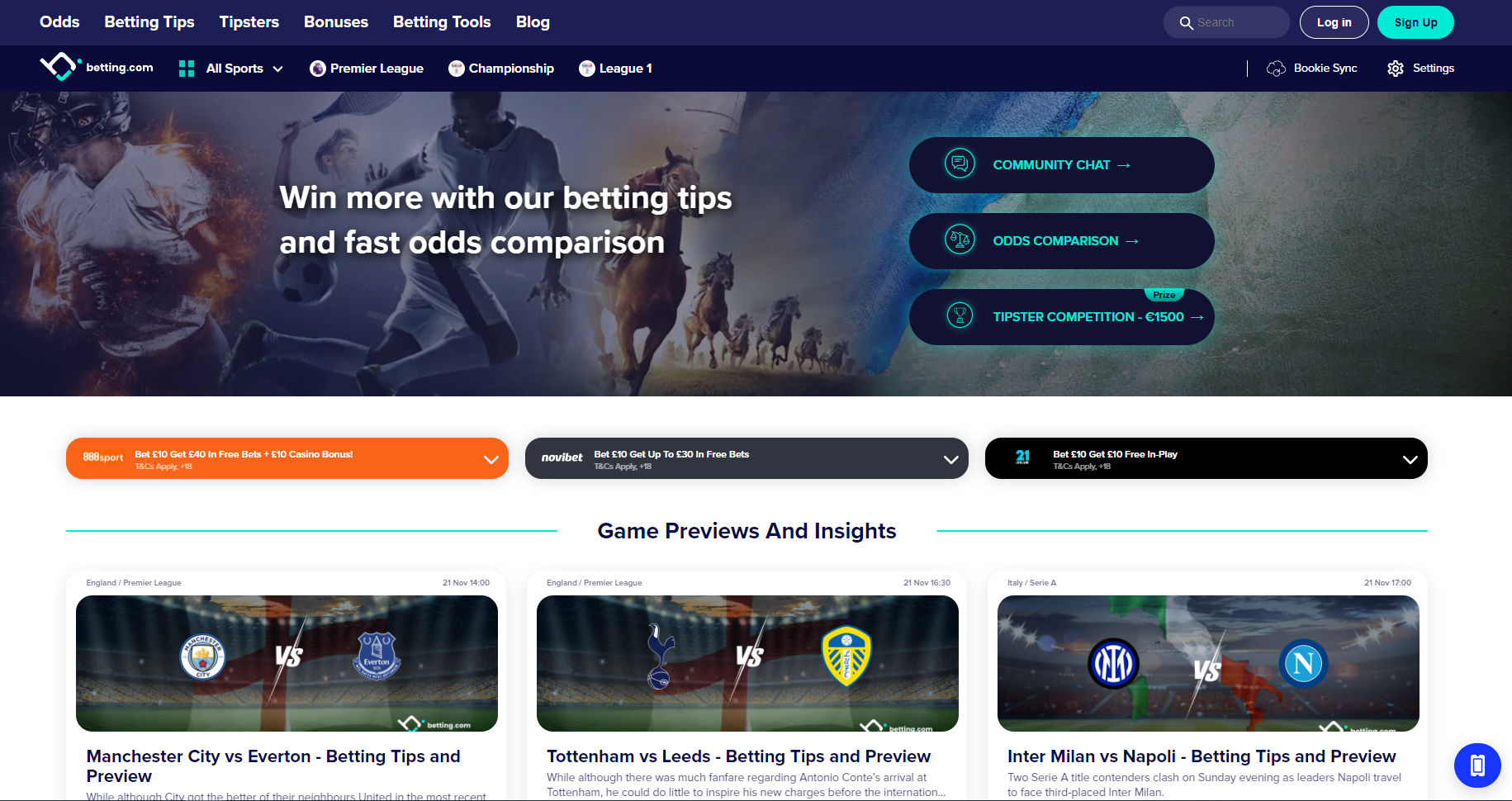 Sports Covered – At Betting.com?
Betting.com lists well over 10 different sports for paid and free tipsters to place bets/tips on.  We found however that their best tipsters are restricted to just two or three different sports. These being:
Football Tips
AI Football Prediction
eSports Tips
While the Betting.com website does cover a multitude of other sports, for the time being, visitors are as well sticking to the football tips and AI football prediction service.  If you find quality tipsters on Betting.com covering other sports, be sure to drop us an eMail and we'll update this Betting.com review as advised.
Free Tips Available – At Betting.com?
As mentioned above there are free tips, and indeed free tipsters available at Betting.com so if you're looking for some free football tips for today, head over to their site and take a look.
Provided users have a careful look through what's on offer, it's relatively easy to find profitable free football tipsters.  We found a couple of hot football predictors within the hour.  For betting consistency's sake, you're probably as well sticking to the paid tips providers though, as they will post their betting tips daily.
The free profitable tipsters could move on to another site or take up a tips providing contract elsewhere, at any time.  Free racing tips are onsite at Betting.com too, but the quality is not of the highest standard.
Proofing of Tips – At Betting.com?
Betting.com provide a full proofing interface for all tipsters, free and paid.  Daily tips are posted well in advance in most cases.  Even the time the day's tips are posted before an event's start time is tracked, and the performance of that particular advance time window is tracked too.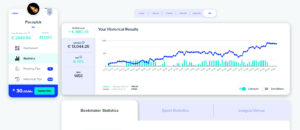 Odds ranges and performance within specific odds ranges are also tracked and on display in each individual tipster's prediction performance statistics page, along with the stake size suggestions for each tip.
At Betting.com the proofing and performance tracking of tipsters really is quite impressive.  While the football tipsters available are very very good, it's disappointing that there are not more major popular sports covered by their sports prediction experts.
Quality of Tipsters – At Betting.com?
In a nutshell, Betting.com is missing high quality racing tipsters, and professional sports predictions in other sporting arenas too.   Their football tipsters however, are the best we've seen online, including some of the free football tips available.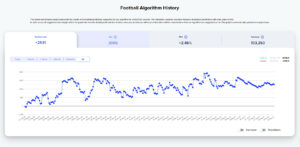 If you're looking for some paid or free football predictions for today, Betting.com would be a very good choice to make.
The Football AI prediction service, while it's only been running a matter of years and is likely still undergoing performance tuning and enhancements to the AI algorithms in use, is already looking extremely promising and only requires 3-4 bets a day on average to follow.
Users of the AI football predictions service can obviously cross check the bets generated before placement, and apply additional criteria and betting strategy to maximise the bets potential and profit.
Additional Services – At Betting.com?
Additional services for members at Betting.com include a fully comprehensive bet tracker.  While this does come at an additional annual or monthly subscription cost the bet tracker subscription package includes football predictions, football stats, and value bet signals.  Betting.com have created a full sports betting predictions and portfolio management solution.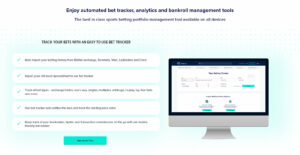 The bet tracker is an essential tool for any serious gambler.  It can be synced with the Betfair Exchange, or your Smarkets account to automatically retrieve your betting history.  Not only are exchange back bets covered but also sports betting exchange trades, multiples, arbitrage bets, in-play live score bets, and lay bets, along with any free bets placed via promotions.
Notes, tipsters and strategies can be assigned to your bets within the Betting.com bet tracker interface.  Full betting analytics are provided including ROI, turnover, etc.  Users of the tracker are able to drill down to the finest details, including the various sports being bet on, league performance, bet type, tipster performance, and a whole lot more.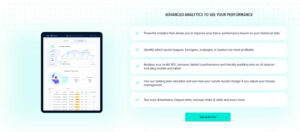 For users of the Betfair Exchange and Smarkets, Betting.com's bet tracker and portfolio manager is an impressive piece of kit.  It can literally track everything, including your usage and the performance of Betting.com's on site pro and free tipsters.  Their in-house AI driven football betting predictions are also included in the subscription price.
A full portfolio and bankroll management solution is in place within the tracker, so you can keep even tabs on expenditure for your paid pro football tipsters, and racing tips alongside the return they provide.  Or any other tipping service, or betting expenditure for that matter.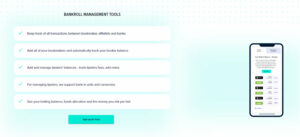 Everything is hosted on Betting.com servers, so no matter where you are or what device you're using, all your data is available.  You'll never miss a tip again, notifications are sent out every time a followed tipster publishes a tip, including the AI betting predictions.  There is a pro and junior plan available.
Alongside their bet tracker, Betting.com also have a content packed betting blog, including betting knowledge articles, the latest betting news, a full suite of betting guides, even betting calculators and odds finders.
Subscription Tiers Available / Price – At Betting.com?
The data driven football predictions and bet tracking suite come as a package, you can't buy one without the other.  The cost is less than £100 annually, which is a bargain considering what's included.  Their junior plan is less than half price, but doesn't include the AI generated football tips, or some other features.
As already mentioned in our Betting.com review, while free racing tips are available, their best offering are football tipsters who are of the highest quality.  They've some of the best football prediction experts we've seen anywhere online.
If you have a good look around you'll find some good free football predictions, but for the sake of consistency it's probably as well signing up to one of the paid tipping services or taking advantage of the bet tracking suite which comes parcelled with the football predictions including the AI engine betting tips, football stats, and value bet signals.
While Betting.com are sticking with the Betfair Exchange and Smarkets with their bet tracker for the moment, one would expect they'll be adding support for the BETDAQ and Matchbook sports betting exchanges soon!
The odds available at betting exchanges can be 50% to 200% higher or more, than what's available with bookies.
If you're not signed up to a sports betting exchange yet, checkout our betting exchanges comparison page or if you're wanting to get involved right away, we have a page detailing all the latest betting exchange sign up promotions and free bets codes.
TheTipsterLeague.com – The Tipster League Review
If you're looking for some horse racing tips for today, TTL as subscribers like to call the service is what it says on the box, a Tipster League.  Within The Tipster League are around 50 tipsters ranked on a league table as you would expect, providing daily betting tips.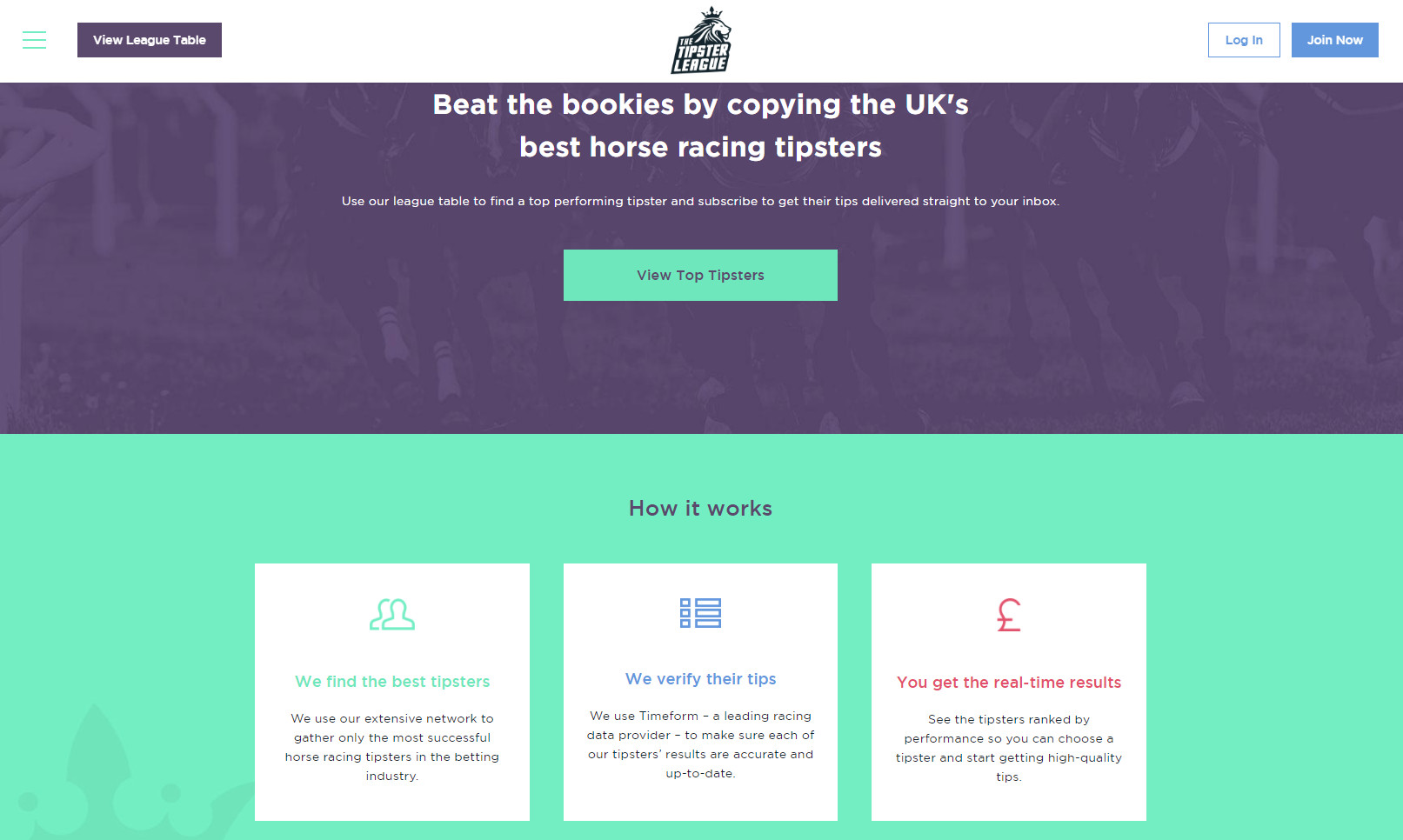 Betting attributes covered on the league table are the number of tips a tipster has posted throughout their duration in The Tipster League, each tipster's ROI % (return on investment), and their total profit or loss.  Much more detail is provided on their racing tipsters performance and metrics, which we'll go on to cover in The Tipster League review.
Sports Covered – At The Tipster League?
The Tipster League is exclusively for horse racing tipsters.  No other sports are covered.
Daily Horse Racing Predictions
British, Irish & UAE Racing only.  Win and Each Way, Place bets only.  No forecasts, tricasts or other multiples.
Free Tips Available – At The Tipster League?
From time to time The Tipster League run free racing tips promotions, where you'll receive free racing predictions daily from one of their top ranked tipsters.  It's worth signing up to the newsletter to be kept up to date on any free tips promotions TTL are offering, eventually you'll receive a promotional email offering some free racing tips for the day or longer.
The format of the free racing tips promotions that TTL runs varies, and is sent out via the newsletter.  Occasionally, an all access pass is given for a free week or two's predictions from one of their top racing tipsters, or just a day's access.  Either way, at the very least you'll receive some free racing tips for the day, via eMail.
They always choose one of the top 5 in the TTL league table for these promos, so be sure not to miss out.
Proofing of Tips – At The Tipster League?
When one of The Tipster Leagues pro tipsters posts tips within the league, their tips are verified and odds are checked and recorded in a number of different ways.  We'll go into more detail on the racing predictions performance tracking in the following section of this review.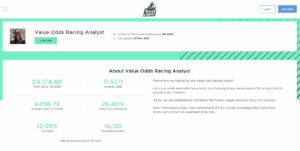 Each horse racing tipster has their own profile page containing a whole host of different statistics and variables. These cover just about every possible angle of bet placement, and results for the daily racing predictions that The Tipster League provides to subscribers.
As pictured, the basic profile section contains details on total profit, average profit, % win rate, average odds, return on investment %, and the number of profitable months since becoming a TTL racing tipster.
Timeform.com is used to verify starting prices and also results, so users can have complete confidence that the tipsters stats on display are completely accurate.  We did cross check some selections with Timeform whilst writing The Tipster League review, and they're exactly as recorded on the TTL website.
Quality of Tipsters – At The Tipster League?
To cut a long story short, The Tipster League has some of the best racing tipsters you'll find anywhere, online or offline.  The majority of their top 10 tipsters have an ROI % in double figures, some even in excess of 20%.  Simply put, you won't find figures like this for daily racing predictions anywhere else.
The most impressive thing about this, is that TTL's tipsters are proofed, and form profiled using Industry Starting Prices (ISP).  So the actual odds available to The Tipster League subscribers are much much higher.
When using the likes of Betfair Exchange's BSP (Betfair Starting Price), or BETDAQ's XSP (Exchange Starting Price) the odds available are much better than the ISP.  We have an article for anyone unsure about the difference between the ISP, BSP, and XSP.
The odds available for The Tipster Leagues racing tips can be 50% to 200% higher than what's been recorded on TheTipsterLeague.com website, and each tipster's individual performance metrics.  To get on board with the BSP and XSP we have a promo sign up page for the Betfair Exchange, and BETDAQ with all the latest info, and free bets codes.
The key performance metrics available for each racing tipster on TTL include their tipping performance for each individual racecourse, performance by day of the week, their results per suggested stake size (which we've not seen at more than 3pts).
Results by month are also shown, along with a full performance history, including complete details of each individual bet placed on the TTL website.
Additional Services – At The Tipster League?
With a selection of horse racing tipsters of this quality, what need is there for any additional services?  Realistically there isn't, but Owen the proprietor of The Tipster League has put together a few blog articles to take a look at before the subscribed racing predictions arrive in your inbox for the day's racing tips.
Also available to subscribers are much more detailed reports than already mentioned, on their subscribed tipster.  These enable punters to refine their betting strategy, or use multiple betting strategies on the horse racing tips provided.
The Tipster League members only reports include the tipsters longest winning streaks, and longest losing streaks.  How many placed, and how many were unplaced, also how many were non-finishers.
These reports can be pulled into tools like The Staking Machine (TSM) to allow punters the opportunity to run various staking strategy simulations against the racing tips, to look at the opportunity to increase betting profitability even more.
Even double or bust (did the selection trade under 50% of BSP in-play?) figures are included, which enables subscribers to identify which picks the TTL racing tipsters are providing, could be suitable for popular betting strategies like back to lay.  This opens up the opportunity to trade the tipped horses inplay using sports betting exchange trading applications.
As already mentioned in The Tipster League review, most key performance metrics are provided to non subscribers without even needing to sign in, so it's easy to get a gauge on the performance of the pro racing tipsters daily predictions, before signing up.
Subscription Tiers Available / Price – At The Tipster League?
Subscription is done on a per racing tipster basis.  All the performance metrics mentioned above are available to view before subscription, so users should have no trouble picking out one or more of TTL's racing prediction professionals who fits their risk profile and budget.
The price is very reasonable indeed, especially when it's taken into account that the actual profit available to subscribers is much higher than what's recorded on the tipsters profile pages.  For those using the Betfair Starting Price (BSP) or the Exchange Starting Price (XSP) available at BETDAQ, much better odds are available.
Head over to The Tipster League website to check out exactly what's available.
ProBettingClub.com – Pro Betting Club Review
Pro Betting Club state they are 'A team of professional gambling experts and horse racing tipsters'.  The number of horse racing prediction experts they have on their tipster website is limited to a selection of handpicked pros offering a variety of different race betting services, mostly from their own tipster proofing website.
The services on offer at Pro Betting Club are not the usual eMail inbox tips to back picks that you'll usually find with similar services online.  Their horse racing tipsters offer either a back or lay betting service, with some even implementing staking plans within their advised racing selections.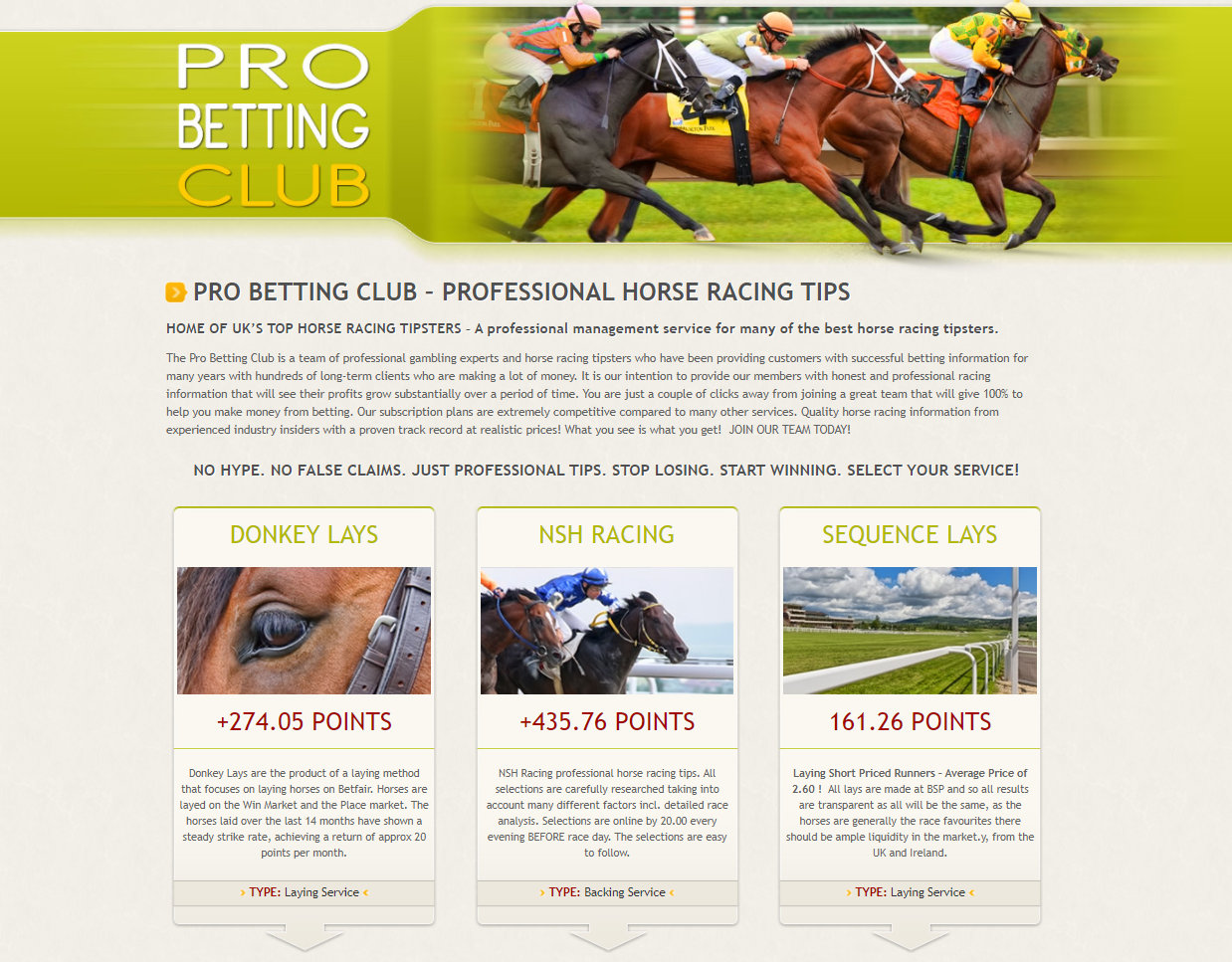 As the Pro Betting Club service is split pretty much 50/50 between back and lay betting racing tips, this is a betting club intended for sports betting exchange users, as bookies don't offer the ability to place lay bets.  For anyone unsure on the difference between back and lay bets, check our article which covers the differences between sports betting exchanges and bookies, including these different bet types.
Sports Covered – At Pro Betting Club?
As already mentioned in our Pro Betting Club review, this club is for daily horse racing tipsters predictions only.  Other sports are not covered.
Horse racing tips to back
Horse racing tips to lay
The racing predictions are limited to UK and Irish racing only, tipsters who focus on either back bets or lay betting are available.  If you're not already a member of a sports betting exchange and unable to place lay bets, head over to our betting exchange free bets and promo codes sign up page to get the best deal when joining.
Free Tips Available – At Pro Betting Club?
No free tips or free racing tips trials are available with Pro Betting Club.  They've offered them in the past but some more unscrupulous punters cancel and renew every week, thereby obtaining the Pro Betting Club tipster service for free.
Also, due to the nature of back and lay betting.  As Pro Betting Club offers both types of race betting tips, it would be very difficult to offer any continuity while providing visitors daily free racing tips.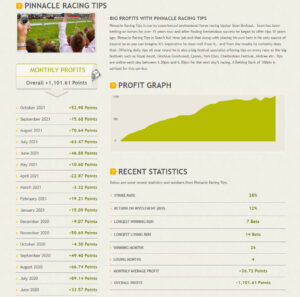 So it's understandable that rather than sending out free racing predictions every day, Pro Betting Club has opted for a 60 day no questions asked money back guarantee on all of their various services.
As you can see in the screenshot of one of Pro Betting Clubs back betting (win bets) tipsters performance charts, it's unlikely many people will be taking up the money back guarantee.
It's important to mention again, that these results are based on bets placed using the BSP (Betfair Starting Price), which provides much better odds than the usual start prices found at bookies.  If bets are placed using industry standard start prices, the results could be very different.
Proofing of Tips – At Pro Betting Club?
Tips proofed and profiled using Best Odds Guaranteed (BOG) & the Betfair Starting Price (BSP).  Performance statistics are provided using both sets of odds.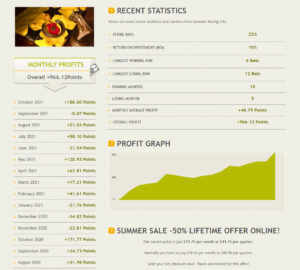 Within each tipsters panel on the Pro Betting Club website, even accessible to non-subscribers are all the usual performance statistics and metrics you'd expect to find from a horse racing tipster.  Strike rate %, ROI %, number of winning months and losing months, average monthly profit and of course, total profit.
During our Pro Betting Club review we also found they have a separate tipster proofing website.  The top proofed tipsters from this site make it onto the Pro Betting Club site as subscription based pro racing tipsters.
The proofing website contains slightly more detailed tipping performance metrics than their main site, you'll also find statistics by odds the bets were placed at, and win or to be placed results, and a whole load of other statistics.
A full bet history, right from their very first bet when proofing began, to their last bet placed once they made it to the Pro Betting Club is also included.
Quality of Tipsters – At Pro Betting Club?
Due to the use of the separate tipster proofing website, the racing tipsters you'll find on the Pro Betting Club main site are of a very high quality.  They're basically hand picked from the top of the proofing league, which seems to be a very good concept.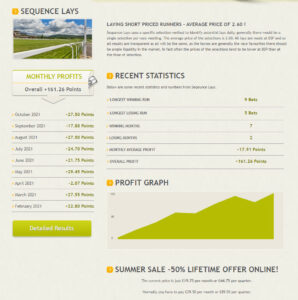 If you're already a sports betting exchange user, Pro Betting Clubs pro racing tipsters are offered as either back bet or lay bet services which offers the punter the opportunity to get involved on both sides of the horse racing market.
If you're new to betting exchanges check out our article explaining the difference between sports betting exchanges and bookmakers, or to get signed up right away we have a page with all the sports betting exchanges latest free bet sign up codes and promotions.
As detailed in the image, lay betting can be just as profitable as placing the back betting predictions pro tipsters usually provide.  Both the BSP and XSP can be used to place lay bets.
Surprisingly we've not found professional back and lay racing tipsters in any other tipster reviews or services prior to compiling our Pro Betting Club review.  If you're looking for some horse betting predictions for today, their site is definitely worth a look.
Additional Services – At Pro Betting Club?
You would not expect it, but Pro Betting Club does offer limited access to their tipster proofing website, so it's possible to see which new racing prediction services may be the next to make it to the big league, and become one of the betting clubs pro racing tipsters.
Other than this Pro Betting Club is strictly a horse racing tipster and predictions website, although it is possible to sign up to their tipster proofing website and see if you've got what it takes to make it as a tipster and progress into their Pro Betting Club. Although by the look of the racing tipster results on display, that won't be easy.
Subscription Tiers Available / Price – At Pro Betting Club?
Pro Betting Clubs racing tipsters are available to follow and receive daily racing tips from on a per tipster basis.  All tipsters are charged at the same rate, be those back or lay tipping services.  Subscriptions are charged monthly, there is however the option to pay quarterly with a very good discount.
Pro Betting Club has a 60 day no questions asked money back guarantee on all of their pro tipsters subscriptions.
Just a reminder, that half of Pro Betting Clubs tipsters are proving lay betting tips, these lay bets can only be placed on sports betting exchanges.  This also opens up the opportunity to place the bets automatically via a horse racing betting bot, there's multiple off the shelf bots capable of doing this, details are in our betting bots section of TheBetMatrix website.
Sports betting exchanges offer odds which can be 50% to 200% better than found elsewhere, if you're not already a member we have an article outlining what's on offer at the top 4 sports betting exchanges.
Summary – Pro Betting Tipsters, Free Football Tips & Sports Predictions
During our top 5 review of sports betting tipster websites we've covered paid tips and free tips, and even free tipsters.  The main sports covered have been football, horse racing, and golf.  It's quite clear that there are some very profitable opportunities out there if signing up to a tipster service for any of the aforementioned sports.
While tipsters are available for many more sports, we found the above three to be by far the most popular.  If you're looking for some paid or free betting tips for today, there's plenty of choice within the tipster sites we've reviewed.
Here's a quick recap on what our tipster site review uncovered on where to find the best free or professional tips online for football tips, golf predictions, and horse racing tipsters.  We'll provide a rundown and summary on both the best paid and highest quality free tips available online.
As previously mentioned, for the sake of continuity in your betting, it's worth paying for a professional tipster.  And using a bet tracking service such as the one offered by Betting.com
Also, with the odds on offer at sports betting exchanges being much higher than elsewhere, get signed up to one right away.  Check our top 4 sports betting exchanges review, or head over to our free bet codes & promotional sign up page for exchanges.
Paid Tipster Services: For Football Predictions, Golf, and Horse Racing
Football:
If you're looking for football tipsters, we would recommend having a look at Betting.com, and taking a good look around their site.  Not only do they provide football predictions, but also have a fully functional bet tracker so you can fully track all bets placed, and even import sports betting exchange data.
The Smart Betting Club and Betting Gods also have some very high quality football tipsters.
Horse Racing:
For those interested in the best racing tipsters you're likely to find online, we would definitely recommend The Tipster League, Betting Gods and the Pro Betting Club.
Some of The Smart Betting Club's horse racing prediction professionals also rival these, but for the very best tipsters they have available, an additional fee is required, on top of their standard tipsters membership fee.  If you're willing to pay the additional cost, it's well worth it!
Golf:
Without a doubt, the best golf tipsters come from one of two golf prediction services, The Smart Betting Club and Betting Gods.  The Smart Betting Club has multiple providers for some exceptional pro golf tips included in the membership fee, so they're well worth checking out.  And again, at an additional cost you can get access to their premium golf tipsters.
Daily Free Tips:  Football Tipsters, Golf, and Horse Racing
Football:
Free football tips are available from multiple sites we covered in this tipster services review.  Most notably Betting.com, while most of their tipsters are subscription only, there are a few tipsters proving what look like very high quality free football predictions.
Betting Gods may occasionally include a football tipsters prediction in their free tips eMail sent out to newsletter subscribers, but generally they stick with horse racing predictions.
Horse Racing:
If you're looking for some free horse racing tips there are a couple of options providing daily racing predictions for free, which should allow punters to get a few bets on, at no additional cost.  All three of The Tipster League, Smart Betting Club, and Betting Gods (if you're signed up to their various newsletters) will have already sent out via eMail, a couple of free racing tips for today.
Whether they're free trials or free tips, all sites state backing them will produce a profit.  The free trial available at Smart Betting Club provides tips from one of their pro tipsters.  The Tipster League and Betting Gods tips are provided by their resident horse racing tipster pros, although the tipster can change daily.
Golf:
If you're looking for free golf tipsters and predictions there's only one place to go, and that's once again, the Smart Betting Club.  You'll need to navigate to their 'Free Tipsters' tab on the menu, and follow instructions from there.  SBC are not offering not just one, but two independent free golf predictions experts at absolutely no cost.
The weekly golf predictions from the Smart Betting Club should not be missed, we did not find another service that even came close.
Sports Betting Exchanges – With Odds up to 200% Better Than Elsewhere
We have a number of articles outlining how to place your bets at the highest possible odds, to produce the best possible profit from tips.  If you're unfamiliar with betting exchanges, we suggest you give our sports betting exchange features article a look over.  As it's at exchanges that you'll find the best odds.
It's also advised to take a look at our starting price betting article, which explains in detail the Betfair Exchange BSP (Betfair Starting Price), BETDAQ's XSP (Exchange Starting Price), and the ISP (Industry Starting price), along with details on Best Odds Guaranteed offers available with Bookmakers.
If you're not currently a member of a sports betting exchange we have a review of the top betting exchanges and also a page containing free bet codes and sign up bonuses for the betting exchanges.
Sports Betting Bots – Automated Betting on Football, Racing & Golf Tips
There's a range of betting bots available for sports betting exchanges, the developers main focus on the Betfair Exchange.  Some bots are available for BETDAQ and the Matchbook betting exchange too though.  You will not find off the shelf betting bots for bookmakers, they do not encourage bot usage.
Betting bots come in a variety of formats, some are solely horse racing bots, others are developed only to run only as football betting bots.  There are betting bots available which will bet on any sports betting exchange market.
Exchange betting bots designed for specific sports, are much easier to configure than those which will bet on any sports betting exchange market.
Check out our exchange betting bots category for more details.
---
IMPORTANT NOTE: Don't forget to LIKE and FOLLOW us on the various social media channels we post updates on, also on our homepage we have a Newsletter Subscription form.  Like, Follow us & join the Newsletter to be sure you don't miss a thing!
Feel free to use the social sharing buttons included on this page, they're there for your use.
Thanks for visiting TheBetMatrix.Win – We've plenty more sports betting content, available at your convenience.
---
Frequently Asked Questions (FAQ):
Where is the best venue to bet on a tipsters tips?
Finding a good tipster is only part of the puzzle to profitable betting. It's just as important to place your bets from the tips provided at the best odds possible, these are at available at betting exchanges.
How profitable are the best tipsters?
If a tipster is carefully selected to suit your risk appetite, they can be very profitable indeed. The best and most profitable tipsters will most likely be charging a premium for their services, but all their results are fully proofed.
Are free tipsters profitable?
Betting on tips from a free tipster can be hit and miss, some may be profitable, some not. If proofing of their tips is available, this may lack transparency and be inaccurate.