Starting Prices, the BSP, XSP, BOG, and ISP or SP in Sports Betting
Starting price bets or any of their abbreviations BSP, XSP, BOG, ISP or SP are bets which are matched at set odds for each runner at the close of betting, or when the sports betting market gets suspended before going inplay, for events such as horse racing.  Nowadays, there are multiple options available to the punter, for start price bets.
Starting price betting acronyms are as follows:
BSP – Betfair Starting Price (Betfair's Exchange)
XSP – Exchange Starting Price (BETDAQ)
ISP or SP – Industry Starting Price, or just Start Price (Bookmakers Starting Price)
BOG – Best Odds Guaranteed
Betting at the start price is sometimes a good option for punters, rather than taking the current price of any given runner, or outcome at the time of placing a bet on a sports betting market.
Depending on the time the bet is placed at, this usually offers much better odds.  Especially when bets are being placed at the last minute, which most are.  The vast majority of money is matched or bet on starting price sports betting markets in the 10 minutes running up to the events start.
Most bets are matched on betting markets at the last minute, before suspension and turning to inplay betting.  As such a start price can be applied to most bets.
Detailed in the picture gallery above is the Betfair Exchange interface, and the BETDAQ Exchange interface.  As you can see the BSP and XSP prices are generally much better than the prices offered just before, or after an event has turned inplay.  The Betfair Starting Price and BETDAQ's Exchange Starting Price are listed in the middle column as BSP & XSP.
While start prices from sports betting exchanges and bookies are historically and usually limited to horse racing betting, and greyhound betting markets, they're now available on other markets too.
BETDAQ offers their XSP, exchange start price, on football betting windrawwin match odds markets, cricket betting, american football betting, and multiple other sports too.  As these are starting price bets they're not applicable to inplay live score betting, this can be done with the live prices on offer after an event turns inplay.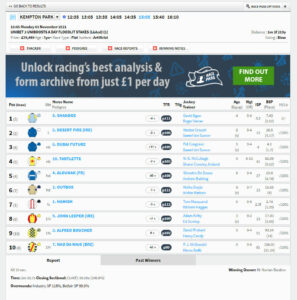 Typically, the BSP (Betfair Starting Price), and the XSP (BETDAQ Exchange Starting Price), are much better odds than the ISP / SP, (Industry Starting Price) offered by Bookmakers.
You can see a comparison in the image pictured to the left.  The BSP and ISP columns list each runner's associated start price, and the Industry SP and Betfair SP overround figures for the races betting market.
Bookmakers do however offer another product, BOG, or Best Odds Guaranteed, which will in some cases when used properly, provide the punter with better odds than sports betting exchanges, depending on when the bet was placed.
The easiest way to gauge the betting odds value being offered by the various starting prices on offer is to look at the overrounds figure generated when starting prices are set.  For those unsure on what an overrounds figure is, take a look at the section in this article explaining the importance of a good value overround to bettors.
The closer to 100% an overrounds figure is, the better value the odds on offer are providing.
The sports betting exchanges Matchbook and Smarkets do not offer a start price product as yet.  Although one would assume that with the popularity of Betfair's BSP and BETDAQ's XSP they've got something on the drawing board, hopefully for the near future.
The actual calculation used to determine the start price varies between sports betting exchanges.  As they're betting exchanges they must use an algorithm to match money on both the back and lay side of the market, to provide a fixed odds price to punters that provides value.
Bookies however, must in general follow the industry standard starting price, which is set by the Starting Price Regulatory Commission.  Over the years there has been much debate on the Starting Price Regulatory Commissions industry start price system.  The SPRC has been around since 2004 and details can be found at the Starting Price Regulatory Commissions website.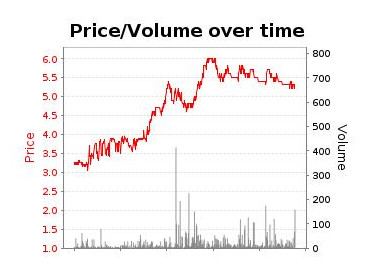 BOG or Best Odds Guaranteed is available with bookmakers for those wanting to place bets earlier and secure the current odds, or have their bet paid out at higher start price odds should the betting market odds drift.
In the example price chart, if BOG was on offer and an early bet was placed, the price did drift significantly, and the higher price would have been paid out.  The price paid out with a bookmaker would however likely still have been lower than the start price on offer at sports betting exchanges.
Earlier odds around 9am are usually much higher than those available closer to the start of a race, this due to the weight of money being more balanced across the runners before punters get their bets on.  Thus BOG enables punters to lock in a good price and also have a guarantee that if the odds drift, they'll get paid out at those better odds.
If you're wanting a closer look at the mathematics involved in calculating start prices and overrounds check out the two part article written by the sports popular journalist Simon Rowlands linked to in the 'What is the ISP / SP Start Price In Sports Betting' section further on in this article.
Or if your wanting to get involved right away with a sports betting exchange, check out our brief review of the various exchanges including what sets them apart and which may be more suitable to punters depending on their individual requirements.  Or for promotional  signup codes and free bets, we have a page specifically for betting exchanges detailing everything you need to know.
In the following sections of this article we'll take a closer look at the various start price betting options, and best odds guarantees available at both sports betting exchanges and bookmakers, how they compare, and their best usage without going into any actual calculations.
What Is the BSP, Betfair Starting Price for Sports Betting?
Once placed, BSP bets cannot be cancelled as they are always matched and Betfair needs to build a start price position to cover this.  The BSP relates only to the Betfair sports betting exchange, it is not available anywhere else.
The Betfair Starting Price (BSP) is a starting price bet option which the Betfair Exchange offers on horse racing betting markets, and the greyhound betting markets. It is available on both win and place markets.  Betfair also offers start price matching on the 2 place, and 4 place betting exchange horse racing markets.
BSP bets are matched at slightly better odds than what is currently available on the exchange at the back price, just before the event goes inplay, or closes out the market for non-inplay events like the greyhound racing markets.
Once a BSP, Betfair Start Price bet is placed on the Betfair Exchange it cannot be cancelled. Start price bets for back bets can be placed at Betfair's minimum stake amount, lay bets however, must meet a much higher liability than this.
You can go directly to Betfair's promotional sign up page (T&C's Apply, 18+ Only) containing some free bets.
What Is the XSP, BETDAQ Exchange Starting Price?
The XSP bet can be cancelled, and offers the opportunity to request better odds or match at XSP should the requested odds not be reached, they advise that requests should not be over 30% than the current price when placed.  Sometimes BETDAQ's XSP bets get cancelled at the end of an event and are not matched, for reasons we will explain.
XSP relates only to the BETDAQ sports betting exchange, it is not available elsewhere.
The XSP, BETDAQ's starting price product, we have found generally provides slightly better odds than those found with the BSP at the Betfair Exchange.  A comparison can only be made on horse racing betting markets and greyhound betting, as Betfair currently only offers their BSP for the aforementioned events and markets.
A slight drawback with BETDAQ's XSP however is that the algorithm used to calculate it doesn't function quite as well as Betfair's BSP.  As Betfair exchange start price bets cannot be cancelled, this allows Betfair to gradually build a start price betting position to offer a guaranteed BSP to punters.
BETDAQ however offers punters the option to cancel their XSP start price bets at any time before an event goes inplay.  By doing so they match the required odds and bet amounts at the time the event goes inplay and also during an event's duration to build their XSP position and offer the start price to punters.
The drawback with this method, is that if there isn't sufficient liquidity in the market at the time the event goes inplay for inplay trading, or is closed out for non-inplay events, on occasion XSP bets are cancelled and no match is made, which leaves the punter without a bet.  This doesn't happen often, and BETDAQ are continually improving their matching algorithm.
The odds offered by the BETDAQ XSP are usually slightly higher than elsewhere.  To get involved right away, jump straight to BETDAQ's free promo bets and 0% commission (T&C's Apply, 18+ Only) signup page.
What Is BOG, Best Odds Guaranteed in Sports Betting?
Best Odds Guaranteed, or BOG for short, is a product or betting promotion offered by the bookies which guarantees punters the best ISP Industry Starting Price odds available at an event's starting time.  Even if they are higher than the odds which were available when the bet was placed.  It's usually available on horse racing and greyhound betting markets.
BOG is mostly limited to bets placed AFTER 8am on the day of the race, this can however vary from bookmaker to bookmaker.  Some bookies go on to extend this offer to some of the biggest showcase races in the annual horse racing calendar, allowing punters to take advantage of valuable early odds, months before races.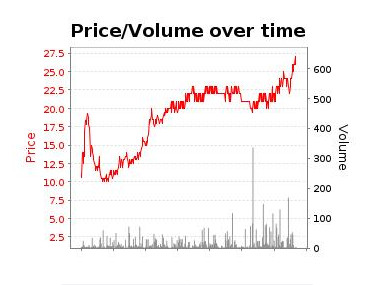 Bookmakers apply Best Odds Guaranteed to bets where the industry start price is higher than the price which was taken when the qualifying bet was placed, even if punters take the price when the bet was placed rather than opting for the start price.  If the price shortens from the price taken when the bet was placed, the punter still keeps the odds at the time of bet placement.
Using the example price chart, if BOG was on offer with an early bet placed, the odds have drifted by a full 100%, the bet would be settled at the higher price.  Although, the odds paid out by a bookie would most likely still have been lower than a start price with a sports betting exchange.  The BSP or XSP for example.
All the top bookmakers offer BOG in both offline and online betting.  We found that the following bookmakers are currently offering a best odds guaranteed promotion:
bet365
Paddy Power
Betfair
Coral
William Hill
Ladbrokes
Betfred
The beauty of BOG offers is that if you pick out a value bet that not many other punters have taken up on, the odds may drift significantly from what was already a very good value bet and price on an extremely lucrative punt, should the runner come in and win of course.  Conversely, should the odds significantly shorten, the punter keeps any requested odds at which the bet was matched at, when initially placed.
What Is the ISP / SP, Industry Starting Price in Sports Betting?
For the sake of cohesion and consistency across all bookmakers, on the high street, track side, and online, there must be a system in place to prevent price gouging and manipulation.  The ISP / SP relates only to bookmakers or bookies and is not used by sports betting exchanges, who mostly have their own start price systems in place.
ISP / SP or Industry Starting Price betting odds are the fixed start price odds offered by bookmakers at the start of an event and close of betting, prior to any inplay betting.  They may vary slightly from bookmaker to bookmaker but generally should show strong consistency in the odds stated for bet settlement on any given runners start price.
The industry standard start price or ISP isn't actually set by the Starting Price Regulatory Commission (SPRC), they state that their job is to 'ensure that the returned price accurately reflects the price available to bettors at the 'off' of each race'.
The Starting Price Regulatory Commissions industry starting price system has over the years seen much criticism.  There has been a lot of debate on the system used, and the SP odds provided by the rules they stipulate, and the overrounds these end up providing.
You can find part one and part two of an independent investigation conducted into the ISP, by the well known freelance racing researcher, Simon Rowlands.  Simon goes into great detail and examines the system currently in use, the articles aren't long and are well worth a read.
Whilst a Starting Price has been in existence for centuries in one form or another, the modern multifaceted betting marketplace requires a more strict set of rules to enforce integrity across the betting spectrum in relation to fixed and fair prices offered at an events start time, which is what the SPRC aims to offer.
Established in 2004, the SPRC has been around for some time. The Starting Price Regulatory Commissions website contains their various rules and regulations that bookmakers should adhere to, they are an independent body responsible for the integrity and accuracy of the Industry Start Price (SP/ISP).
Where Are the Best Odds for Horse Racing Bets and Greyhound Bets?
In a nutshell, BETDAQ offers the best starting prices with their XSP (T&C's Apply, 18+ Only), but bets are occasionally unmatched.  The Betfair Exchange bets are always matched (T&C's Apply, 18+ Only), but they occasionally offer a very slightly lower price to BETDAQ's XSP.
BOG or Best odds guaranteed should be preferred for early market betting on the morning of an event, if a runner is heavily backed the BOG prices can be much higher than the starting price betting odds offered by the BETDAQ and Betfair sports betting exchanges.
While all these start price betting options are available at sports betting exchanges, and at bookmakers, punters always have the option at all venues to take the price currently on offer at the time of placing a bet.  This may or may not be significantly better or worse than the price on offer when an event goes inplay, or is closed out for betting in events which don't offer inplay betting.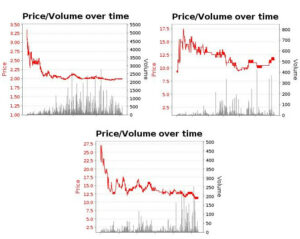 Start price bets are usually a good option for those who want to see how the market reacts to the runners and this is usually an extremely good indication of which runners are expected to do well, thus the volume of betting which contracts the odds available.
In the example price charts, the runners have been heavily backed which indicates the market has a strong opinion they will do well.  By taking the BSP or XSP in preference to the current price if an event is due to start soon, punters can expect to get their bets matched at much better odds.
As with the nature of sports betting exchanges and their traded markets the price fluctuations seen in betting markets can be used to a punter's advantage.  Placing orders for bets above the price currently being offered on the betting exchange, so if the price increases the bet may be matched with better odds than at the time of placing the bet.
Specifically, BETDAQ encourages this as their XSP start price product can be cancelled at any time, or if left until inplay or the closing out of an event's non-inplay markets to match at the XSP.
This gives punters the opportunity to request a price, that's for example 20% higher than the current price to match their bet at before in running, and if the market doesn't reach this price, go ahead and match the bet at the XSP instead.  BETDAQ does however specify that requests should not be made over 30% higher than the current market price.
Here is another example of a Betfair Start Price and Industry Start Price comparison.  The odds on favourite with an Industry SP of 1.33, and Betfair SP at 1.41 'Good Risk At All' appeared not to be such a good risk, coming in 2nd to 'Hardkore' with an ISP of 11 and a BSP at 21.11 – OVER 100% BETTER ODDS!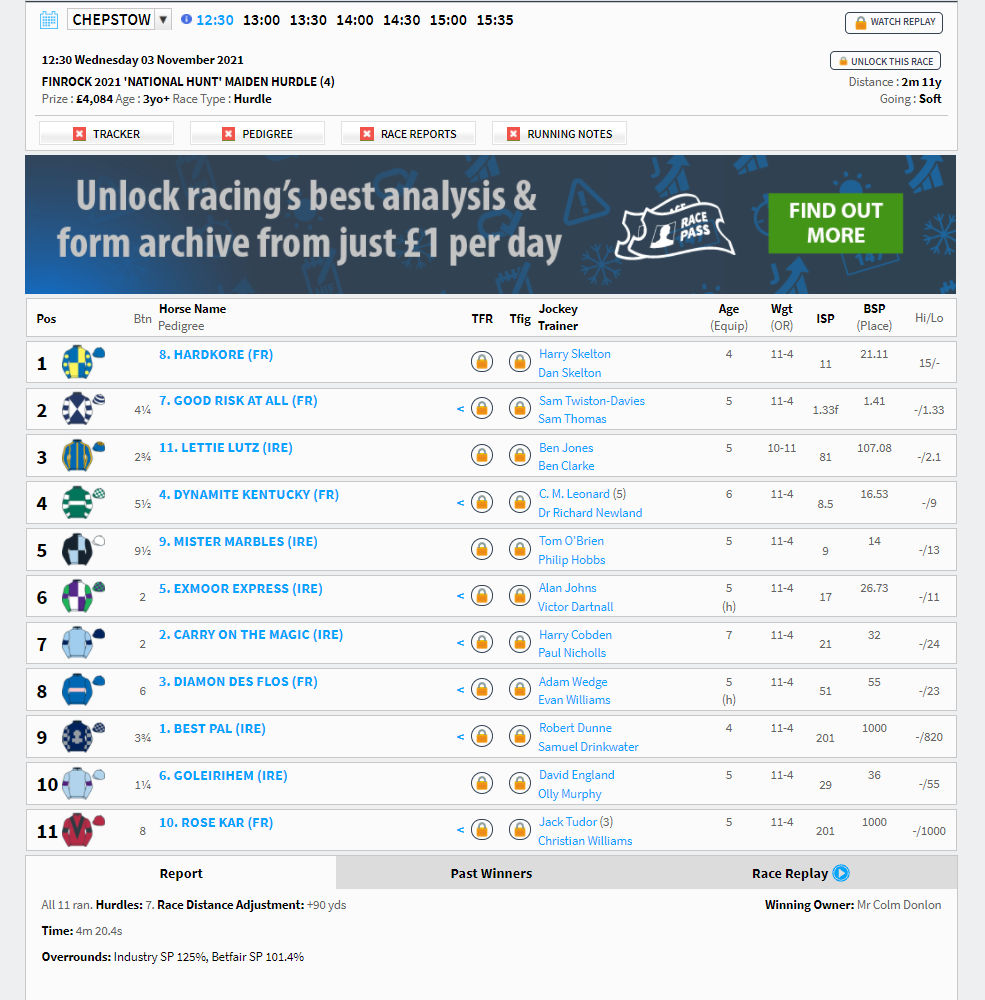 For those wanting a more in depth comparison between the Betfair Exchange and BETDAQ we have a brief review and comparison, other than the start price options.  The page also contains a review of the two top sports betting exchanges not currently offering a start price.  Or to get involved right away, check here for promotional signup codes and free bets at the best sports betting exchanges.
If you've already made your mind up, jump straight to BETDAQ's free bets and 0% commission promo (T&C's Apply, 18+ Only) signup page, or go directly to Betfair's free bets promotional sign up page (T&C's Apply, 18+ Only).
---
IMPORTANT NOTE: Don't forget to LIKE and FOLLOW us on the various social media channels we post updates on, also on our homepage we have a Newsletter Subscription form.  Like, Follow us & join the Newsletter to be sure you don't miss a thing!
Feel free to use the social sharing buttons included on this page, they're there for your use.
Thanks for visiting TheBetMatrix.Win – We've plenty more sports betting content, available at your convenience.