IPT Review – Inplay Football Stats & Oddschecker for Live Score Betting
InplayTrading or IPT as subscribers prefer to call their service, offer what is arguably the oldest live score betting and inplay football trading platform around. On-site, they have both a Betfair sports betting exchange live football stats scanner and a bookies variation of this, we'll provide details on both in our InplayTrading review.
The live score betting odds and stats scanners are coupled with several other useful tools for pre-match trading, and picking out high yielding games to apply suggested football betting strategy to.
While the InplayTrading football scanner service doesn't offer the most features around, what it does offer is the versatility for integration with betting bots and the Betfair sports betting exchange for inplay football betting and trading that subscribers won't find elsewhere.
Sports betting exchanges offer much better odds than bookies for live score betting and IPT do a good job of integrating this with their live football stats platform. IPT is a great tool for hand picking your own inplay football betting tips, with up to 50% to 200% better odds.
For those who don't have access to a sports betting exchange, InplayTrading also offers a bookies scanner, with all the bells and whistles of their Betfair football scanner.
An InplayTrading £1 for 7 days trial to their inplay football stats scanner interfaces for the Betfair Exchange and Bookies/Sportsbooks is available for all new subscribers via our exclusive deal.  Simply follow any of the links within our InplayTrading review.
Betfair Live Stats Scanner
Inplay Live Score Oddschecker
Direct Linking to Betfair Markets
Bookies Live Football Stats Scanner
Football Betting Bot Integration

We'll go on to take a closer look at exactly what's on offer within InplayTrading's live football stats scanner with sports betting exchange integration for live score football betting.
IPT's Interface for Live Score Football Betting & Inplay Trading
IPT's live score betting interface offers all the live football statistics any user would expect to see in a neat and easy to follow interface. Their inplay trading interface can be configured to run multiple inplay statistics filters on a single page.
There are two versions of their football stats interface available, one that's hooked up directly to the Betfair Exchange, this only shows the inplay football betting markets available at Betfair. Also a Bookies version which lists all the football markets usually found at the biggest bookmakers.
Bookmakers usually have many more live score betting markets available than the exchanges and cover a wider range of more exotic matches. Sports betting exchanges however offer much better odds for inplay betting, so all angles are covered!
Not only does IPT offer the live score betting interfaces but they also have several additional tools available for pre-match trading. These include one for filtering and finding specific football betting markets to apply common football betting strategies too, and also a tool for trading pre-match odds movements.
The days of checking multiple websites for football betting tips and inplay football stats is over, users of these tools are able to filter matches and generate their own football predictions for live score betting.  Continue reading our InplayTrading review to find out exactly how.
IPT – Football Betting Stats & Markets, Exchange and Bookies Oddschecker
As mentioned above, there are two football oddschecker live score betting, inplay football statistics interfaces available at IPT.
Betfair Exchange Scanner
Bookies Football Scanner
Listed on the InplayTrading interface are the windrawwin match odds markets, the over under 2.5 market, also a tooltip popup for other over under markets, 0.5, 1.5, 3.5, etc and a tooltip popup for the correct score betting market alongside all the popular live football stats you would expect.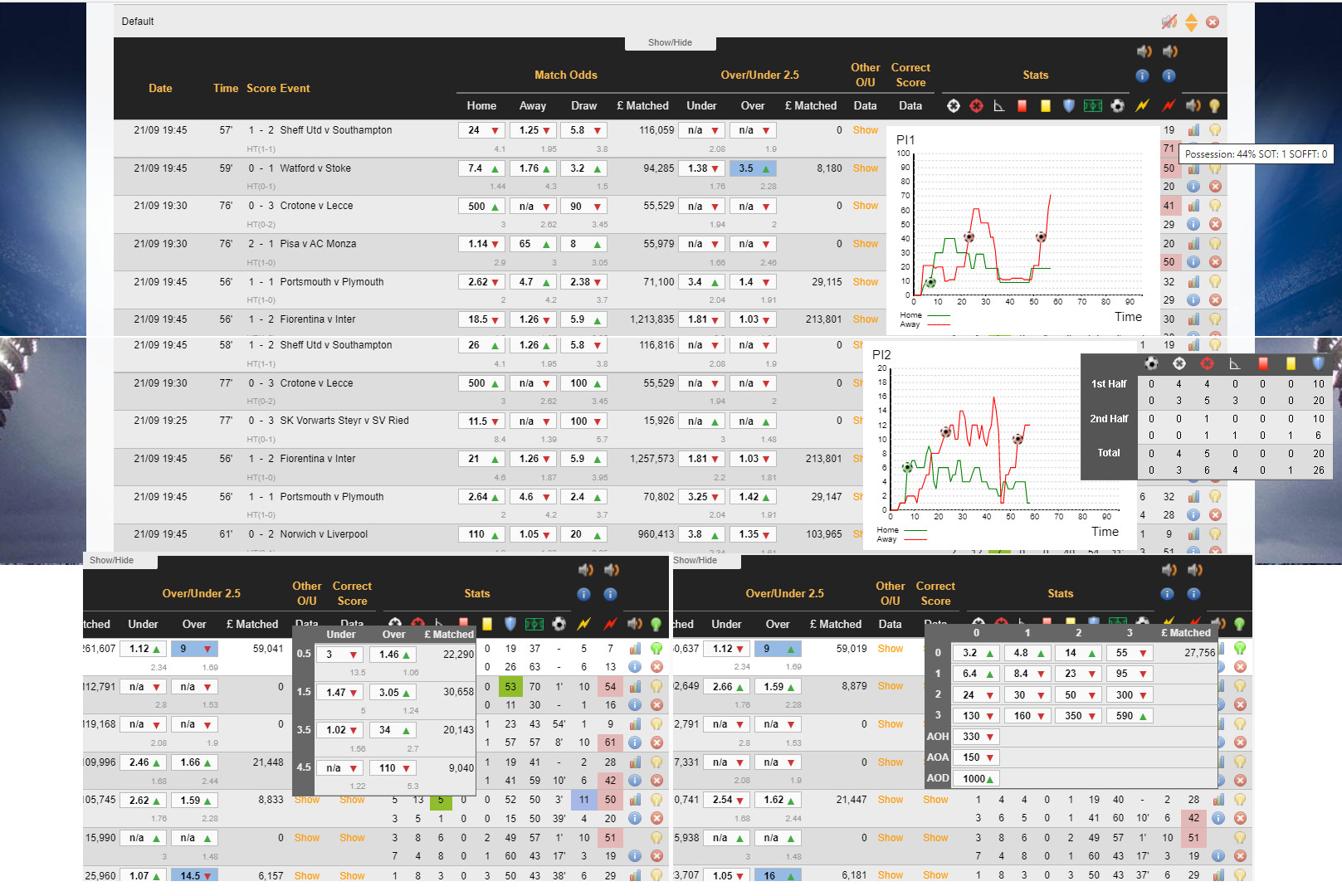 Inplay Football Stats for Live Score Betting & Custom Indicators
Inplay Football Betting Stats & Odds With Custom Pressure Indicators
InplayTrading offers a live odds stream from the Betfair Exchange API. Alongside this, and the live football stats display, IPT have also integrated their own custom inplay Pressure Indicators, PI1 and PI2. The two indicators give users a pressure gauge, or indicator on the current status of the match and are extremely useful for live score betting.
PI1 = A pressure reading calculated using a combination of shots on and off target and also ball possession for the previous 10 minutes. Each team has their own PI1 reading which can also be displayed as a small graph using a tool tip which shows the PI value at any point during the game, 0-90 minutes.
PI2 = Using the same heads up live game stats display, PI2 indicates dangerous attacks, and corners as a pressure stat for each team during the previous 10 minutes.

It's up to users how they use the PI gauges, the additional inplay PI statistics provided by them can prove extremely useful for windrawwin match odds betting markets and for overs unders betting as displayed in the image above.
Pre-Match Football Statistics & Odds Availability for Inplay Betting
The majority of games available on the main Betfair Exchange scanner have a link to a historical data page for the specific game.
IPT uses the following data provider for the historic football results. This historical data page only shows league positions and a few previous match results along with windrawwin info for the last few H2H (head to head) encounters between the specific teams and match on the live score and stats scanner.
There is however no integration of the historic match data available for use within filters and alerts.
Back Testing Historic & Inplay Football Stats Data For Live Score Betting
InplayTrading has no back testing live score data or inplay statistics facility available for use within filters and betting strategies configured on their inplay scanners.
Inplay Stats Filters & Live Score Betting Strategy Configurations
The IPT website's interface is easy to configure with multiple filters and strategies to highlight specific games which meet the inplay football statistical data available.
Any combination can be used, not only inplay match stats and IPT's pressure indicators, but also current live score betting odds values. And, as their interface is hooked up directly to the Betfair Exchange API, market volumes can be used too.
The range on inplay match statistics available to run filters on along with PI1 & PI2 plus market volumes and inplay odds are as follows: Live score, HT score, shots on target, shots off target, corners, red cards, yellow cards, dangerous attacks, possession, last goal time, current match minute.  Multiple combinations of the inplay game statistics filters can be used.
Any number of individually configured inplay data, PI values, market volume filters and displays can be used within their interface. A user could have one filter and display looking for windrawwin markets that are still 0-0 at half time, with high PI readings, another strategy looking for first half goals using any combination of settings, and also the interfaces full match list, which during busy periods might have over one hundred live games running for live score betting.
Some users may also see InplayTrading as the ultimate football oddschecker, as not only are the odds all displayed in one place, inplay football stats and market volumes are displayed alongside too.  Price movement charts are also available on the Betfair Exchange Scanner.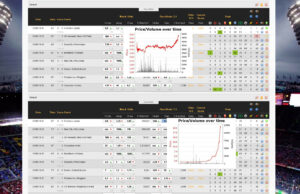 In the picture displayed above, the Fulham vs Leeds League Cup match has been highlighted with the lightbulb tool.  Any number of fixtures can be highlighted using this tool for enhanced live score betting and inplay trading.  The option to sort fixtures to the top which have been highlighted is possible too, as shown in the screenshot of the Betfair exchange inplay statistics scanner above.
Pre-Match Statistics Data and Football Odds Betting – InplayTrading
While InplayTrading doesn't offer the ability to use pregame stats within filters on their main football betting website interface, other than the opening odds on the windrawwin market and overs unders markets they do have a couple of additional tools available to users.  Details of these will follow in our InplayTrading review.
Pre-Match Statistics & Odds Betting Tools
IPT offers a DI tool (Draw Inflation) which highlights specific fixtures and their associated windrawwin match odds and over under 2.5 market odds. The DI tool uses a Poisson distribution model to highlight matches where the DI% is deemed to be high or low.
If the DI% is within advised ranges it is highly likely that the market odds will move in a certain direction.  This allows users to trade the windrawwin match odds and over under markets pre-match to either lock in some profit, or to add some cover in markets they're intending to trade inplay.

Pictured to the left is the Chelsea vs Man City Premier League match's draw price chart, within the DI tool.  Users can hover over the specific market prices from the windrawwin match odds and over under 2.5 markets, to popup the Betfair Exchanges price charts.  The screenshot was taken about 20 minutes before kick off, and displays a gradual price contraction, which if traded correctly would have added some nice draw cover for inplay traders and live score bettors.
Full details on exactly how to configure and use the draw inflation tool are provided for subscribers within IPT's help section.
Also available from InplayTrading is the MM tool (Market Matcher). This tool has over ten preset filters in place that look at the windrawwin match odds before kick off, alongside the over 2.5 market odds. This data is then parsed with historical data from previous games and/or seasons to provide a list of games fitting the preset criteria that may provide good pre-match betting or live score betting.
Full information and betting recommendations of the various strategies finer details, are available on the InplayTrading website for members to use.
Back testing Data Tools for Pre-Match Betting at InplayTrading
Only the MM, Market Matcher tool is available on IPT using their predefined filters to offer any back testing on historical football data. The MM tool not only looks at football betting markets current odds values but also applies and parses these against historic results to match upcoming markets to the preset strategies within the tool.
Filters & Strategy Configurations, Presets for Pre-Match Betting
Filters may be applied to the draw inflation tool to enhance its effectiveness and allow users to fine tune the games that are displayed within the DI tool. Market liquidity, match odds, over under 2.5 and draw inflation % values can all be used.
The only filter available on IPT's Market Matcher tool is the windrawwin match odds markets liquidity. Players may want to filter out any games that have less than £50'000 matched for example so they can stick to more high volume fixtures for inplay trading and live score betting.
The higher the liquidity on the market the easier it is to get bets matched, this also makes it easier to close out the position for either a profit or to add some cover to an up and coming match that traders are planning to trade inplay.
Alerts For Live Score Betting, Inplay & Pre-Match at InplayTrading
InplayTrading offers live score betting alerts and inplay football trading alerts via a number of different channels. Users can opt for eMail notifications and Telegram alerts. These are only available on the site's main Betfair Exchange scanner and the Bookies scanner. No alerts are currently available for the DI & MM football predictions and trading tools.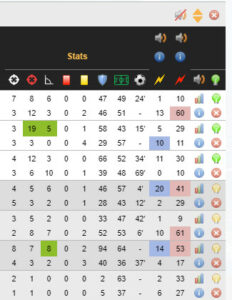 Users of IPT also have the option of adding a highlighted lightbulb to specific fixtures they're wanting to monitor more closely, the option to sort fixtures to the top, that have had the lightbulb highlighted is available on both the Betfair exchange and bookies scanners.
Each individual set of inplay football statistics and sports betting exchange markets odds filters setup on the live football stats scanner, can also have audible alerts configured, for when inplay matches meet the criteria of the specific individual filter.  Users can mute alerts for specific filters and opt only the hear certain filters alerts.
Additional audible alerts are also available for the PI1 & PI2 pressure indicators within each filter set and on the default all markets & matches display.  These audible alerts only sound when the PI1 or PI2 is deemed high by the IPT inplay trading and live score betting interface.
Subscribers to InplayTrading also have schedules for the days upcoming matches available to view for inplay football betting.  The Betfair Scanner and the Bookies scanner have their own individual fixture lists.
The days of scouring online betting websites for football betting tips may be over. As a user of IPT you can set up and receive alerts for your own custom football predictions and inplay football betting tips directly to your inbox or telegram account.
Football Betting Bots Integration for Automatic Live Score Betting
There are several football betting bots that offer integration with IPT to trigger live score bets based on predefined criteria. InplayTrading's website itself will not trigger bets using the filters and alerts setup within their own interface. The football betting bots available need to be configured themselves, with their own unique live inplay football stats and live odds settings.
The InplayTrading web interface itself only offers automatic email and telegram alerts, plus the use of their scanners.  As this is an InplayTrading review, we'll not go into too much detail on the automated football betting bot options that integrate with IPT, but some brief details on the betting bots available are covered in the next few paragraphs.

Currently there are two football betting bots for use with IPT which can be configured much in the same way as the InplayTrading websites own filters and alert system.  Users of the bots must have BOTH an InplayTrading subscription, AND a subscription for the bots.  The bots then use the IPT data to run their own set of predefined inplay football data filters against, and subsequently trigger live score inplay bets.
Rather than using the IPT website interface alone, football betting bots are much easier to manage and place bets with for football gamblers and inplay traders.  They can be configured to run hundreds of individual sets of football betting strategies and allow users much more versatility to apply unique betting configurations to sports betting exchange markets.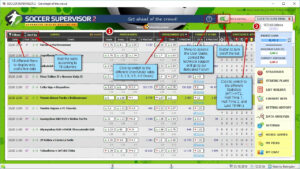 Currently supporting IPT are BettingDev's Soccer Supervisor 2 and BfBotManager. These betting bots allow users to not only set up their own inplay custom football betting tip alerts but also place the resulting bets automatically! The only supported betting platform to place these bets on is the Betfair Exchange. The football betting bots have an API link to the Betfair Exchange in order to do this.
Why go crawling the internet every day looking for football predictions and football betting tips, when you can use IPT's live football stats, not only to create your own betting tips but also bet on them automatically?  You can find our full Soccer Supervisor 2 review here.
Football Betting Tips / Forum / Chat room / Channels Available From IPT
Ads, the operator of IPT sends out an email every Saturday and Sunday during the regular season which contains some football betting tips picked out by their own pro traders. During most months, if bet on as advised, these free football predictions will cover the monthly subscription costs alone.
Unfortunately IPT has no other betting forum or chat room available for users.  If this is what you're looking for, keep a eye out for updates to our InplayTrading review, as Ads is always considering new live score betting features to add for users of the IPT service.
Subscription, Pricing, Payment for the IPT Live Score & Inplay Stats Service
InplayTrading's subscription plans are available from a 14 day subscription right through to a full year. In between there is a monthly, 3 month, and a 6 month subscription option.
TheBetMatrix.Win has an exclusive £1 for 7 days, inplay football stats scanner deal available via any of the links in this article, simply click through and signup.
Prices are roughly in line with the prices offered by other live score betting & inplay football data stats websites, especially with the big discount available on the yearly subscription plan and their full season offers. Sign up to our newsletter for details on when additional promotional offers are available.
Accepted payment methods at IPT are PayPal, Skrill, Neteller and Bitcoin. When using PayPal, their 'Pay in 3' is available, so yearly and full season payments can be split into 3 monthly payments.

Support Options Available From InplayTrading
Only via eMail, the support at InplayTrading is good and extremely quick, usually receiving a response within the hour. Any issues with subscriptions, refunds due to incorrect payments or reporting an issue that requires one of their inplay football stats scanners to be rebooted, are dealt with quickly and effectively.  We're coming to the end of our InplayTrading review, but read on for a summary of whats been covered, and our rating of the IPT service.
Summary of the InplayTrading Live Score Betting & Football Stats Service
Although InplayTrading doesn't have the amount of features that some other providers offer, what their platform does offer is versatility across not only their own live score betting web interface, but also integration with several football betting bots for those wanting to make use of this additional feature, and automate betting on their own custom generated live score football tips and predictions.
We would highly recommend their service for those wanting an easy to use, widely configurable interface with the additional tools available for those wanting to do a bit more than live score betting and trade football markets before they go inplay.
---
IMPORTANT NOTE: Don't forget to LIKE and FOLLOW us on the various social media channels we post updates on, also on our homepage we have a Newsletter Subscription form.  Like, Follow us & join the Newsletter to be sure you don't miss a thing!
Feel free to use the social sharing buttons included on this page, they're there for your use.
Thanks for visiting TheBetMatrix.Win – We've plenty more sports betting content, available at your convenience.
---
Frequently Asked Questions (FAQ):
What is live score betting?
Betting with inplay football scanners which contain the most useful inplay stats, organised in a heads up display. 100's of matches can be sorted by any inplay statistic, unique match pressure gauges or user defined filters. This allows live bet placement only on inplay matches which offer the best value.
Is live score betting profitable?
With some patience and experience plus an inplay scanner which is configured with the correct filters and betting strategies, used in combination with historical football stats and data, carefully placed bets will result in a profit.
What is an inplay scanner pressure indicator?
Football pressure or momentum indicators on inplay football scanners provide an inplay metric for each match listed on the inplay scanner, measuring the current amount of attacking pressure of each team in a match.