Soccer Supervisor 2 Review – A Live Score Football Betting Bot
Bettingdev's Soccer Supervisor 2 Pro is a live score football betting bot capable of running as many unique football betting strategies and systems any inplay trader and bettor could possibly require.  We cover cover as many features as we can in our Soccer Supervisor 2 review.
Using the popular InplayTrading's API feed of live game inplay football betting statistics & data, and IPT's custom pressure indicators, users of Bettingdev Soccer Supervisor 2 must have an InplayTrading subscription to use the SS2 football betting bot.

Why look over numerous websites every day for football predictions and free football tips, when you can use a combination of Bettingdev's Soccer Supervisor and InplayTrading's live inplay football stats feed, not to only generate your own football tips and predictions, but also automate the process of betting on them.
Automated Live Score Betting
Multiple Betting Strategies and Systems
Football Oddschecker & Scores
Live Inplay Football Statistical Data
Concurrent Live & Test Mode
Not stopping at highlighting what may be very lucrative betting opportunities, the resulting bets are also placed on the Betfair Exchange (18+ Only) requiring no additional user intervention, where gamblers will find much better odds than anywhere else online! Anyone not familiar with sports betting exchanges should check out our detailed article on the differences between sports betting exchanges and bookies.
InplayTrading and Soccer Supervisor is the next logical step to take for anyone into inplay trading and live score betting. Automate your own custom inplay football betting tips and betting predictions from start to finish, with full betting data analysis and bet results tools built in to keep track of how your custom football betting strategy's perform!  Find out how in our Soccer Supervisor 2 review.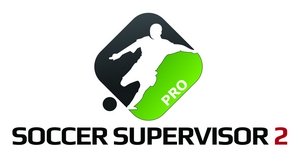 The Soccer Supervisor 2 HUD, InPlay Football Betting & Odds Checking
Soccer Supervisor 2's main interface will appear very familiar to users of InplayTrading, the main heads up display shows the windrawwin match odds market alongside the over under 2.5, and the correct score betting market.
The front interface can be sorted using any of the inplay football statistical data attributes available, much the same as the IPT, InplayTrading live score interface. Again as with IPT, Soccer Supervisors 2's front panel can also have filters applied using any of the live inplay football betting data available.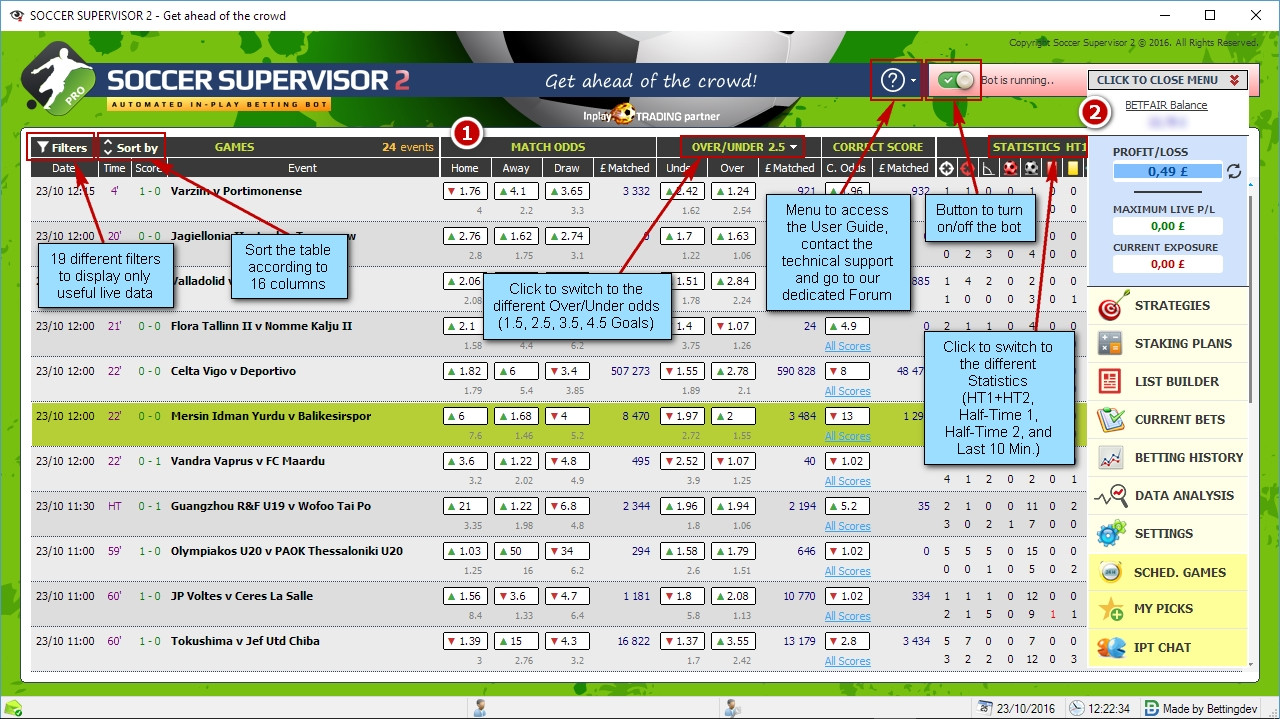 For anyone not familiar with InplayTrading, or IPT as subscribers prefer to call the service, now is probably a good time to take a look at our InplayTrading review and familiarise yourself with their inplay football betting stats service, the available features and live score betting platform they offer.

Soccer Supervisor 2 offers users another layer on top of InplayTrading's live score betting service, which allows subscribers to take their football betting strategy to the next level. Offering automation of betting on the matches and markets highlighted by inplay football statistics filters, and much much more! SS2 has over +150 inplay football data and betting market statistics available for use.  We'll cover as many as possible in our Soccer Supervisor 2 review.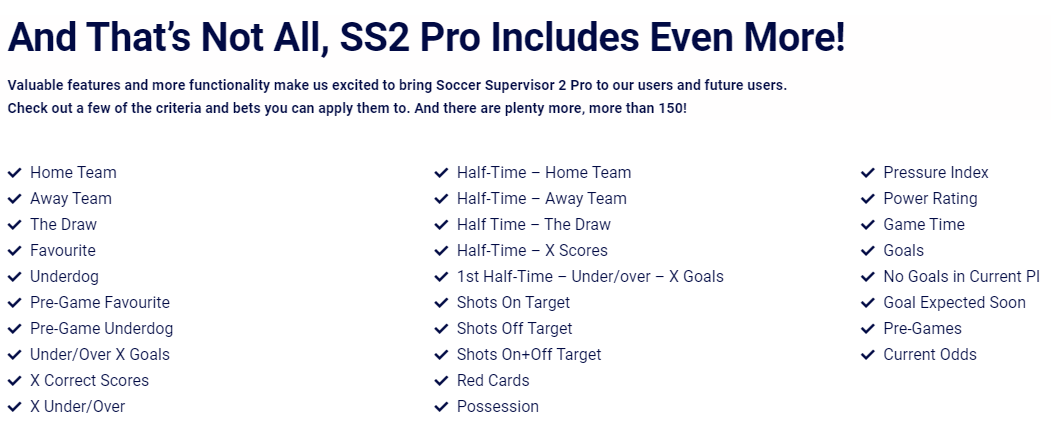 Soccer Supervisor 2 – Operates on Betfair's Sports Betting Exchange ONLY
Bettingdev's Soccer Supervisor only runs on the Betfair sports betting exchange, as previously mentioned this means much better odds. You can cross check this using any popular oddschecker website.  If you're not already a Betfair Exchange user, check out our betting exchanges sign up promotions page to get some free bets when joining.
A Football Betting Bot for Football Sports Betting Exchange Markets
Soccer supervisor is a football betting bot, as such it will only bet on the Betfair Exchange football markets. As per the bots main interface, the markets primarily focused on are the windrawwin match odds market, the over under 2.5 market and the correct score market.
While there is only an oddschecker for the above markets on the front HUD panel, many more markets are available for bettors to create unique football betting strategies for, and automate the placement of bets on.
Some of the additional sports betting exchange markets the SS2 football betting bot can place bets on are, over under 0.5, 1.5, 3.5, right up to over under 8.5. Also supported are the over under first half goals 0.5, 1.5 and 2.5 markets and the half time windrawwin market, along with the half time correct score market.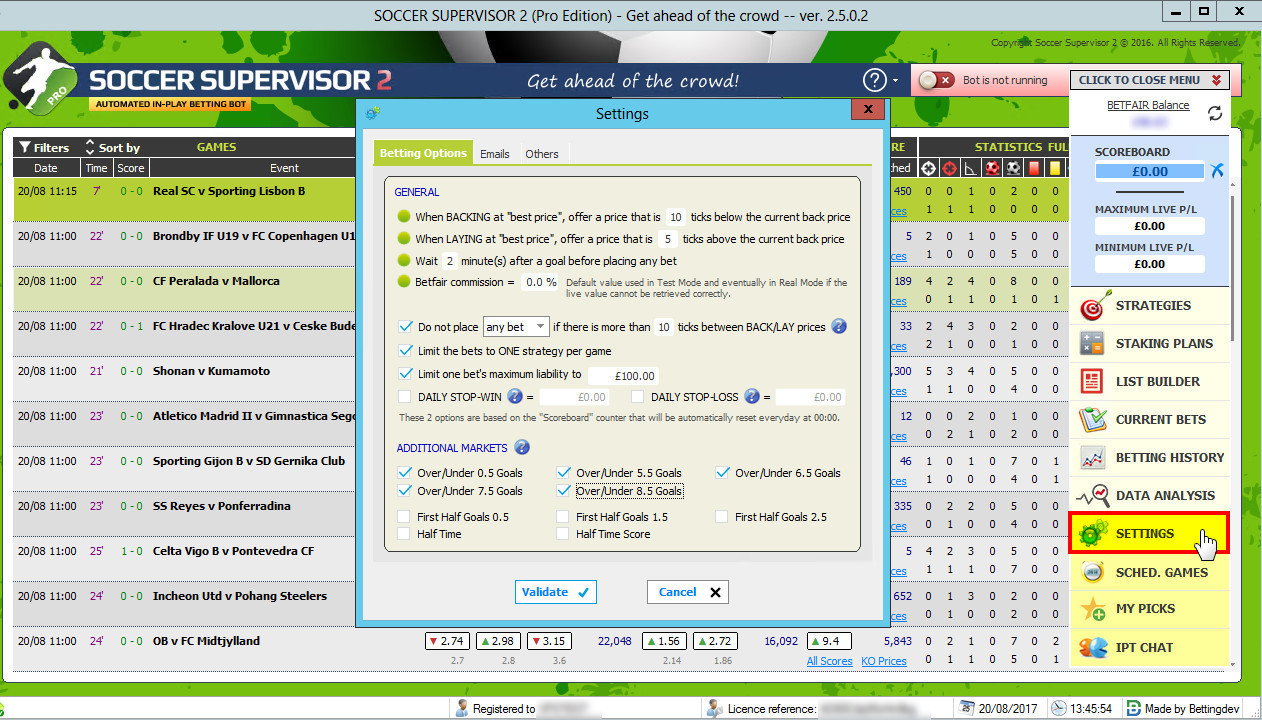 The betting bots front page displays the specific matches current scores correct score market odds. Similar to InplayTrading's interface it just takes a single click to pop-up correct score market odds for all the score permutations available on the Betfair Exchange CS market.
We'll go on for a more in depth look at some of the best, and more advanced features the betting bot offers, within our Soccer Supervisor 2 review.
Top Features & Functions – Soccer Supervisor 2 Football Betting Bot
The best advice for anyone planning on purchasing and using Soccer Supervisor 2 Pro, if they have not used a football live score betting inplay statistics service before is to get signed up to InplayTrading right away.

IPT is a precursor to Soccer Supervisor and it will allow subscribers to learn the fundamentals. InplayTrading would be a good start for those who haven't used a sports betting exchange before either, find the full InplayTrading review here.
This will provide a brief explanation and examples of defining inplay statistics filters, using both attributes directly related to a matches inplay game statistics, and also the application of filters for market liquidity. A matches windrawwin starting odds, inplay odds and also the current odds and liquidity of any of the other markets available.
If you're not familiar with sports betting exchanges, look no further than our bookies and sports betting exchanges comparison article.
It's highly recommended that visitors take a look at our full InplayTrading review available for all readers before moving on to Soccer Supervisor. Both InplayTrading and Soccer Supervisor use some unique features that live score bettors and traders will not find anywhere else, so it's a very good idea to have a grasp on these before moving on.
Alternatively if you're one to learn on the job. Soccer Supervisor does have a test mode, you can jump directly to their site via the banner below.

Betting Strategies – For Use With the SS2 Football Betting Bot
Soccer Supervisor strategies can be configured to trigger live score bets much in the same way the inplay statistics filters on the InplayTrading website can be set up to highlight and send alerts for certain matches meeting a defined set of inplay and pre-match conditions.
Bettingdev have gone several steps further and added some additional inplay statistics filters available for users of the bot to trigger live inplay bets with. SS2 also offers a power rating, no goals in current PI, and a goal expected soon attribute to their football betting bot.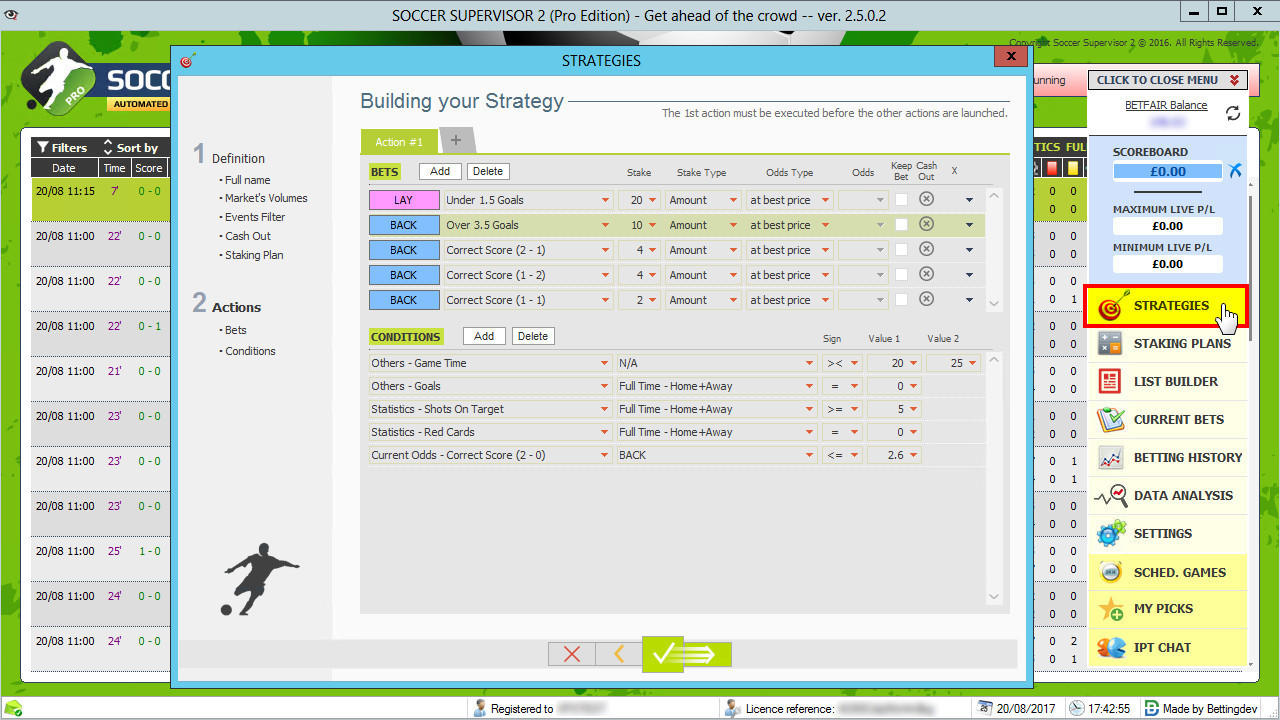 What Bettingdev has done is create a system for live inplay football data monitoring which will not only trigger a live score bet, but is able to apply a complete betting strategy to the inplay data. Not only at the time of the original bet, but also at any time after this that the football betting bot operator wants to perform additional automated actions to to initial bet or bets.
The inplay football betting strategies creation follow a simple set of rules. Each football betting bot strategy consists of actions, multiple actions can be applied to any given betting strategy. Each action consists of:
Conditions: Are set much in the same way inplay statistics filters are defined on the InplayTrading website. Any number of inplay match data conditions can be used, both actual match statistics and also sports betting exchange market price filters.
Bets: Once a betting strategy's action conditions are met and fall within the live inplay data, the bets are triggered and placed on the sports betting exchange.
It's as simple as that. As you'll have seen in the picture above, multiple inplay bets can be placed on multiple markets per action.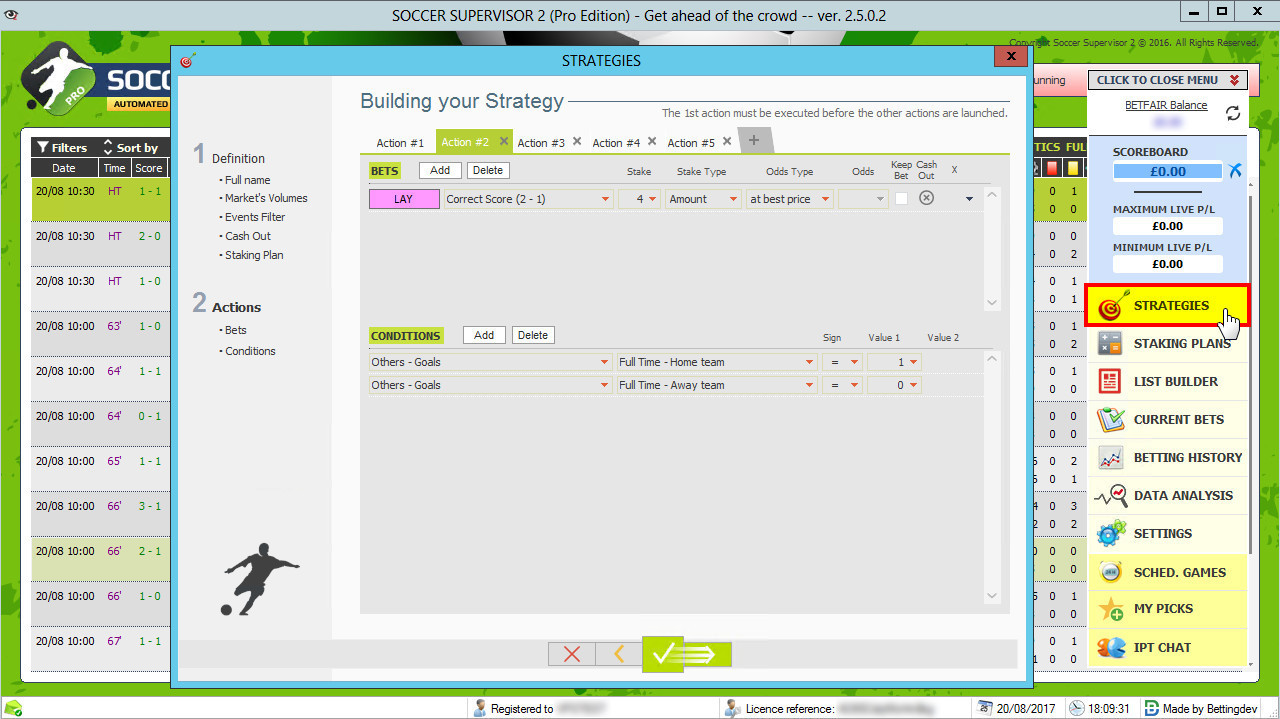 Each strategy can have multiple actions, thus allowing the football betting bot user to perform more complex bets and inplay football trades.
For example:
Action 1: The football betting bot looks for high pressure games using the PI1 shot pressure indicator, with a low pre-match over 2.5 value. This would indicate that goals are expected pre-match, and there is significant pressure on goal. The bot would then place a resulting bet on the over 2.5 sports betting exchange market automatically.
Action 2: A second set of conditions and resulting bets can be applied. The bot could look for games that have had a bet triggered within the football matches inplay conditions defined within Action 1. The betting bot could identify games where the pre-match favourite is one goal down. Inplay football traders might see this as a good opportunity to increase their stake on the over 2.5 market, and add a second bet.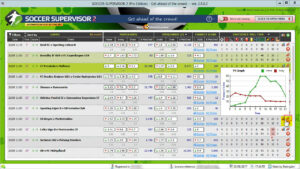 While the above example is a fairly simple one, only using two separate actions, a strategy like this if configured correctly should prove very profitable. As it's likely the favourite is a team capable of scoring goals and will apply significant pressure in order to win the match, resulting in at least two additional goals and closing out the over 2.5 market with a win.
For those who didn't read the InplayTrading review already, the PI or pressure indicators provide a 'pressure indication' for the previous 10 minutes play of a football match.  PI1 and PI2 are available, both measuring and providing an indicator on shots, possession, corners, and dangerous attacks.
PI1 = A pressure reading calculated using a combination of shots on and off target and also ball possession for the previous 10 minutes. Each team has their own PI1 reading which can also be displayed as a small graph using a tool tip which shows the PI value at any point during the game, 0-90 minutes.  As pictured in the image above.
PI2 = Using the same heads up live game stats display, PI2 indicates dangerous attacks, and corners as a pressure stat for each team during the previous 10 minutes.
The football betting bot's main strategies page consists of a list of all strategies configured within the bot, and also includes some additional information outlining the best performers for the day, week, month and all time.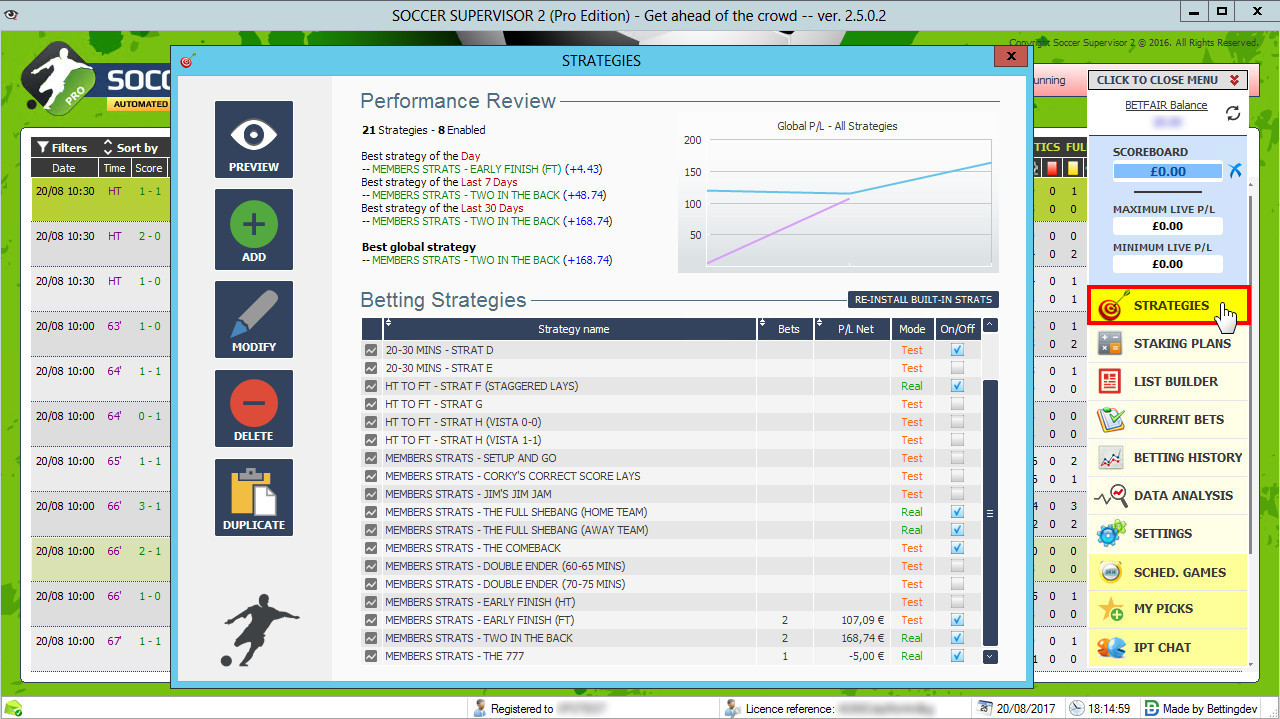 With the full integration of live score betting inplay statistics data and an oddschecker, coupled with the ability to place bets, subscribers to InplayTrading and Soccer Supervisor are able automatically bet on their own custom football predictions and inplay tips.
Bettingdev's football betting bot comes configured with over 20 different live inplay football betting strategies for subscribers to dig their teeth into!
Test Mode – Simulate SS2 Football Betting Bot Strategies
Each strategy can be run in live, or test mode. Bettingdev's football betting bot features and functions run exactly the same on strategies using the test mode. The bets placed, are however simulated bets, they use exactly the same sports betting exchange market prices to simulate the bets as would have likely been matched should a real money bet have been placed.
Not only does Soccer Supervisor 2 have a test mode, simulated betting strategies can be run concurrently, some in live mode, some in test mode without having to run multiple instances of the betting bot. This is an outstanding feature that a lot of other bots don't incorporate.
All the test mode bet results are available within the betting history and data analysis tools, which allows users to fine tune their football betting bot strategies before using real money in live mode.
SS2 users should note that the Betfair Exchange may place limits on accounts that only run strategies in test mode for extended periods without placing any real money bets. These can include providing delayed odds or full sports betting exchange account restrictions.
List Builder – Define Countries, Competitions for Betting Strategy
Integrated into Soccer Supervisor is the list builder feature. This allows users to define specific lists based on countries, competitions, leagues and individual teams to be applied to specific football betting strategies. The betting strategy a list is applied to can either include, or exclude football match fixtures that fall within the lists criteria.
Football betting bot users can create multi lists and apply them to different betting strategies. The usual usage of this functionality is to create a list which excludes low scoring leagues & competitions and to apply that to most of the betting systems in use.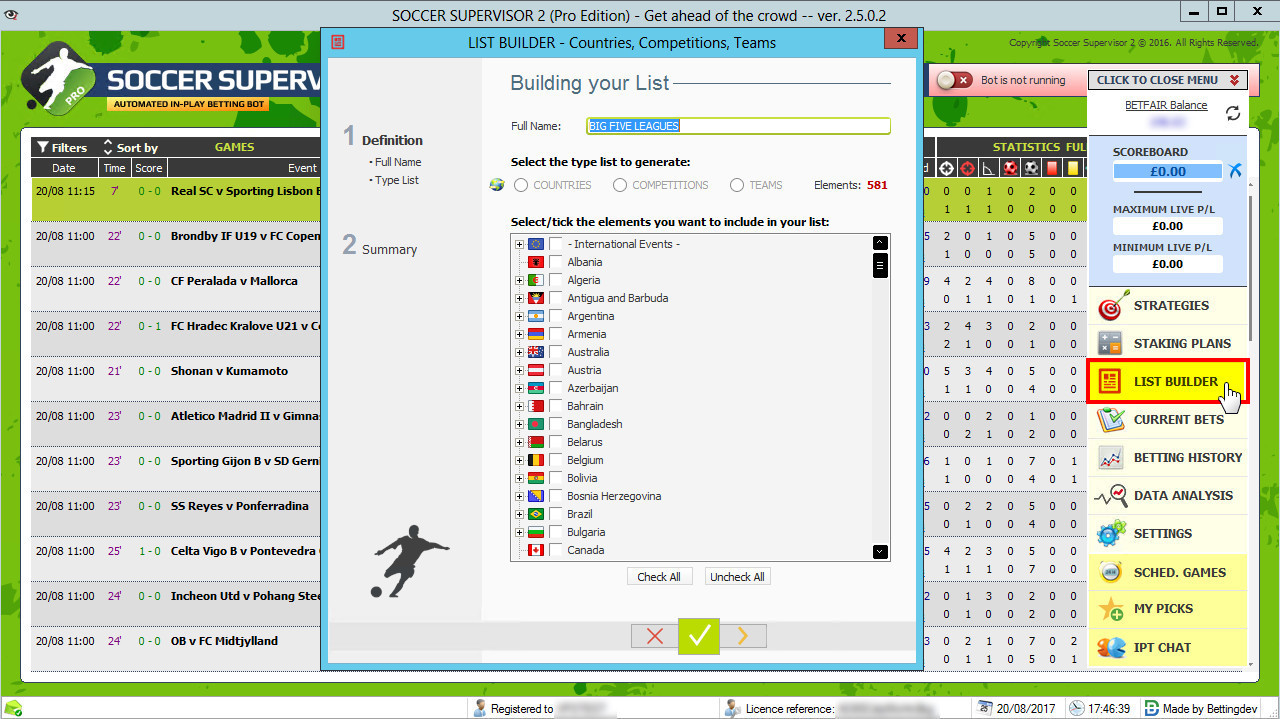 The list builder feature can also be used to highlight leagues and/or specific teams to create a unique list, to be applied to a custom betting strategy designed for that specific list.
A betting bot user may want a strategy just to run with the top 4 global football leagues. The English Premier League, Spanish La Liga, German Bundesliga, and Italy's Serie A. This can be configured within the football betting bot, with just a couple of clicks.
Along with the list builder, whilst building betting strategies, there are options to block certain game types, those are as follows: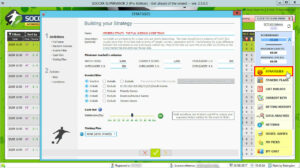 U17,U18,U19,U20,U21,U23,Youth Games
Friendly Games
Reserve & Amateur Games
Women's games
Usage of this feature is not required, by default the events filter is inactive.
There is software available for betting bot users to create a list of leagues, countries, or competitions to either include, or exclude from strategies depending on how the specific betting strategy is configured. A good example of some advanced football statistical software is the CgmBet system, which features over 70 of the world's top leagues, from +40 countries.
For betting bot users wanting to assign a specific SS2 football betting strategy to a specific football match this can be done within the scheduled games list that we'll look at next in our Soccer Supervisor 2 review.
Scheduled Games – SS2 Football Betting Strategy Scheduling
Pulled from InplayTrading's website interface is the scheduled games list. This is a list of games that will have football betting markets available on the Betfair Exchange, and subsequently games that will be going inplay on the IPT live score betting scanner, and within Soccer Supervisor 2.
By default, within Soccer Supervisors live score betting and inplay trading football betting bot, all strategies are applied to all scheduled games unless a specific game falls within an SS2 football betting strategy's list builder exclude filter that's been assigned to any specific football betting bot strategy.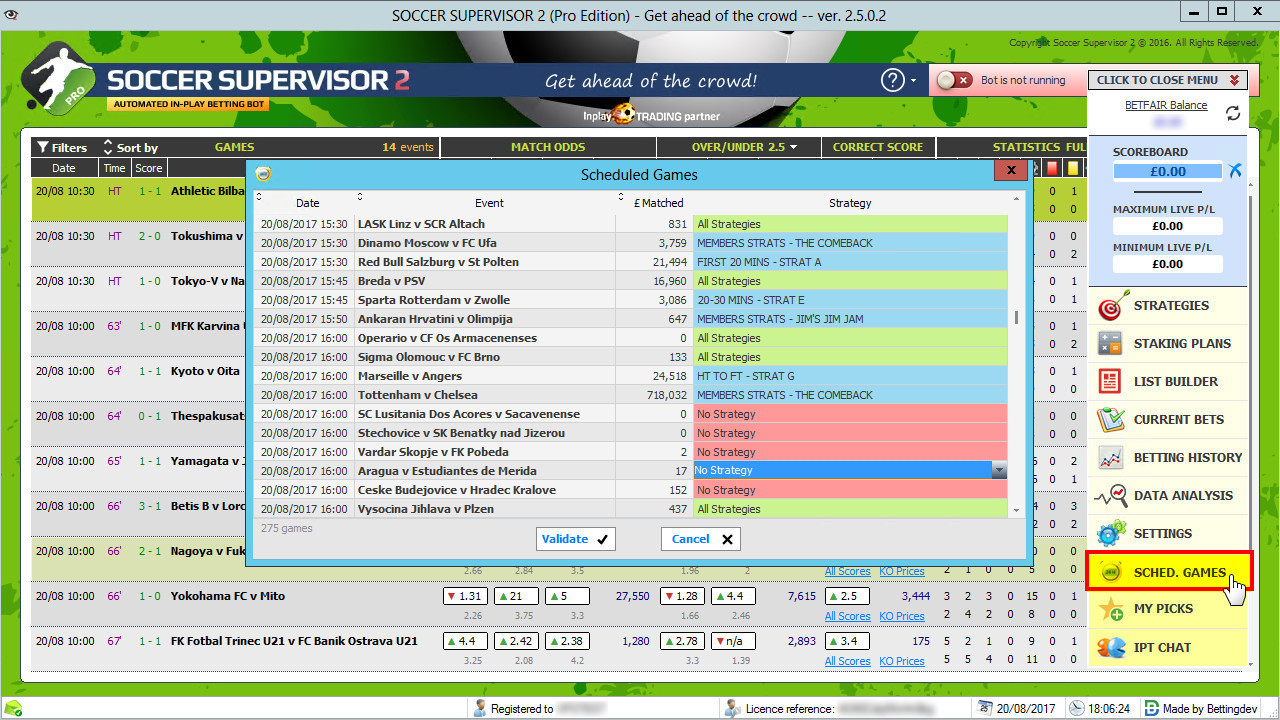 As displayed in the picture, users of Soccer Supervisor 2 also have the ability to exclude a certain match fixture from any bets being placed using the scheduled games feature. The ability to assign a specific SS2 football betting strategy to a specific fixture is also available here.
Filtering leagues, competitions, and countries for football betting bot strategies to run on, as explained previously, is done using the list builder function. List's can either include or exclude the aforementioned leagues, competitions, and countries football match attributes.
The CgmBet System is a great tool for building and refining lists to increase the performance of any betting bot strategy.
Current Bets – Bets Currently Open and InPlay for Live Score Betting
The current bets module doesn't require much explanation. Both test mode and live bets are displayed. The tab displays all bets currently placed by the football betting bot, both matched and unmatched, and the specific betting strategy which placed the bets.
Displayed alongside, is the exact market the bets are placed on, be that the windrawwin match odds, various over unders markets, or the correct score market, which will also display the exact score the bet was placed on. No matter how many markets and scores your football betting bot strategy has covered, they'll all be displayed in order, here!
My Picks – Assigned Fixtures to SS2 Football Betting Bot Strategies
My Picks is a useful tool to quickly identify which match fixtures the bots football betting strategies are currently assigned to. This is especially convenient during busy periods such as match day weekend when bot users will likely be running multiple live score betting strategies which may be placing pre match and inplay bets on a wide selection of fixtures.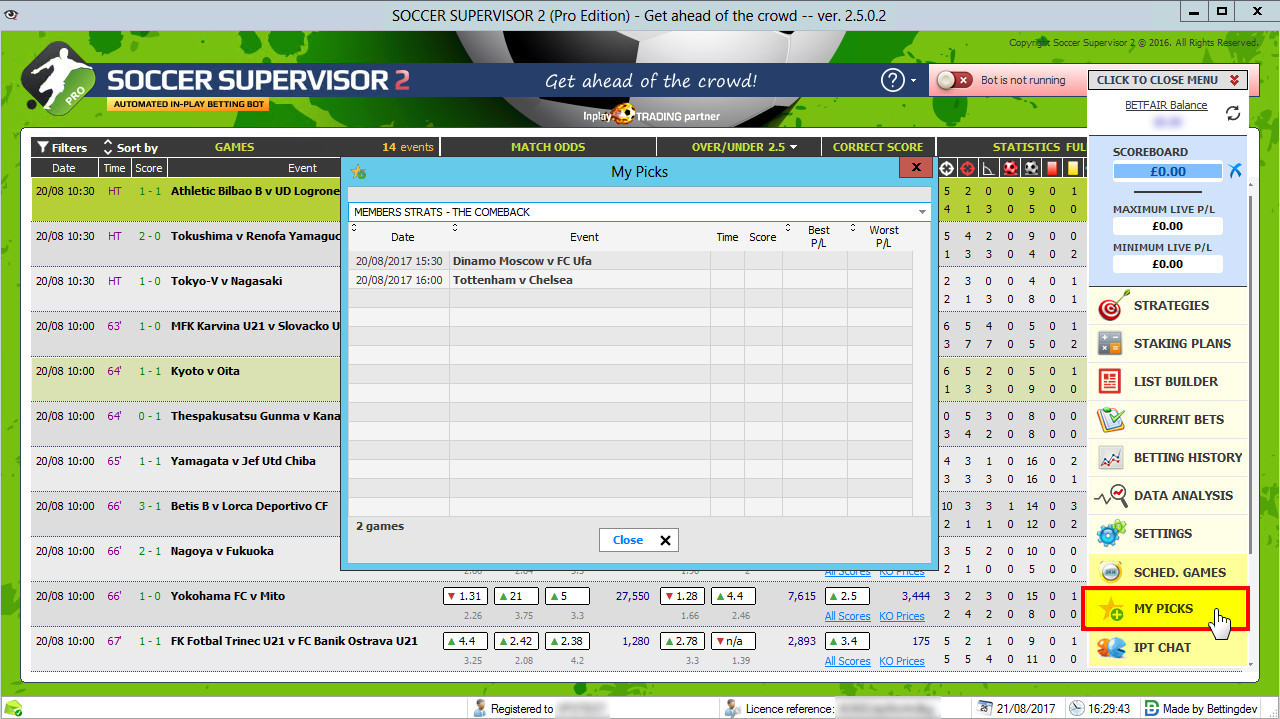 Not only does the Soccer Supervisor 2 betting bot display a list of fixtures including the matches current live score on the windrawwin match odds market, but also inplay game time, and best and worst profit and loss for each game.
Betting History & Data Analysis – Live Score Betting Results Analysis
SS2's live score betting strategies are obviously only as good as the results they produce. The betting history tab displays all the data required to analyse each specific betting bot strategy's performance in tabular form and within a line graphs & charts.
The betting history tab also has the ability to export results in excel format, which is especially useful for those considering using staking. These results can be imported into tools like The Staking Machine for full analysis and simulation against the various staking plans available.
The Staking Machine as the name implies has more advanced features to calculate betting strategies effectiveness when various staking plans are used. TSM, The Staking Machine also has a host of additional features to more fully analyse betting strategies, and predict their future effectiveness at level stakes. When bets are imported, drawdown is automatically calculated along with expected losing and winning sequences.
The SS2 football betting bot also has the options to eMail or print results directly from the bot.
Additionally Soccer Supervisor 2 has a Data Analysis function to assist with refining football betting strategies with its built in pivot table, this has all the filters required to find weak spots and optimise individual betting strategies for increased performance. A logical precursor before even thinking about using any staking plan.
Both the betting history & data analysis functions can be used to analyse betting strategy result data that was generated within the betting bots live, and test modes. The Betfair Exchange will however impose limits on accounts that use the test mode for extended periods, as previously mentioned.
Staking Plans – For SS2 Live Score Football Betting Bot Strategies
Whilst using level stakes by default, Soccer Supervisor 2 football betting bot strategies can be configured to use staking plans. Available staking plans include:
Fibonacci
Up and Down
Square Route
Staking plans should only be used on betting strategies that have been very well tested over a long period, or they could lead to big losses if used incorrectly.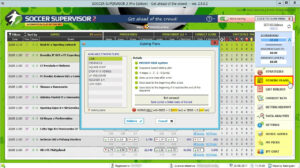 If you're planning on running any staking plan, a very useful tool to test results and staking plans in a variety of ways, is The Staking Machine or TSM to its users. Betting bot strategy history can be imported and manipulated to have staking plan simulations run against the historical bot results and provide an estimated output, of profit or loss, when staking plans are used.
TSM allows users to run simulations on over 40 different bet staking strategies.  TSM also includes the functionality to create additional simulated betting data based on historical betting bot results then run 1000's of concurrent simulations (Monte Carlo Simulations) against this data to find the best staking plan to use, depending on the risk level the football betting bot user is happy with.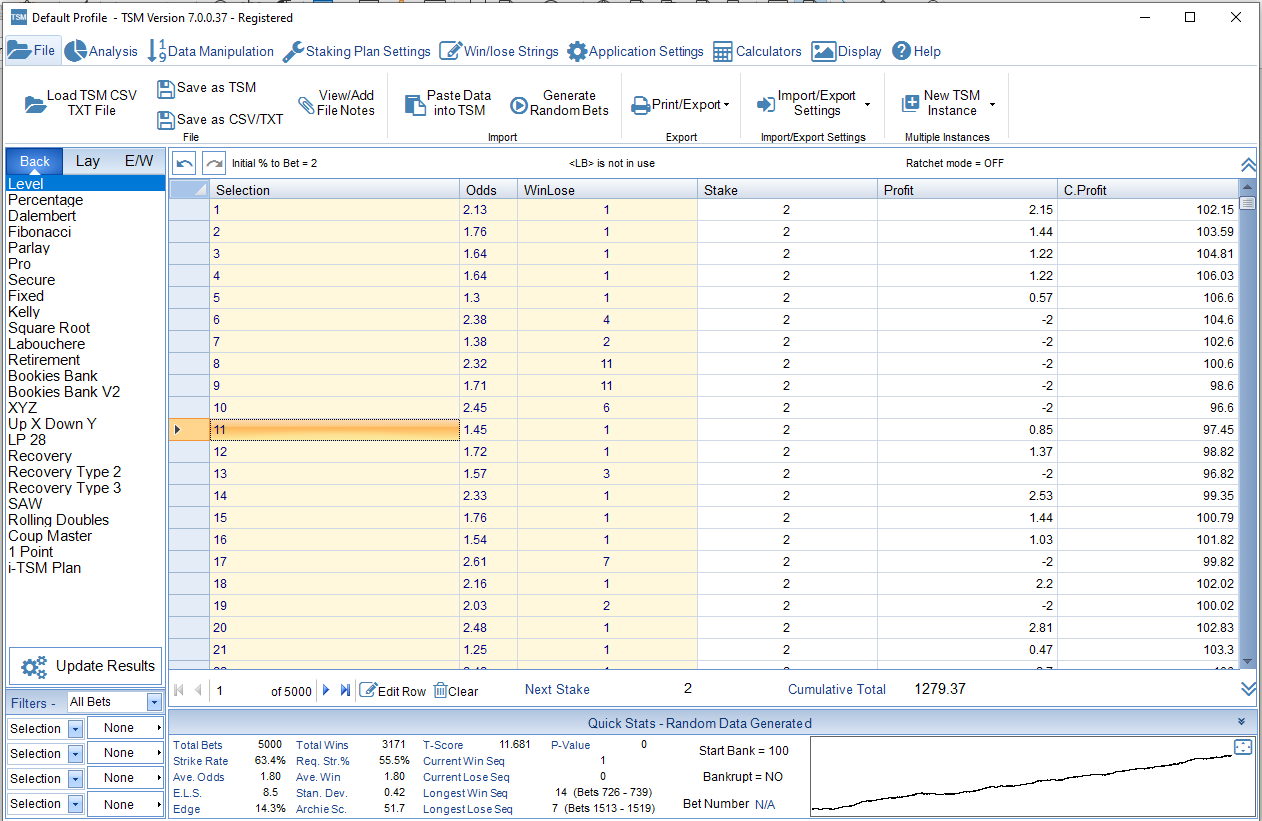 There are multiple staking plans which can be used with football betting bot strategies in SS2, from a low risk percentage stake modifier to a high risk Pro staking plan. The staking plans can be configured individually to maximise the potential winnings of betting strategies, but should only be used by highly experienced betting bot users.
Football Betting Forum – For the SS2 Football Betting Bot
Bettingdev does have a support and chat forum for their SS2 football betting bot users, we found that it is not widely used when writing our Soccer Supervisor 2 review.
Just to stress again, we cannot overstate the importance of users getting used to the InplayTrading interface and live score betting filters available on their site, before using Soccer Supervisor 2.

Subscription, Pricing, Payment – Monthly, Yearly, Lifetime Licenses
Soccer Supervisor 2 offers multiple payment and subscription options. Either a monthly recurring payment, a yearly payment which is heavily discounted, or a lifetime licence is available.
To purchase the Soccer Supervisor 2 football betting bot, payment can be made with PayPal only. Bettingdev does however accept all major credit cards via PayPal. Visa, Mastercard, Maestro and AMEX are all accepted for customers who don't have a registered PayPal account.
To keep up to date with any special promotional discounts for Soccer Supervisor 2 subscriptions and purchases, be sure to join our newsletter mailing list where we'll notify you via email!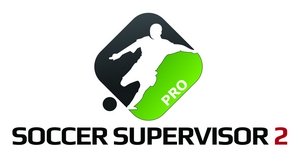 Support – Soccer Supervisor 2 Customer Service Options
Support for Soccer Supervisor 2 is offered via almost every online channel available. Bettingdev has live chat support, a support ticketing system, an email contact form and also offers betting bot support on their forum. They promise a response within 1 working day, 365 days a year. We however found their chat support to respond within a matter of minutes.
Additional Requirements for the Soccer Supervisor 2 Football Betting Bot
Soccer Supervisor 2 Pro does not directly use the Betfair API but uses the COM connection of Gruss Betting Assistant to connect to your Betfair account. This means an additional subscription to Gruss Betting Assistant at £6 a month. Once the Gruss subscription is in place, Soccer Supervisor 2 can be easily loaded up along with the InplayTrading stats connection too.
Summary of the Soccer Supervisor 2 Live Score Betting Football Bot
During our Soccer Supervisor 2 review, we found that the Soccer Supervisor 2 football betting bot, or SS2 as subscribers prefer to call it, provides an easy to use graphical user interface to manage and run live score football betting strategies, in both live and test mode.
With the various modules included with Bettingdev's football bot, subscribers are able to set up essentially any football betting strategy they please. Using the live score inplay data coming from InplayTrading to trigger bets on, monitor, review, and even simulate custom & unique football predictions, inplay football tips and multiple action inplay football trades.
Not only providing alerts when certain inplay match statistics are met, the betting bot also places the resulting bets, or simulates bets with the test mode, on all of the most popular markets available at sports betting exchanges.  Using the Betfair Exchange, the Soccer Supervisor 2 football betting bot takes full advantage of the best odds and highest liquidity available on football betting markets. 
The only limitation we found in our Soccer Supervisor 2 review, is the requirement for three separate subscriptions, InplayTrading, the SS2 Bot itself, and Gruss. As such it would be our recommendation that live score bettors and inplay traders opt for the lifetime subscription to Bettingdev's SS2 football betting bot to reduce monthly subscription costs.
---
IMPORTANT NOTE: Don't forget to LIKE and FOLLOW us on the various social media channels we post updates on, also on our homepage we have a Newsletter Subscription form.  Like, Follow us & join the Newsletter to be sure you don't miss a thing!
Feel free to use the social sharing buttons included on this page, they're there for your use.
Thanks for visiting TheBetMatrix.Win – We've plenty more sports betting content, available at your convenience.
---
Frequently Asked Questions (FAQ):
What are football betting bots?
Football betting bots are betting software most commonly for Windows. The bots use API connections to betting exchanges to place bets automatically. Bets are based on a user specified set of both pre-game and inplay match stats conditions.
Can football betting bots be used for inplay trading?
Bots are most easily configured to place single bets per trigger. However, they can also be set up to open and close more complex trades, using a combination of back and lay bets, across multiple betting exchange markets.