The Staking Machine Review – Staking Plan & System Analysis
The Staking Machine, or TSM as users prefer to call it, is a professional staking and betting analysis tool for sports betting.
TSM is the most advanced and feature packed sports betting tool designed for staking plans, betting systems analysis, and bet tracking currently available. And it has been for quite some time, no other sports betting tool even comes close.
The Staking Machine is available in both a Windows desktop version, and a TSMapp version, for web browser use with any operating system.
The Staking Machine TSMapp web based app always runs the latest version, and is accessible from any device with an internet connection, including tablets and smartphones. TSMapp stores all your various betting strategies data, in the cloud.
IMPORTANT NOTE: Using staking in betting can carry a high level of risk, all the calculations and figures in this article are for illustrative purposes only, unless stated otherwise. When staking strategies are used correctly, they will increase profits, but are not a get rich quick scheme.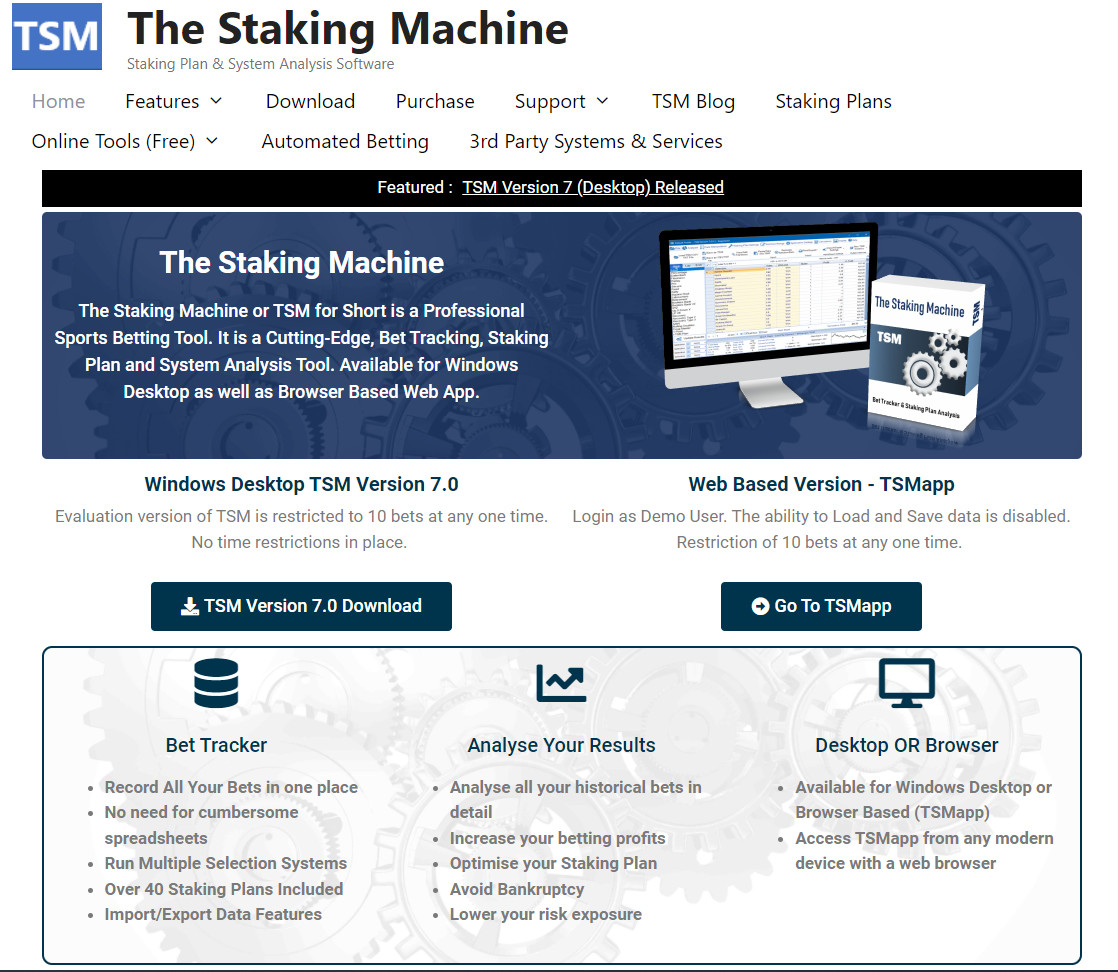 With a Windows operating system, and the TSMapp web based version available, bettors are able to keep track of their football betting strategy, horse racing system, golf tipster, or any other bets placed, with ease. If using the Windows version, the TSM licence includes two separate concurrent installations, so it's easy to split the cost with another sports bettor.
The Staking Machine comes with four main functions at its core:
Bet Tracking
Betting Results Analysis
Staking Plan Calculations
Staking Plan Simulations
We'll go on to discuss each, and how TSM is able to give your winning sports betting system, or systems a boost, in The Staking Machine review.
With over 40 different staking plans to switch between for your betting system data with just a single click, as far as staking plans, staking strategy, and analysis of betting strategies go, there really is no other comparative alternative.
The Staking Machine does come with some limitations however. If for instance your horse racing or football betting strategy, isn't in the positive and profitable using level stakes betting, it's very unlikely that any staking plan will improve its performance in the long term.
The opposite would likely be true, using staking plans and strategy on losing betting systems will likely increase losses, dramatically. You must have a profitable or winning betting strategy in order to put TSM to use.
For those without a profitable betting strategy, the obvious and quickest choice to make are pro tipsters. Check out our article on some of the best football tipsters and horse racing prediction experts online.
Free tips are available from some tipster and predictions sites reviewed within the above article for other sports betting, such as golf, tennis, and the greyhounds, which are becoming increasingly followed. But football and horse racing are by far the most popular for online betting.
For consistent winning tips providing the continuity required to run staking plans, a subscription may well be required.
Another alternative would be to use a live match stats inplay football scanner, to pick out high value inplay football bets. It may take time to build a profitable football betting strategy and record bet data for The Staking Machine, but it's definitely worth it!
Check out our sports betting services category for details of many more online services, to help you find a winning betting strategy.
What Are Staking Plans in Gambling & Betting Strategies
Betting staking plans and staking strategies for sports betting systems and strategies are widely in use. A lot of professional football predictors and horse racing tipsters provide a points/units (pts) value for each bet, advising their followers on the size of the stake in points/units to use on each individual bet.
They're likely providing a points value to equal out the expected win amount for each bet, depending on the odds available. Or adding additional points/units to maximise the potential of bets they consider to have a significantly high value. Some of the staking plans included with The Staking Machine, follow a similar set of rules.
While a points/units staking strategy follows a simple set of rules, it's seen by professional tipsters as a good way to maximise the profit of their winning betting strategy, and it's also easy for punters to follow. Even if this is the case, additional sports betting staking plans can be implemented to maximise profits, enter The Staking Machine.
Some staking strategies follow a simple set of rules, others follow quite complex staking algorithms to calculate the stake of each individual bet. Each and every staking plan can be fine tuned with its individual algorithms formula constants/attributes, to maximise the potential of winning betting strategies.
TSM does all the calculations for you, and a whole lot more. We'll provide some examples later on, in The Staking Machine review.
What Can a Staking Strategy Do for Me? – The Staking Machine Review
You're using a profitable betting strategy, be that a football betting tipster, horse racing system or another sports betting system? Or any other winning betting strategy for that matter. Perhaps it's time to compliment your football betting system, or strategy, with a staking plan? In order to maximise profits, and boost bank growth within your betting approach.
It's important to note at this stage, that if not set up correctly, staking plans are able to lose a lot of money, very quickly. Enter, The Staking Machine, and staking plan simulations. TSM is able to run up to 100'000 Monte Carlo style staking plan simulations on your betting strategy data across all 40+ staking strategies concurrently.
If you're unsure what Monte Carlo style simulations are, don't worry, you'll soon find out!
Quick stats and analytics are provided instantly on each of the various staking plans available within TSM, giving you both visual and numerical data, on each individual staking systems performance. Along with offering the ability to record all your bets in one place, and analyse historical betting data, even if no additional staking strategy has been used.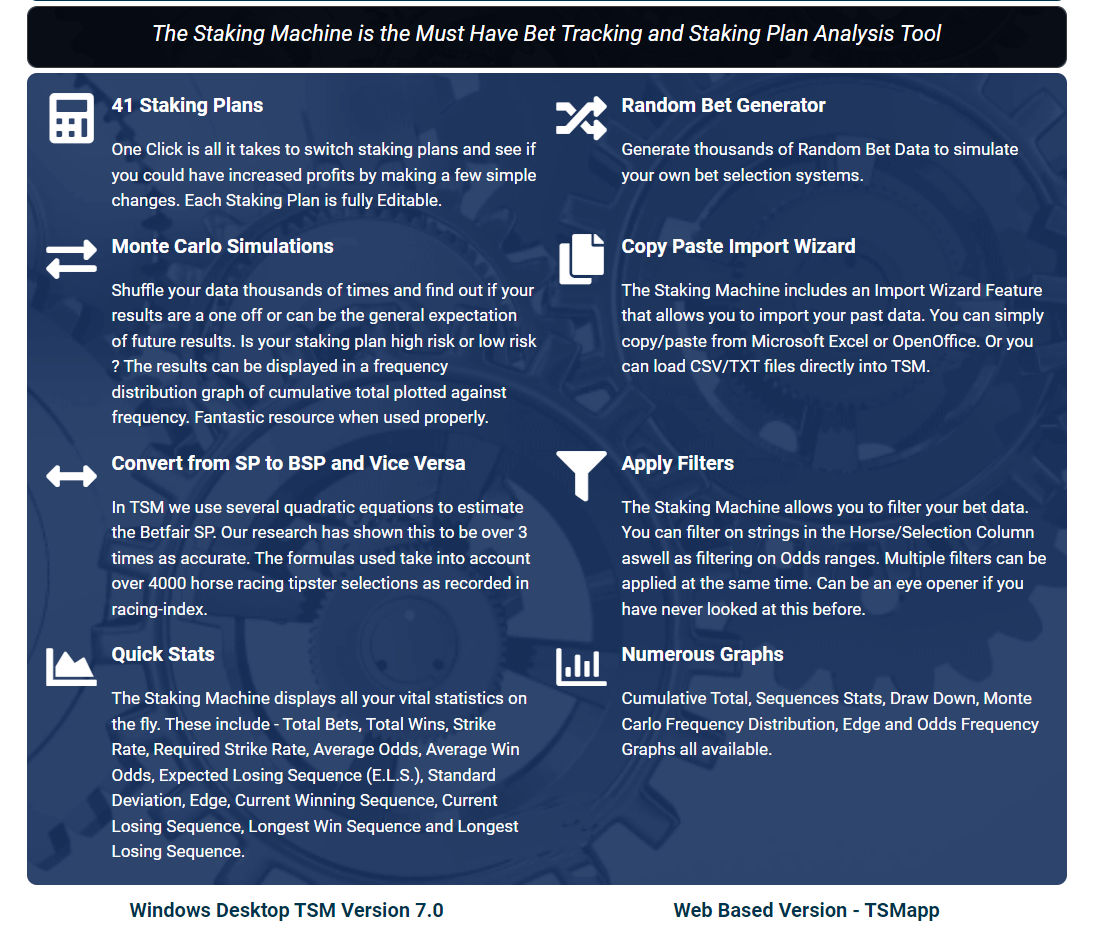 As we just mentioned, TSM features over 40 different staking strategies, not just for win bets, but also for lay bets, and each way betting. The staking plans available are as follows:
Back Betting Staking Plans:
Level
Percentage
1326
Fibonacci
D'alembert
Parlay
Pro
Secure
Fixed
Kelly
Square Root
Labouchere
Retirement
Up X Down Y
L.P. 28
Recovery
Recovery Type 2
Recovery Type 3
SAW
Rolling Doubles
Coup Master
1 Point Back
i-TSM Plan
Lay Betting Staking Plans:
Lay Level
Lay Percentage
Lay Liability
Lay % Liability
Lay Mixed
Lay Maria
Lay Ladder
Lay Kelly
Lay 1-4Lay HiPro86 SP4
Lay % Recovery
Lay % Rec Liab
Lay Labouchere
Lay XYZ
Lay % Up Down
Lay Maria Liability
Lay Goff
Lay 1 Point
E/W, Each Way Staking Plans:
Each Way Level
Each Way Combined
Each staking strategy follows a different set of rules to calculate the betting strategies next bet amount. Some staking plans are better suited to horse racing strategies and systems, others are more suited to the lower odds found in football betting systems.
The Staking Machine is at the ready, to help you find the best staking plan for your winning betting system.
Each staking system has an in depth explanation of the staking algorithm in place, including examples and best use practises, and how TSM carries out the staking calculations. Most can be fine tuned, using various different algorithmic formula constants/attributes to optimise performance.
If you click through The Staking Machine link, and go to 'Staking Plans' on the top menu of the TSM home page, you'll find a full list of all 40+ staking plans. Included here are formulas and examples of each staking system.
What The Staking Machine offers is the ability to quickly identify potential staking plans to fit any individual profitable and winning betting strategy. Alongside this, calculations are automatically carried out to risk assess each strategy, as some obviously carry a higher risk than others.
Simulations can be carried out on historic betting data to provide an exact output of how any specific betting strategy performs, using the various plans. TSM also provides the option to run Monte Carlo simulations, which will shuffle the data and provide tens or hundreds of thousands of staking plan simulation outputs, with any given data set.
The Staking Machine provides all this information in an easy to use application interface, either via the TSM desktop app or the TSMapp cloud version.
We'll explain all these features and functions, in the next section of The Staking Machine review.
Functions and Features – The Staking Machine Review
If you checked out the features image within the previous section of The Staking Machine review you'll have seen that TSM does a lot more than just calculate stakes for betting strategies.
There are an array of other betting system results analysis functions and features available for users, some are calculated automatically on the fly to offer TSM users as much information as possible, others require a little user input.
What The Staking Machine provides isn't just a page full of numbers and statistics, all staking and betting data is available in multiple graphical formats too. We'll go on to provide some examples of exactly what TSM can do, with or without an existing profitable betting strategy.
Sports Betting Strategy Tracking & Analysis
When loading up or logging in to The Staking Machine you'll be presented with a blank TSM canvas, from here you can either import betting data, enter your betting data from your betting strategy in use, or create new data sets based on a set of variables.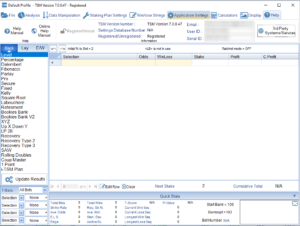 Alternatively, if you've just found a new profitable and winning betting strategy, you can start entering bet data into TSM, or if there is a historic data set available for your new betting system or tipster, import this data.
There is no limit to the amount of different betting strategies and systems that can be used with The Staking Machine, once your data is imported into TSM, users are able to save the individual betting strategies results as a .tsm or .csv file for later use.
Importing data takes a matter of seconds, all that's required is a betting system's individual bet odds and the result. Then you'll immediately be presented with a set of quick stats relating to your strategies results.

Before even delving into the more advanced features of TSM, you've likely already got your money's worth with this quick betting strategy analysis. There's a number of other quick betting results analysis tools available, including cumulative drawdown, sequence stats, and cumulative total, all available in graphical format with a single click.
Sports Betting Strategy Results Analysis
The Staking Machines main function is to import or record betting data from users betting strategies, for analysis and simulation of staking plans.
There is however the additional functionality within TSM, which offers users the ability to create data sets based on a set of defined variables, this is extremely useful for those getting started, who are without any meaningful results themselves.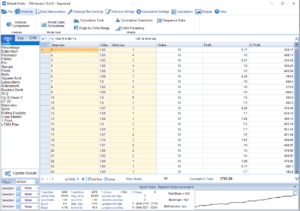 Any generated betting data will be treated by The Staking Machine in the same way as actual data sets. Staking strategies can be simulated against this betting data in order to simulate, or create a profitable betting strategy.
What The Staking Machine is also able to do is convert odds between industry start price (SP) odds, and the better odds on offer with sports betting exchanges, BSP, XSP, etc. TSM has an in-house algorithm which can do this at the click of a button.
This is incredibly useful, if you've been start price betting with the bookies, or are using historical industry start price data in order to develop a winning betting system.
If you're unsure what the BSP and XSP are, check our article. Or head right over to our sports betting exchanges promos offers page to get the best betting exchanges sign up promos, which can lead to 50% to 200% better odds for your betting strategy along with some free bets to get started.
Staking Plan Simulations
If you're looking for staking plans for favourites, or a staking plan for odds on selections then The Staking Machine will be able to analyse your data set within a matter of seconds and provide numerical, and graphical outputs of the results relating to each individual staking plan.
What is the best staking method? With over 40 staking plans available, The Staking Machine will help you find this. Some staking strategies are better suited to lower odds, other staking systems to higher odds.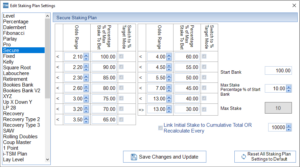 Each of TSM's staking plans settings can be adjusted on an individual basis, so a starting bank can be set along with a number of other formula constants/attributes. Pictured is the Secure Staking Plan, as you can see it can be configured in a variety of different ways to suit your individual betting strategy and risk appetite.
The Secure Staking Strategy is extremely popular amongst horse racing tipsters and bettors due to the massive range in odds on offer across a race's runners. The bet amount is calculated depending on the odds available, reducing the risk on higher odds runners, and betting more on lower odds, with a higher win rate.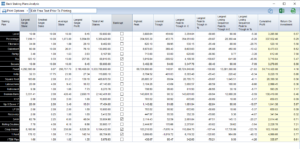 The best staking method for each betting strategy will be different due to the difference in odds and the strike rate of the betting system. This is The Staking Machines main function, to quickly help you identify which staking method will provide you with the best results, and TSM does this very well indeed.
Right away after a betting strategy data set is present, users are able to hit the 'Analysis Comparison' button which will popup the betting strategies results across all the different staking systems on offer within The Staking Machine.
No real configuration or optimisation of staking strategies were made to achieve these results.
Monte Carlo Simulations
TSM's Monte Carlo Simulator feature allows you to shuffle your betting strategy or system results data, and record what the results are after each shuffle. The Windows version of The Staking Machine allows users to run 100,000 shuffled data set simulations.
The TSMapp comes with some limitations however and is restricted to 50 times, as this feature is extremely CPU intensive and it's being run in the cloud. This may not be ideal for some users, but this limitation is unavoidable.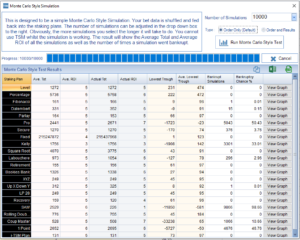 It may be useful to use both the Windows version of The Staking Machine for simulations, and the TSMapp version for storage and betting results analysis.
If you're using an Apple Mac or Mac M1, check our article on getting TSM for Windows up an running on your Mac machine.
As displayed, the Monte Carlo simulator provides users of The Staking Machine with a wealth of information related to their betting strategy. Including, ROI %, lowest drawdown amounts, the number of simulations which ended in bankruptcy. And a bankruptcy % chance for any given betting systems data set, or generated data.
Kelly Criterion Staking Plan In Sports Betting Example
What is the Kelly staking plan? The Kelly Criterion staking system aims to increase your betting bank at an optimal and maximum rate, the Kelly formula was developed in 1956, by John L. Kelly.
What the Kelly staking plan does is calculate the optimum amount to bet on any given wager depending on the perceived edge, and expected % of winners. Since most bets are placed at varying odds, the optimum bet amount would need to be calculated for each individual bet.
It's not very suited to inplay betting, and not good for betting bot's, unless they're betting at exactly the same or similar odds on each bet, with the same implied edge. The Staking Machine will allow you to check how effective the Kelly Criterion staking formula may be on your winning betting system, with a single click.
Furthermore, if using the Kelly Criterion for inplay betting, or with a betting bot and varying win probability. The betting bot would need to calculate the edge on the fly. And apply the Kelly formula to the expected win %, along with a divisor, while also factoring in the calculated edge probability and perceived risk.
If using The Kelly Criterion within betting automation, and betting bots, the perceived edge for usage with the Kelly Formula would need to be incredibly accurate. This is one thing The Staking Machine won't be able to help you with.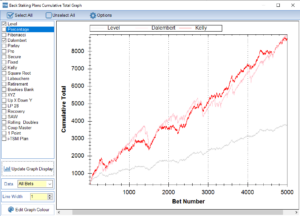 You'll see in the example cumulative total graph how effective bet staking plans can be, in comparison to using level stakes. The odds used here were all in a similar range, just less than 2.0, with the edge probability being around 10%.
For those with an edge on pre-match betting markets the Kelly Criterion & Kelly formula could be used quite effectively. Bettors with the ability to pinpoint a bet, and apply a mathematical win probability above the odds currently on offer, along with a very high degree of precision, may find the Kelly formula highly efficient.
If you asked Warren Buffet for his opinion, he might say the Kelly Criterion is better suited to the stock market.
A finite win % or loss % is what's being risked, rather than what's usually just a win or loss of the entire stake in sports betting. This is effectively an implied divisor to all risk calculations being carried out.
If using the correct divisor and bankroll management in sports betting, much the same could be accomplished though. The Staking Machine isn't going to get you an invite to Berkshire Hathaway's AGM (assuming you're not a shareholder), or on the board of directors however.
The Kelly Formula
The Kelly formula requires three key pieces of information, the probability of winning, the probability of losing, and the payoff/odds.
The Kelly formula stake calculation, can be written as follows: S*=(P*W-L)/P. In this formula example, P is the payout in fractional odds, W is the probability of a win, and L is the probability of loss, with S being the stakes fractional form.
A divisor can be applied by The Staking Machine to the bet size calculated or stake, to reduce the liability or risk of each bet. This in turn will also decrease the payout.
Here's an example of the Kelly formula put to use. If your starting bankroll = $/€/£100 and your current decimal odds are 4. You've done all your research, analysed your data, and your probability of winning is 40% or 0.40, with an edge of 20%.
In the above case, S = (((4-1)*0.40) – (1-0.40)) / (4-1) Which equals = 0.25
Then The Staking Machine will multiply this fraction with your starting bankroll to find your stake.
Stake, S* = 0.25 * $/€/£100 = £25
So while the winning edge on this bet is 20%, with usage of the Kelly Criterion a +10% return on your bankroll can be achieved with each bet. Assuming your research and data leading to the edge calculations are correct, with an extreme degree of accuracy.
As mentioned above, a lot of gamblers see the Kelly formula as too risky, so apply a divisor to the stake/bet amount, typically 2 or more. Although this is configurable in TSM and can be increased or decreased. In this case the actual bet amount, with a perceived chance of winning at 40% and a divisor of 2, with a bankroll of $/€/£100 would be $/€/£12.50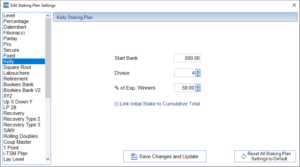 This is all based on you having a winning betting system or strategy, your strategy must have an edge in order for any staking strategy available with The Staking Machine to work successfully, and with any continuity.
The Kelly Criterion is seen as very aggressive staking, it looks to multiply your bankroll and gains at a maximal mathematical rate. Professional bettors and gamblers usually stake at a much more cautionary level, generally speaking pro's will not bet more than about 2.5% of their bankroll on any wager. With the above bankroll, this would be $/€/£2.50.
Each staking system which comes with The Staking Machine has a number of different formula constants/attributes users can use to fine tune their winning betting strategies staking with, in order to obtain the maximum possible gain, with minimal risk. The divisor in the Kelly Criterion formula TSM configuration, is one of these.
Percentage Betting Bank Staking Strategy In Sports Betting
As mentioned in our Kelly Criterion and Kelly formula summary, most pro's with winning betting strategies prefer to use a percentage betting bank staking system, as it reduces risk and provides more equilibrium with wins and losses in relation to your betting bank size.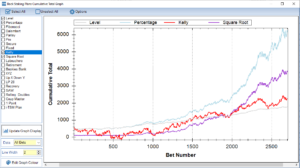 The Staking Machine pops the percentage staking strategy right below level stakes on the Windows application, or TSMapp version. That's how popular percentage betting staking systems and bankroll management are, amongst those with a profitable betting strategy.
There are various different percent betting bank formula constants/attributes that can be applied to betting strategies, or simulations, to optimise performance depending on which odds ranges and win % rates your profitable betting system runs with.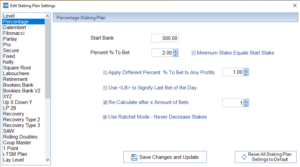 As we already mentioned, if you click through The Staking Machine link, and find 'Staking Plans' on the menu of the TSM home page, you'll be directed to a list of all 40+ staking plans, and their individual staking algorithms. Including usage and explanations of additional formula constants/attributes and the configurations available.
With the benefit of The Staking Machine's Monte Carlo simulations, users of TSM are able to find an optimal risk percentage per bet to gain maximum bank growth, while at the same time ruling out the possibility of going bankrupt (losing the entire betting bank). And also displaying a number of other metrics, such as maximum drawdown.
Depending on your betting strategy, other staking plans may prove more lucrative however. All this data, covering over 40 different staking systems is available at the click of a button.
Monte Carlo simulations can be run across all betting staking plan systems simultaneously. If you're just wanting to run an initial 5-10 simulations for a quick test of individual staking strategy settings, to give them a quick tweak, it's almost instantaneous too.
+1000 TSM staking system simulations may take a few minutes to complete though, which isn't to shabby considering the amount of calculations taking place.
Units / Points Based Staking Strategy In Sports Betting
Very popular amongst sports bettors and professional tipsters is a units, or points based staking system. This follows a similar idea to the Kelly Criterion and Kelly formula to maximise to potential of a winning betting strategy. Doing so, by altering the stake depending on the assumed edge, or winning possibility in comparison to the payout.
Unfortunately, units / points based staking strategy data cannot be imported into The Staking Machine with an advised pts / units bet amount, currently.
The difference is, while the Kelly Criterion uses a mathematical model to determine the exact risk amount for any individual bet or betting strategy. With a units or points based staking strategy, your pro horse racing or football tipster, will determine an advised pts or unit amount to be applied to each bet.
Perhaps they're using the Kelly Formula or another algorithm as part of their calculations to give them an idea on how much to risk, perhaps not. Most professional sports tipsters won't be in any hurry to divulge this sort of information.
Renowned as one of the best horse racing tipsters in the UK, this is how Quentin Franks, a pro racing prediction experts tip's and suggested pts bet amounts performed against the Kelly Formula, and a couple of other staking plans included with The Staking Machine.
This is for illustrative purposes only as all of Quentin's bets are at varying odds, with a different expected edge probability. While The Staking Machine has applied the same win and edge expectancy, to each Kelly Criterion bet.
If you'd like to get involved with Mr. Frank and follow the predictions, his racing tips are currently available through the popular Betting Gods sports tipster service.
While Quentin Franks tips are for horse racing only, Betting Gods host multiple other tipsters covering a complete range of sports, including football tips, greyhound predictions, most major US sports and much much more. To follow a winning betting system, be sure to take a look at Betting Gods.
Price / Subscription / Support – The Staking Machine Review
As mentioned at the start of the article, The Staking Machine is available in as a Windows desktop app or the TSMapp cloud version, whichever suits your individual needs the best. Or they can be used in combination, with the Windows version being used to carry out more CPU intensive staking simulations.
The applications differences are clearly explained on the purchase page of TSM, with the cloud version being slightly more expensive and based on a subscription, rather than a desktop application purchase as with the Windows version. TSMapp would be the obvious choice for Apple Mac bettors.
Support is lightening fast, via email, or the contact form on The Staking Machine website. Expect a reply within 24hrs, although Dave will usually get back to you within just one or two, and is extremely helpful should you face any issues.
Conclusion – Staking Plans, Staking Strategy, Betting Analysis
If you already have a winning betting strategy and want to use staking, or just take a look at what staking could do for your profitable betting system, The Staking Machine is an easy choice to make. Just the analysis TSM provides on existing bet data is worth the cost alone.
If you're not already running a profitable betting strategy, trying to create one, or want to look over a pro tipsters historical data, TSM has all the tools required to aid this.
The only reason we gave The Staking Machine an 8.5/10 for features and functionality, is the lack of points based betting system data analysis, and staking thereafter.
Also, a basic expected losing sequence (ELS) calculator is included, but an expected winning sequence (EWS) calculator is missing for some reason. These would prove useful tools to lookout for anomalies in betting strategy history data, and find room for improvement in your winning betting strategies.
Our final rating of The Staking Machine is included further down the page, we hope you enjoyed reading our review.
---
IMPORTANT NOTE: Don't forget to LIKE and FOLLOW us on the various social media channels we post updates on, also on our homepage we have a Newsletter Subscription form. Like, Follow us & join the Newsletter to be sure you don't miss a thing!
Feel free to use the social sharing buttons included on this page, they're there for your use.
Thanks for visiting TheBetMatrix.Win – We've plenty more sports betting content, available at your convenience.
---
Frequently Asked Questions (FAQ):
What is betting system analysis?
The analysis of betting systems can be carried out by applying formulas to the results of any given betting system. Outputs can include the system ROI%, win/loss %, expected win/loss sequences, average odds, etc.
What is a good staking plan?
Staking plans are not 'one size fits all' formulas. Each betting system will perform differently with any given staking plan. Staking plan selection depends on the bet odds, win/loss %, expected losing sequences, etc.
What are Monte Carlo staking simulations?
Also known as Monte Carlo methods, or Monte Carlo experiments, these are repeated random shuffling and sampling to obtain numerical results and betting statistics for each individual staking plan.