If you've already read our article and reviews of inplay football scanners and football trading websites you may already see the difference between Inplay football tips, inplay betting alerts as opposed to trading football matches on sports betting exchanges.
Inplay betting alerts are suited to both bookmakers and sports betting exchanges, while trading football matches with any consistent gain is left almost exclusively to sports betting exchange users.
In this article we'll try to provide a concise explanation on the usage of inplay betting alerts to generate your own live inplay football tips.  Several inplay scanner websites are available which provide inplay betting tips and alerts with a multi match heads up display of inplay football stats, available completely free at InPlayGuru, or at least initially with other inplay scanners.
We'll provide details on how to make maximum use of the free football stats scanner trial deals, to get readers off to a head start in the creation of inplay betting alerts and custom generated inplay football tips.
InPlay Betting Alerts – Using Inplay Scanners for Football Betting Tips
Generally users of the inplay scanners which are more geared towards inplay alerts rather than inplay trading are looking for a higher volume of alerts, inline with their uniquely configured inplay alerts, betting strategies and systems.
The three inplay scanners which stand out for the automatic generation of custom inplay football tips are:
We have a review of all inplay scanners including their features and functionality in a separate post, but for the purposes of this post we'll focus more on the configuration and generation of inplay betting alerts.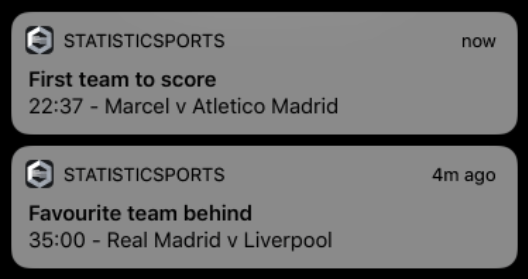 Inplay alerts rather than trading football markets generally offer a lower exposure with a higher volume of bets and provide more of a blanket check on pre-match and inplay statistics.
As bookmakers offer a much higher volume of matches and markets, users of inplay scanners will likely see the best results using a combination of bookies, and the better odds on offer at sports betting exchanges, albeit with less matches available.
Inplay Football Stats – Shots On/Off, Dangerous Attacks, Corners, Cards
With inplay football stats being the basis of any inplay betting strategy, inplay scanners offer users a unique view of multiple matches using a customisable heads up display.
The most popular inplay football stats data used to trigger inplay betting strategies alerts unsurprisingly are shots on and shots off target.  There is however a much wider array of live football match data available to inplay scanner users to trigger inplay betting alerts.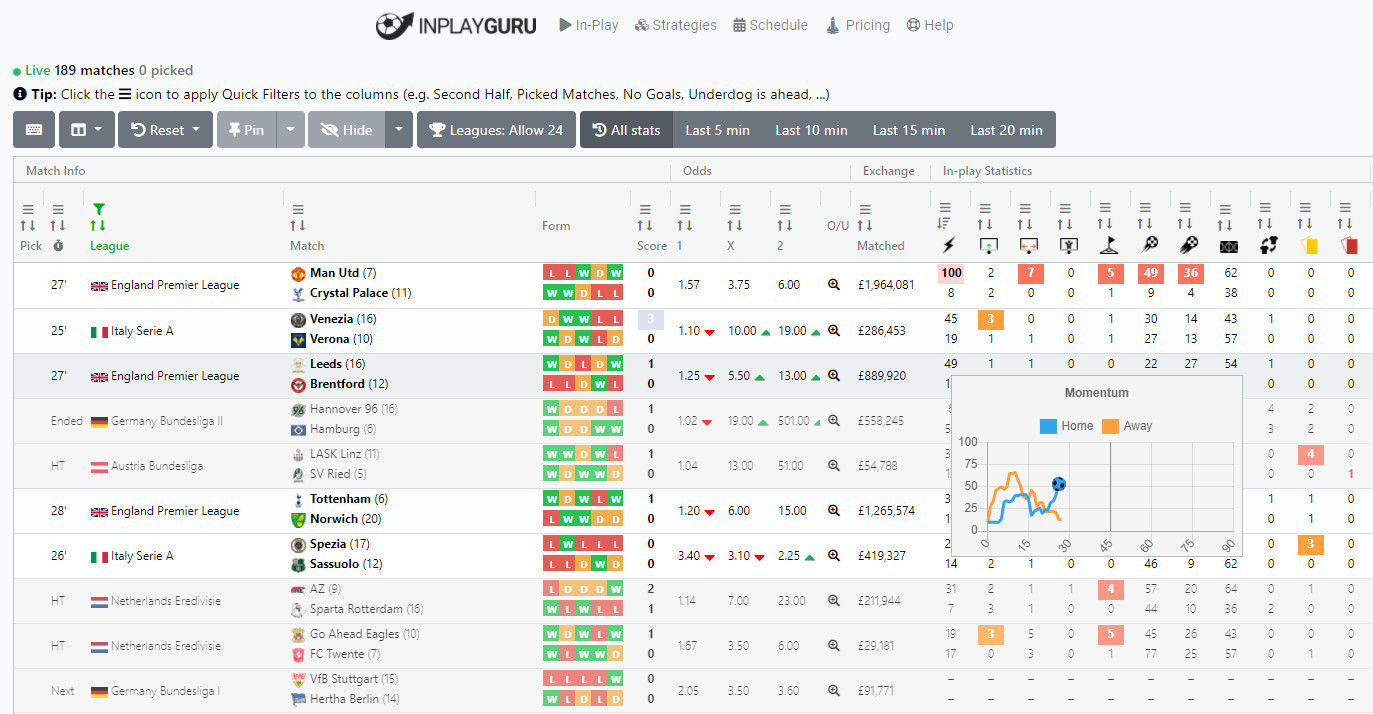 Any individual inplay football stat, or a combination of live match stats can be used to generate inplay betting alerts.  We'll take a look at the usage of the various live inplay stats usually available on inplay scanners in the following sections of this article.
Shots On Target / Shots Off Target / Blocked Shots
As a general rule of thumb for every 3 shots on target a goal should be scored, with 3 shots off target equating to roughly 1 shot on target.  When it comes to creating custom inplay tips strategies to trigger inplay betting alerts at higher value odds than are on offer before matches go inplay this is a good place to start.
Something worth noting is that some scanners count blocked shots as shots off target, others don't.
Dangerous attacks / Attacks / Possession
Another popular live football stat used to generate inplay football tips are dangerous attacks, the number of dangerous attacks from either side or as more commonly used with goal lines betting markets, a combination of both sides attacking pressure is a good indicator of where the inplay matches with a lot of action are taking place.
Corners
With corners offering teams a great opportunity for set pieces, high volumes of corners from either of the competing teams inplay stats are a good indicator of attacking pressure which will likely lead to goals.  When using inplay scanners to generate custom inplay football tips, this inplay match metric is commonly used.
Red Cards / Yellow Cards
Most inplay scanner users consider a red card for either side as an indicator not to get involved in betting on matches.  There are instances where a red card may open the opportunity for a good inplay bet however, inplay scanner stats are usually a good indicator.
If the inplay match stats show significant pressure from a trailing team or match with a level scoreline where the opposition has a red card this may be seen by some as a good value match odds, 1X2 bet inplay alert.  Inplay scanner users will usually avoid goal markets as mentioned above.
All the inplay football stats available on football scanners when combined can be used quite effectively to pinpoint betting opportunities where there is value to the bettor, the most popular markets for inplay betting are those we mentioned previously.
Historic Match Data and Results Data for Betting Alerts
While inplay football stats alone can be used to generate profitable inplay betting alerts, if used in combination with historic match stats and results, an additional level of polarity can be applied to any inplay betting tips generated by football scanner users.
The popular InPlayGuru inplay scanner allows users to configure inplay betting alerts with the addition of historic match stats such as:
Average goals scored
Win/Draw/Loss %
BTTS %
Matches finishing +0.5,+1.5,+2.5, etc
There are a whole series of more historic match metrics available, some reference the last 5 or 10 matches, others are left to the inplay scanner user to configure.  Each scanner offers a slightly different array of historic match stats which can be used as a single indicator to trigger betting alerts or in combination with live match stats.
Some inplay scanner sites go a step further and provide users with historic statistical inplay data, detailing exactly how many shots on/off target each individual team made per game, the average amount of goals in previous games, and the match minute of goals scored.  The same historic inplay stats are also available for the increasing popular yellow/red cards, and corner betting markets.
StatisticSports is one such inplay football stats scanner website with this additional data available for subscribers.
Users of InPlayGuru strategies, and their more value orientated football scanner are left to lookup this team specific info from other historical statistical football data sources if and when they see fit, most sites providing this do charge a premium for it however.
To take a proper look at the inplay scanners, InPlayGuru and StatisticSports offer their inplay football stats for free. A one week free trial is available at Statistic Sports and InPlayGuru provide a free football scanner. InplayTrading has an exclusive first week deal at £1.
You can click directly through to the sites above, or check out our inplay alerts football match scanners reviews page.
Match Action Indicators – PI, Momentum, Last 10, 15, 25 mins
InPlayGuru – Hosts a custom momentum indicator which gauges attacking pressure and can be used within the creation of InPlayGuru strategies triggering inplay betting alerts.  InPlayGuru's formula used to calculate inplay match attacking momentum is as follows:
Each shot on target in the past 10 minutes: +12 points
Each shot off target in the past 10 minutes: +8 points
Each dangerous attack in the past 10 minutes: +2 points
Each 5% of possession: +1 point
StatisticSports – Last 10,15,25 minutes, custom inplay betting alerts filters.  Matches can be sorted using any inplay statistic within the aforementioned timeframes, to bring those with significant action relating to the selected statistic to the top.  Also available at StatisticSports are their own in house filters with selectors present on their inplay scanner, which include:
Even Score
Underdog Ahead (As pictured)
Dropping Odds
Later Overs
Underdog Performing Well
Strong Domination
Odds Dropped & Recovered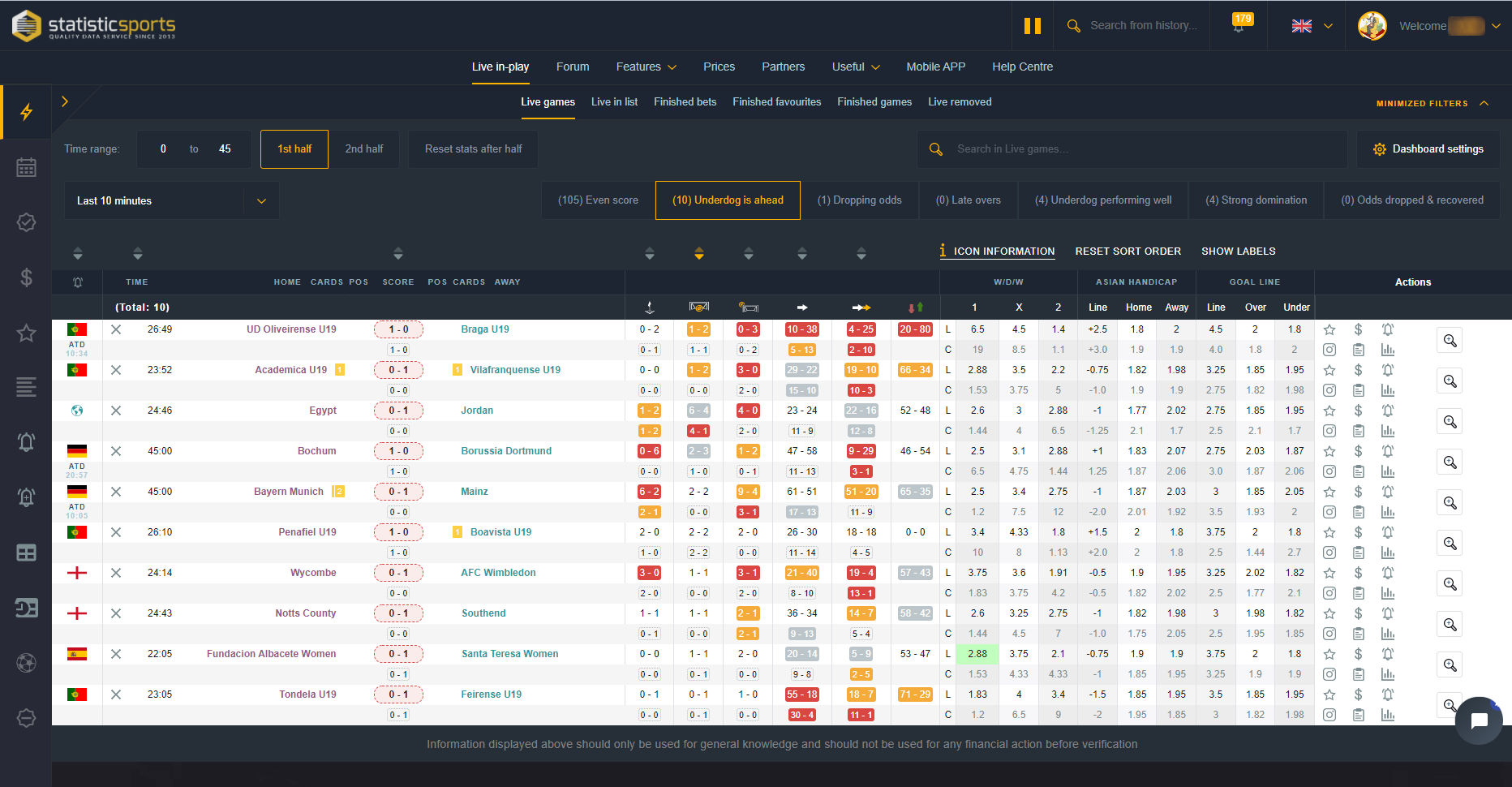 Once any filter is selected, only matches meeting the specific inplay football stats defined for that filter will be displayed.  Inplay scanner users can obviously have multiple windows or tabs open with different filters, or sorting of the inplay football stats.
InplayTrading, which we will cover next, actually allows users to do this within a single tab on both their Betfair Exchange and bookmakers football scanners.
InplayTrading – The PI or Pressure Indicator as InplayTrading calls their attacking strength indicator was the first custom inplay football stats pressure gauge and inplay football scanner available.
InplayTrading has two pressure indicators, PI1 and PI2, which are calculated from the previous 10 minutes.  The formulas used to calculate PI1 and PI2 are as follows:
PI1:
Shots On Target +10 points
Shots Off Target +10 points
Each 5% Possession +1 point
PI2:
Dangerous Attacks +1 points
Corners +2 points
The pressure indicators can be used within inplay alerts betting strategies as an individual inplay football tip trigger, or in combination with any other inplay stats for the generation of custom inplay betting tips.

Backtesting InPlay Betting Systems and Strategies for InPlay Betting Tips
A backtesting tool is available with some inplay scanners to test betting strategies, and inplay betting alerts against previous match data.
Backtests can include betting strategies using both live inplay football stats and historical match data.  StatisticSports for example allows users to backtest strategies over 50'000 games, or for a period of two years.
The testing is fully automated, including bet settlement.  Once configured, users can test their inplay alerts betting system against historic match data in all the betting markets we mentioned above.  This allows users to cut their inplay or pre-match betting strategy test time from a matter of months, into less than 20 minutes.
InPlay Betting Alerts for InPlay Tips via Mobile App, eMail, Telegram
The StatisticSports, InplayTrading and InPlayGuru inplay football scanners can be configured with both inplay football stats triggers, and also pre-match/historical football match results and stats filters, in order to create profitable inplay football betting alerts strategies and systems.
Alerts are available via:
Mobile App
eMail
Telegram
Browser Notifications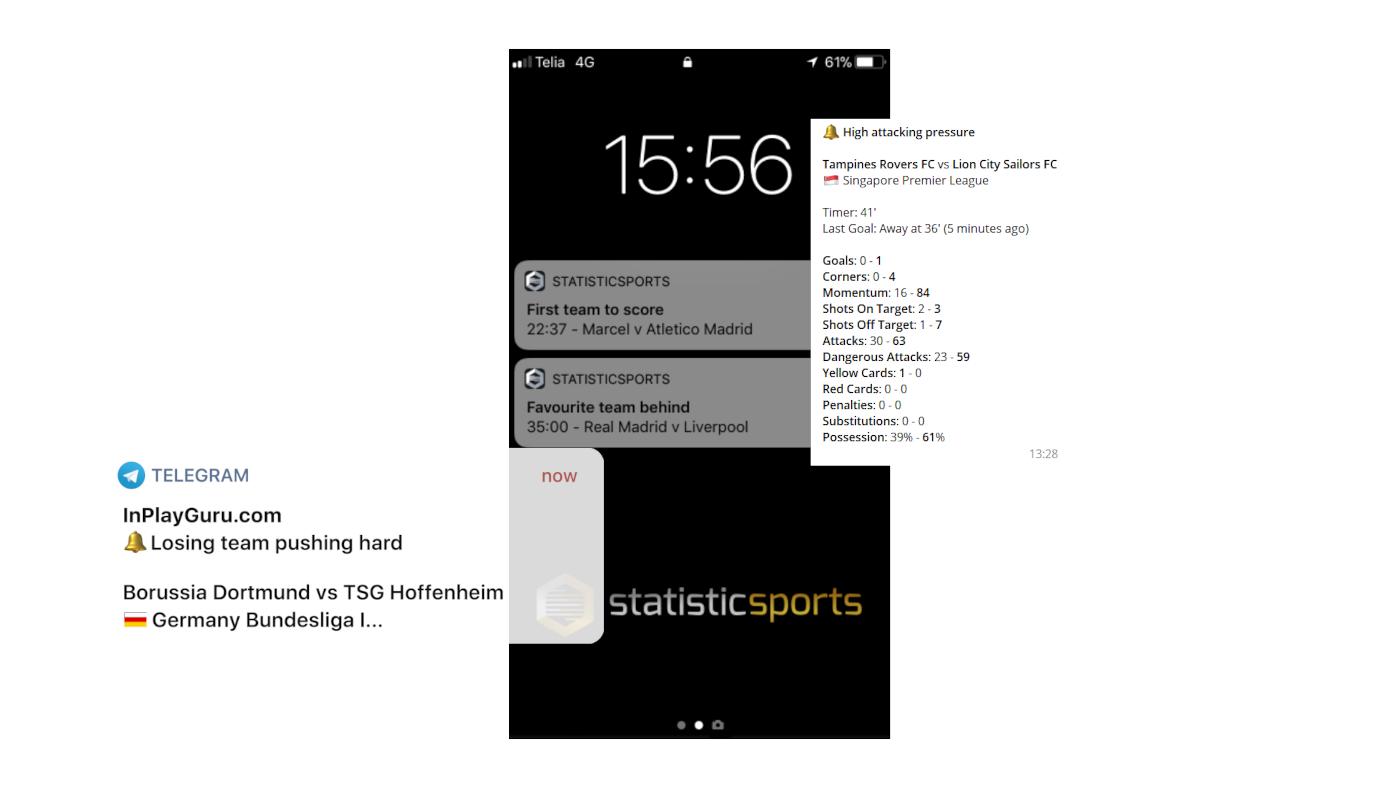 When matches are generating a higher or lower volume of the various inplay match metrics available to inplay football scanner users.  The opportunity arises to place bets with an edge over the perceived results and odds currently available with bookmakers and sports betting exchanges, on the various different football betting markets.
Most inplay scanners come pre-configured with various inplay alerts betting strategies and systems, to get users started and triggering inplay betting alerts right away.
Inplay Betting Alerts Optimisation – Competition Filters / Staking
Once using an inplay scanner to generate inplay betting alerts profitably, there are several ways users may wish to increase their football betting strategies performance.
Competition Filters – For Custom Generated InPlay Football Tips
Probably the most common method of optimisation is adding additional filters to where an inplay alerts betting strategy will trigger notifications.  Leagues and competitions filters play a key role when it comes to boosting inplay tips profitability.
Certain leagues and cups tend to perform better with certain betting markets.  While this inplay and historic match data may not be available on the inplay scanner sites themselves, there are several other 3rd party sites which contain this information.
To name a few:
Soccerstats.com – Football stats, form tables, and results analysis
Footystats.org – Football stats, tables, and results
Statistical football software is also available, with likely the most popular being the CGMBet app which uses data from major European, the Americas, and Asian football leagues.
With this additional data from statistical match analysis websites and tools inplay betting alerts generation via the usage of inplay football scanners can be optimised only to include or disclude specific competitions depending on the historic performance in relation to certain betting markets.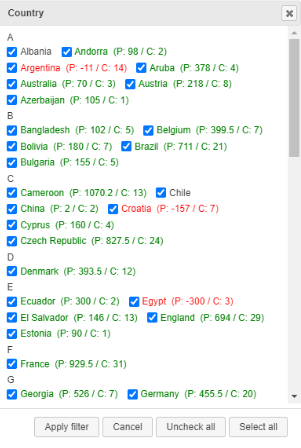 These additional filters can easily be added to betting alerts strategies via the various football scanner websites inplay betting alerts configurations.  InPlayGuru's football scanner for instance, allows the filtering of over 2000 different leagues and competitions.
Some footy scanners log this data on the fly whilst inplay betting tips are being generated and will settle markets and bets automatically, with others it's left to be done manually.
Most inplay scanners also offer the option to download historical betting data via spreadsheet and/or have it displayed on their website, so inplay alerts betting systems can also be optimised while in use, using the data and results they generate.
Staking – For Custom Generated InPlay Football Tips
Another method of optimisation for the profitability of inplay betting alerts with any profitable inplay betting strategy, is to use a staking strategy.  There are dozens of staking methods around, but they should be used with caution.
Even if an inplay betting system is profitable, using staking incorrectly can wipe out any profits, and a whole lot more.
There are however tools available to assist inplay football alerts users to correctly optimise their inplay alerts betting strategy for usage with specific staking systems.  By far the most popular and feature packed staking tool available is The Staking Machine, or TSM for short.
Inplay betting alert data and results outputs from football scanners as mentioned are usually available in spreadsheet form, and the historic betting data or backtesting generated bet results can easily be imported into this tool.
We have a full The Staking Machine review available to readers wishing to add a further layer of optimisation to their inplay betting system, and inplay tips.
Bet Automation – Via IPT and the SoccerSupervisor 2 Football Betting Bot
For anyone wanting to automate the placement of bets with their football scanner generated inplay betting tips, football betting bots are available to do just this.  Off the shelf football betting bots are limited to the users of sports betting exchanges however.
InplayTrading and BettingDev have worked together to link InplayTrading's football scanner data into API form which hooks up with the SoccerSupervisor 2 football betting bot.
Combined with InplayTrading's inplay football stats, the SoccerSupervisor 2 bot is able to automate bet placement on the Betfair exchanges various football betting markets.  Inplay alerts betting systems are programmed directly into the SS2 football betting bot, with all the inplay match stats and betting markets we've covered in this article available to users.
We have a full review of the SoccerSupervisor 2 football betting bot available for readers, including all its various features and functionality.
Betting Markets – Overs Unders, Goal Lines, Asian Handicap, 1X2, BTTS
Inplay alerts betting systems and strategies used to generate live football tips, almost exclusively target the overs unders, goals lines, asian handicap, the 1X2 windrawwin and BTTS (Both Teams To Score) betting markets.  All of these football betting markets are available at most bookmakers and at sports betting exchanges.
For readers unfamiliar with overs unders, goal lines, and the asian handicap check out our football goal betting markets article.
Overs Unders: 
Probably the most popular football markets for inplay betting alerts are the various overs unders goal betting markets.  While they start at over under 0.5 and sometimes run right up to double figures, the 0.5 through to over under 2.5 are by far the most popular and attract the most liquidity.
As the odds available on the over under 0.5 and 1.5 aren't great early in games, users of inplay football scanners tend to focus on matches where goals are expected from both teams. And as such the score may end over 2.5 goals, with significantly better odds available than the over under markets mentioned in the first instance.
The over under 0.5 and 1.5 inplay betting markets can however offer inplay scanner users some good value to place bets around the halftime mark of matches, where the score still remains 0-0 and inplay stats are showing a lot of action.
Check our post for a full explanation of overs unders betting markets, and bet settlement.
Goal Lines:
Also heavily used for inplay betting alerts are goal lines which provide bettors more leverage on results and outcomes, multiple overs unders markets can be covered with a single bet.  Goal line bets can be settled as a win, loss, half win and half loss or a void bet.
While overs unders betting is a bet on over, or under a specific amount of goals scored, goal lines when used correctly can provide a safer more multi faceted alternative in terms of match goals outcomes.  Where depending on the specific goal line bet on, the stake can be split across multiple results, depending on the goal line chosen.
For example:
Over 1.5 & 2:  0 or 1 goals would result in a full loss, and 2 goals would result in a half win.  Whereby the over 1.5 part of the bet would be settled as a win, and the over 2 would be settled as a voided bet, with the stake refunded.
Any 3+ goals result would be a win for the entire bet amount on both parts of the bet.
Over 2.0:  0 or 1 goals would be settled as a loss, with 2 goals meaning a voided bet and stake refunded, and any over 3 goals match result settled as a win.
Over 2.0 & 2.5:  0 and 1 goal match results are settled as a full loss.  Matches where 2 goals are scored being settled as a loss for the over 2.5 half stake of the bet, and the over 2.0 half being voided with the stake returned.  Any 3+ goals scoreline is settled as a full win for both parts of the bet.
For a full breakdown of all the various goal lines available for use with inplay betting alerts, check out our detailed explanation of goal lines betting, containing full tables detailing the various goals lines bets settlements.
Asian Handicap: 
Asian handicap betting and bet settlement for usage within inplay betting alerts works in slightly similar fashion to goal lines.  There is a major difference however, as the name suggests a goal handicap is applied to one of the competing teams in the match, rather than combining the total amount of goals from both teams, as per the overs unders and goal lines betting markets settlement.
Asian handicap markets are very popular in matches with a strong home or away favourite, positive or negative handicaps can be applied to either of the competing teams' resulting scorelines.  There are three forms of asian handicap betting:
Level asian handicap
Single asian handicap
Split asian handicap (AKA quarter goal)
For example:
Level asian handicap: Is exactly the same as the 'draw no bet' betting market.  If the game ends in a draw the bet is voided, and should the bettors selection win by any amount of goals, the bet is settled as a win.
Single asian handicap:  Is a bet placed with a full or half goal handicap that can be settled with three possible outcomes.  Win, lose, or voided with the stake returned.
Bettors selection -1.5:  The team that has been backed must win by 2 goals or more.  If the team only wins by a single goal, draws, or loses they have not offset the handicap applied in the bet and this will result in the bet losing.
Bettors selection -2:  The selected side must win by 3 goals for the bet to be settled as a win.  2 goals would result in a void bet with the stake returned, with a win by a single goal, draw or loss would result in a loss of the bet.
Split asian handicap, AKA quarter goal: This allows the bettor to split the stake over multiple handicap bets.
Selection -1 & -1.5:  For a full win the bettors team must win by 2 goals or more, a win by a single goal would result in a half loss with half the stake being returned and the -1.5 part of the bet being settled as a loss.  A draw or loss would not offset the bets' handicap and would end in a full loss.
Selection -1.5 & -2:  To win the bet in full, the team selected must win by 3 goals or more, a win by 2 goals would result with a half win.  The -1.5 half the bet would be settled as a win, with the -2 half settled as a stake returned voided bet.
Using inplay football tips both positive and negative handicaps can be applied to either of the competing sides, we have an article with a full rundown and explanation of the asian handicap betting market.
Match odds, 1X2 windrawwin:
The match odds or 1X2 windrawwin betting market almost always sees the highest volume of money bet out of all football markets, in both pre-match and for inplay betting.
For anyone using an inplay scanner to generate inplay betting alerts, matches can be easily monitored with the football scanner configured to pick out good value bets and automatically trigger an inplay alert, be that on a heavy favourite or one side generating inplay stats indicating particularly good performance.
A lot of inplay scanner users configure alerts to trigger when a heavy favourite goes a goal behind, but is still showing significantly better inplay stats than the opposition.  The odds available in such instances offer much more value than those on offer when both sides are level.
BTTS / Both Teams to Score:
Both Teams To Score, or BTTS as it's commonly known, can offer users of inplay scanners good opportunities to set up inplay betting alerts with high value odds.  For example, if a team is not expected to score against strong opposition but is showing good inplay stats, the odds on offer can show good value.
The same can be said once a match has started and inplay scanners are showing live match stats suggesting that both teams are generating good chances.  With the odds on offer gradually increasing as the match minutes progress, when to place a good inplay BTTS bet really is just a matter of timing.
Premium Football Tips & Predictions via InPlay Betting Alerts
While configuring inplay football scanners with the various inplay stats and other criteria required to trigger inplay betting alerts may be appealing to some, for those looking for custom premium football tips & predictions which are pre-configured, profiled, and already generating very good betting results.  Or if you're tired of testing betting strategies in inplay scanners, there is a service available.
Introducing, BetBugler's Inplay Football Tips & Predictions Telegram Channel.  What BetBugler's football tips and predictions feed offers is a custom, around the clock stream of high probability betting opportunities from football matches around the globe.
Weekly, users can expect 20-70 high performing tips zapped instantly to their Telegram account via private messages, so it's easy to set up audible notifications just for these inplay alerts.
BetBugler's Premium Pre-Match & Inplay Tips service has a 14 day free trial available, with very reasonably priced subscription plans.  Be it for a few weeks or months, there is a suitable plan on offer.
Conclusion – Inplay Alerts for Generation of Custom Inplay Betting Tips
While the odds available at sports betting exchanges and bookmakers are already priced in line with an expectancy and probability of all possible match outcomes.  Inplay football stats and scanners can be used to tip the scales to a bettors advantage in all football betting markets.
Perhaps not in every match played, but to trigger alerts when the specific conditions of an inplay betting alerts strategy are met.  Be that pre-match, inplay or the combination of football stats conditions, historical results and data.
With inplay alerts available via app, telegram, email, and browser notifications, subscribers will never miss a good inplay betting opportunity again.
We have a full review of the best inplay scanners for generating inplay betting alerts, using their inplay betting tips generation engines various features and functions. Check our reviews for an exclusive deal, including a week's free trial so you can begin to use the inplay football stats for free.
If you're tired of configuring inplay scanners or just want some premium, profiled, high strike rate football tips. BetBugler's Premium Football Tips & Predictions service via the Telegram messenger offers an excellent alternative, which comes with a 14 day free trial.
---
IMPORTANT NOTE: Don't forget to LIKE and FOLLOW us on the various social media channels we post updates on, also on our homepage we have a Newsletter Subscription form.  Like, Follow us & join the Newsletter to be sure you don't miss a thing!
Feel free to use the social sharing buttons included on this page, they're there for your use.
Thanks for visiting TheBetMatrix.Win – We've plenty more sports betting content, available at your convenience.
---
Frequently Asked Questions (FAQ):
What are inplay alerts?
Inplay alerts are the notifications most commonly generated using live football stats. An inplay alert may be triggered once a certain user defined or preset inplay football scanner match statistic condition, or set of conditions are met.
How do I receive inplay alerts?
The live notifications sent for inplay alerts are available via mobile app, eMail, Telegram, browser notifications, and audible alert sounds. Inplay alert channels can be configured directly on football scanner websites.
Where to find the best inplay football tips?
The best inplay football tips can be found using inplay football scanners. Inplay scanners allow users to generate live alerts when certain inplay stats conditions are met. Some football scanners have preset filters which refine the matches on display, to the best betting opportunities.