Introduction: Sports Betting Exchanges and Bookmakers
Betting exchanges for sporting events have been running for over two decades, the key difference between a sports betting exchange and traditional bookie is the ability to bet on both sides of a market's outcome.
A back bet is in effect identical to a traditional bet placed at a bookies, exchanges however also offer the ability to place a lay bet. A lay bet is a bet placed on the opposite outcome, that a horse will lose a race for instance.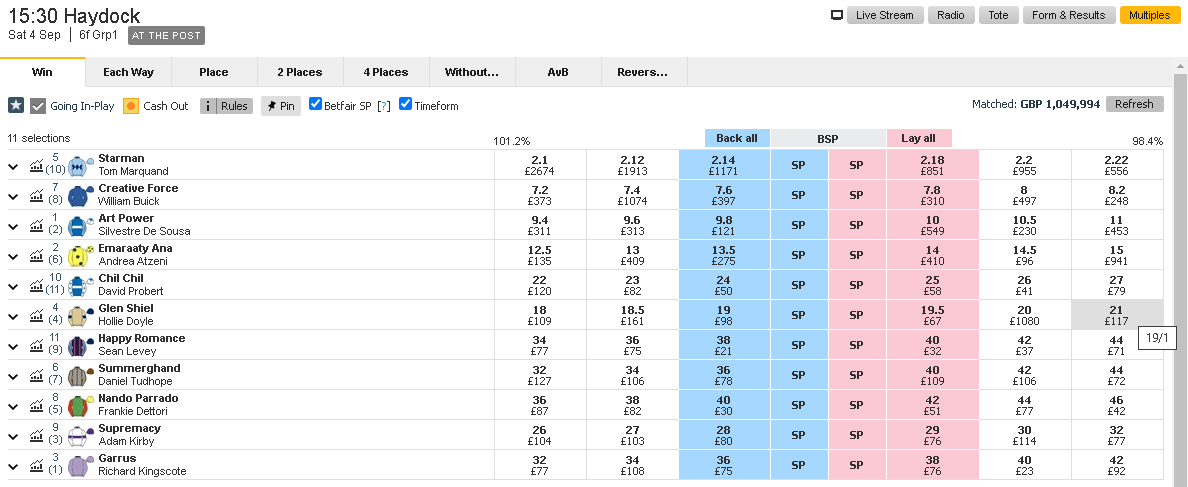 Not only can exchange users take the odds on offer, but also request or offer higher or lower odds. This creates a market for players to bet on, or offer odds on any side of an event or runner's outcome. As such the odds available are usually much better than those available with traditional bookmakers.
How close the odds on offer are to an absolute return percent is termed the overround. Betting exchanges have an overround for both sides of the exchanges betting book, be that backing or laying. This is called the back book % and the lay book %. The Betfair exchange is the most popular, and offers the best overrounds available.
The online betting markets available at exchanges are usually very similar to those found on bookmakers betting sites. Football betting, greyhound betting, horse racing betting, golf, snooker, tennis, cricket plus many others, and also markets that are not sports related.
In the example pictured below, an English Premier League football betting market has two teams/runners with three possible outcomes, home, draw, away, or windrawwin match odds as some punters prefer to call it. Players can place a back or lay bet on any of the three outcomes.

Some key differences between online betting exchanges and bookies are highlighted below:
Back Bets / Lay Bets
Fractional and Decimal Odds
Overrounds, Back Book % & Lay Book %
Market Liquidity & Bet Size Limits
Betting Exchange Commission
Cash Out & Multiples
Inplay Trading, Live Score Betting
Ability to Trade the Market
Greening up & Taking Out the Red
Exchange Betting Bots
Trading & Exchange Software
Sports Betting Apps
Readers should already be familiar with some of the top betting exchange names, the Betfair Exchange, Matchbook, BETDAQ, and Smarkets.
The BETDAQ exchange had been acquired by the bookmaker Ladbrokes back in 2013 and was also known as the Ladbrokes exchange.
BETDAQ has however since been sold at the end of 2021 to Exchange Platform Solutions Limited.  Exchange Platform Solutions Limited hold the appropriate online gambling licences with the GB Gambling Commission, a Republic of Ireland remote gambling licence, and licences with the Alderney Gambling Control Commission, much the same as the other top sports betting exchanges.
Read our top 4 exchanges comparison article, for further information on the differences between the top 4 sports betting exchanges.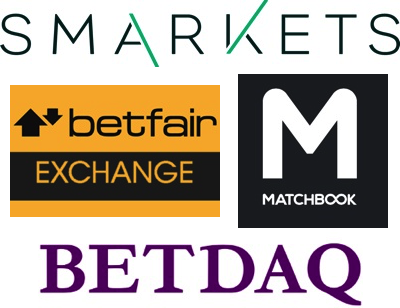 Much the same as on bookies websites and gambling apps, online betting exchanges also offer live inplay match data and live score betting. As with the nature of betting exchanges, users are betting against each other, be it with back or lay bets.
This removes the need for exchange accounts to be gubbed in order to protect the exchanges bottom line as there is effectively no risk for the exchange no matter what the outcome. More on this in the market liquidity, and bet size limits section later in this article.
If this sounds like something you're interested in, don't wait and check out the sports betting exchange reviews or websites promo offers now!
We have a summary page with details of all the sports betting exchanges promotional sign up, free bets, and additional offers in one place, sports betting exchanges free bets and promo codes article and promo codes table.
Alternatively, this article is packed with useful sports betting and trading information. Read on to find out all the details on what makes gambling with exchanges different from your traditional bookmaker.
What Is a Back Bet and Lay Bet on a Sports Betting Exchange?
A back bet is a bet that a particular selection be that a horse, greyhound, football team or any other selection in any market will win in that specific market. A lay bet is the exact opposite, it's a bet placed that the selection will not win in the market the lay bet is placed on.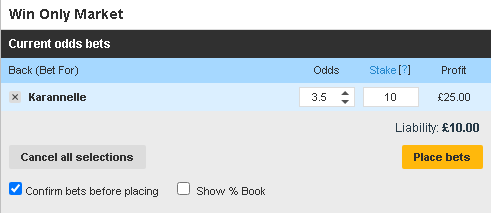 Lay bets can be placed in several different forms. Either as a straight lay bet, which is the bet amount multiplied by the odds being offered, or a lay to liability bet which restricts the liability to the bet amount specified and calculates the stake accordingly.
For example: A £10 lay bet at 5.8 in decimal odds would have a liability and loss of £48 should the selection win rather than lose, 4.8*10. If however the bet size was calculated to lay by a fixed liability of £10 at the same odds of 5.8 the bet liability and loss amount would be fixed at £10, and should the selection lose the payout would be £2.08, calculated as 10/4.8.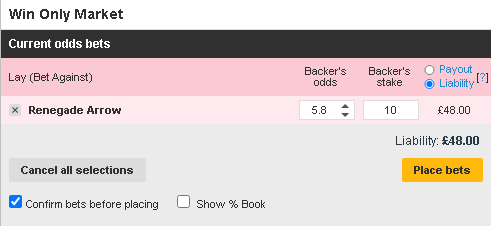 Some online betting exchanges such as Smarkets use bid and ask much the same as financial markets to offer or take prices, rather than back and lay which is preferred by the Betfair exchange, BETDAQ and Matchbook exchanges.
The array of markets available for exchange betting is huge but not quite as big as bookmakers, because the exchanges need to keep sufficient liquidity within the markets they offer. With bookmakers some football matches have over 100 different football betting markets, UK and Irish racing markets typically contain over five to ten different horse racing betting markets, exchanges offer slightly less for the above reason.
What Is the Difference Between Fractional and Decimal Odds?
Sports betting exchanges default to decimal odds, bookmakers prefer to use fractional odds. While most gambling websites do offer the option to switch between them, there is a big difference.
Decimal Odds: Decimal odds include the stake within a single odds figure. So decimal odds of 5.0 would return 4 times the stake and also add the stake itself, +1. Making a total of 5.0.  In this example, for a $/€/£10 bet, the return would be $/€/£50.  Winnings of $/€/£40 plus the $/€/£10 stake also returned.
Fractional odds: Fractional odds are a ratio of the amount won compared to the stake. So fractional odds of 11/10 returns $/€/£21 for every $/€/£10 wagered, $/€/£11 plus the stake of $/€/£10. Or 4/1 would return winnings of 4 for every 1 wagered, exactly the same as the decimal odds example of 5.0 above.
To convert fractional odds to decimal odds just divide the fraction and add one (one is the stake). For example, with fractional odds of 9/4, the 9 would be divided by 4, then 1 would be added to give decimal odds of 3.25
See the table below for some more comparisons. Decimal odds provide a much closer ratio between betting market prices than fractional odds do, so there really is no reason for punters to use fraction odds when gambling.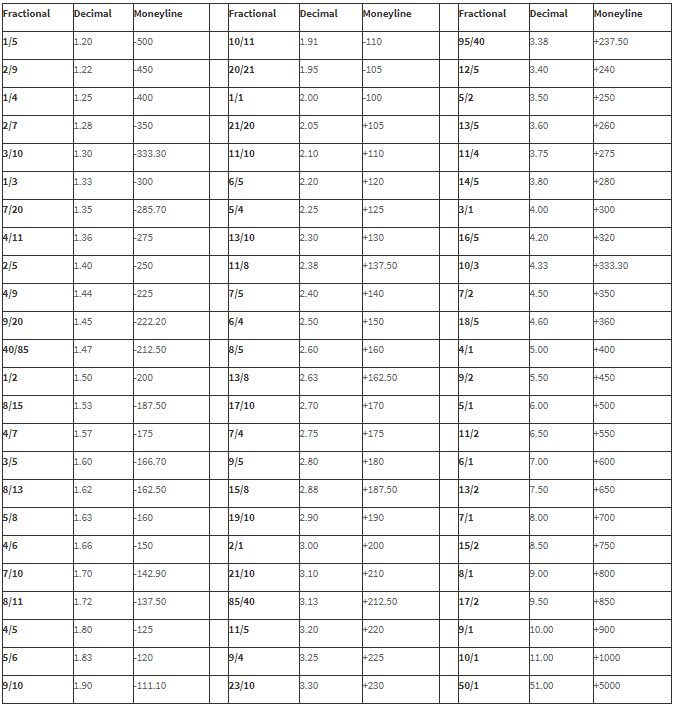 What Is the Overround, Back Book % And Lay Book %?
A market overround, also known as a book percentage is available for both the back and lay side of a betting market. It is the total of priced probability across all outcomes of a single market combined into a single % figure for either side of the market.
A back book % overround of 100% would indicate that if all runners or outcomes on that market were backed with back bets of an equal size at the current prices on offer, then the bets total, if combined, would return an equal amount as all stakes combined, assuming the bet won. Conversely, the same is true for the lay book side of the market.
On the back and lay book side of the market anything more or less than 100% would indicate backing or laying all selections would result in a loss. This however is what forms the market and even if there is only a single point between the back and lay side of the book, the back book % and lay book % will be slightly above or below 100%.

Pub gambling machines' lay book % has to be a minimum of 70%, but they're typically around 78%. This is a lay book payout % as slot machines spin the reels to lose, unfortunately. Bookies typically give a back book % overround figure if they provide one at all, as they don't offer lay bets.
When football match betting with bookies, overrounds can be around 110-120%. With horse race betting markets they're usually around 130%, but in some cases up to and over 150%.
Generally the more runners or outcomes a single event contains, the higher or lower the book percentages will be, as there is a higher chance of margins between each of the outcomes due to the greater number of them.
A well traded horse racings book % for instance will almost always be higher than that of a well traded football game. As horse races often contain over ten runners or outcomes, whereas a football match only has three.  Home, draw, away or 1X2, windrawwin as some prefer to term the outcomes.
Even with an overround as close to 100% as possible this still doesn't guarantee a profit long term, but finding an edge and long term profit in an exchange market that's trading at just over or less than 100% rather than the 110% to 150% available at non betting exchange venues is obviously going to be much easier.
If you view the horse racing market start price picture from an odds comparison site below, the difference is staggering.  ISP is the Industry Starting Price, BSP the Betfair Starting Price.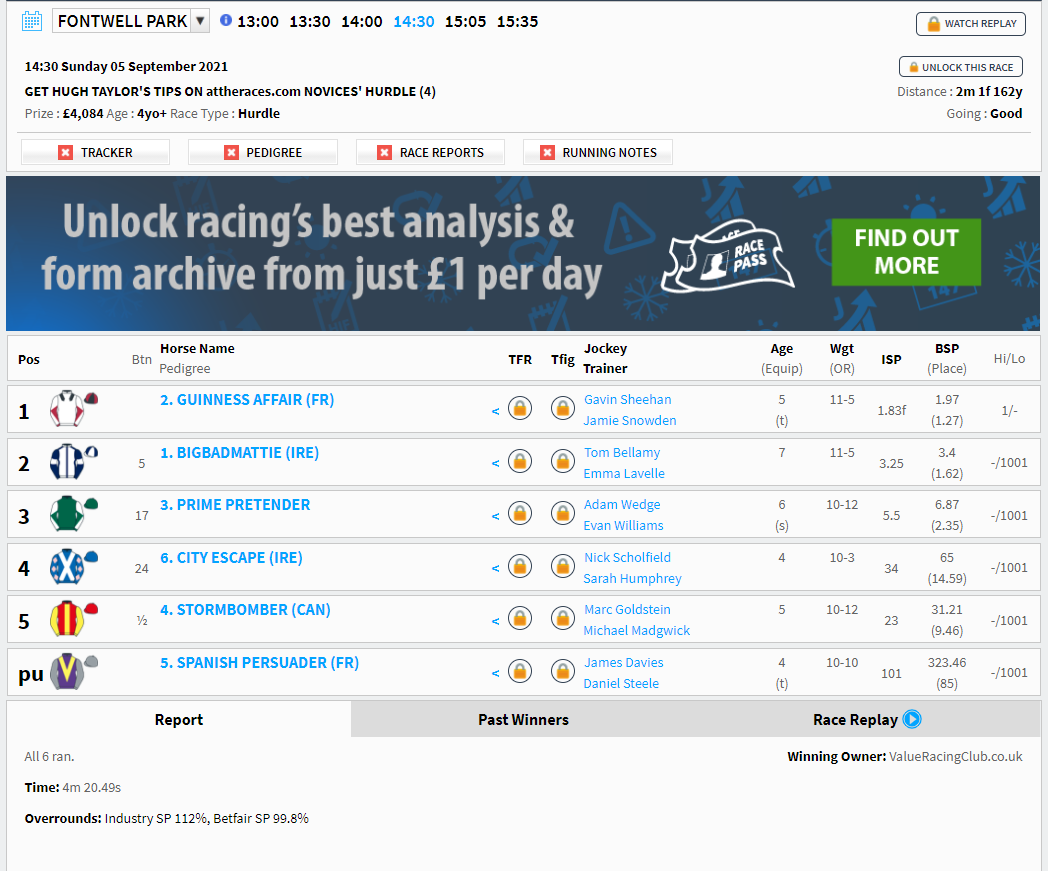 What Is Market Liquidity, Bet Size Limits and Market Volume?
Market liquidity is determined by the amount of money available on the back and lay side of the book. The only limit to bet sizes is what's available in the market. Not only what's currently available and displayed on the online betting exchange interface, but what market making automation houses and other betting exchange users make available when there isn't displayed liquidity to fully match a bet price request.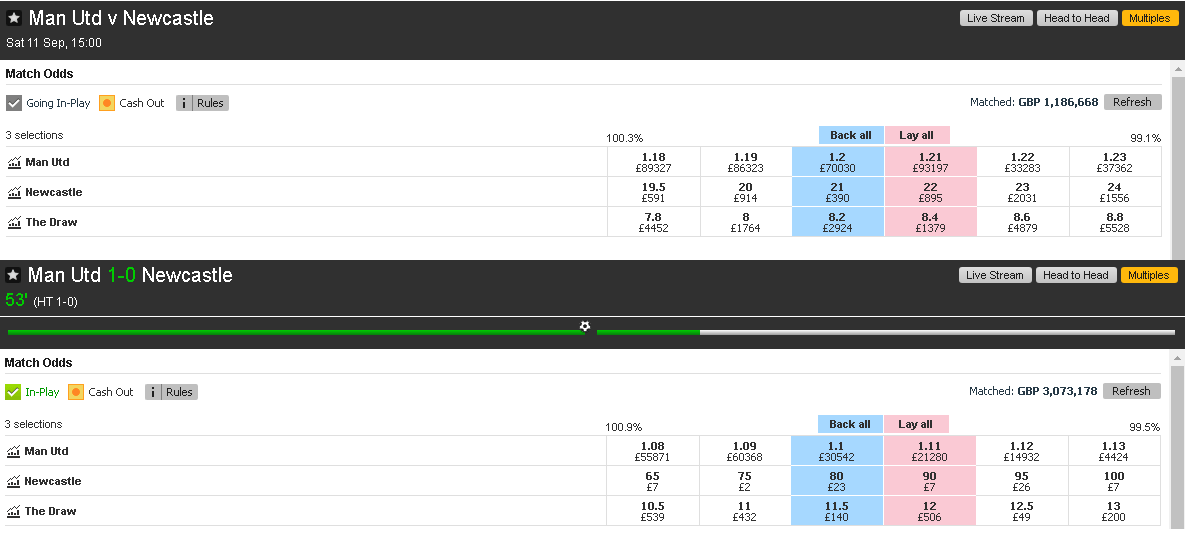 In a high profile English Premier League betting market there may typically be around $/€/£1K–100K showing on the exchange interface as available at the best price in the windrawwin match odds market, but should a user place an order for $/€/£ +100K it's all but guaranteed be filled. Individual bet's in excess of $/€/£500K have been made and filled on exchange markets.
This simply isn't possible on non-exchange venues, with limits of single figures, AFTER the decimal point often being placed on accounts (if you're one of their winning customers).
The volume graphs below are from an English Premier League match between Leeds United and Liverpool, displaying in the top charts the exchange market betting volume pre-match, and in the lower set of windrawwin match odds graphs the volume of bets and huge price moves during inplay trading and live score betting.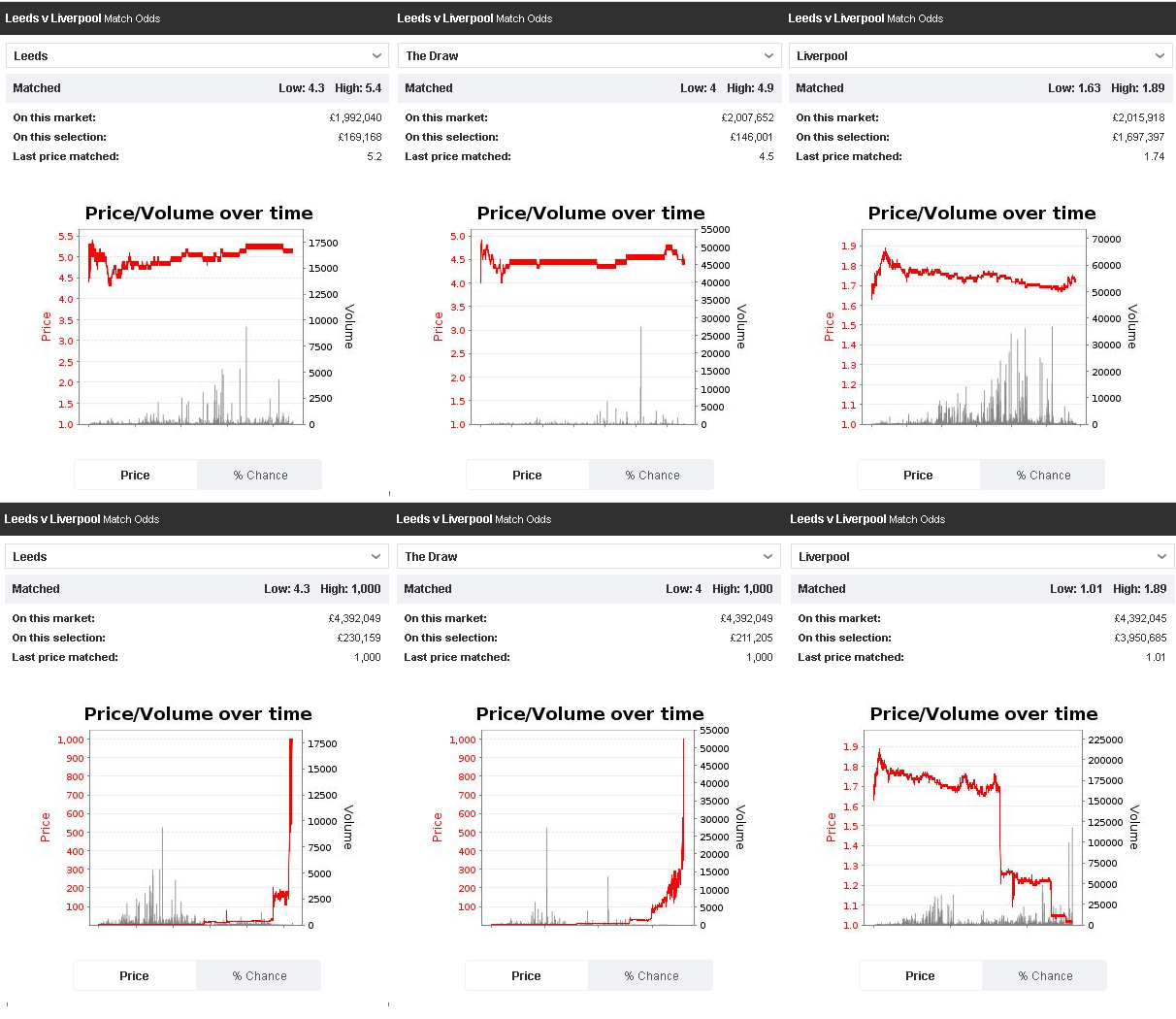 For a bet to be immediately matched on either the back or the lay side of the book, there must be a corresponding bet on the opposite side, in order to match the bet. Once a bet has been matched, those amounts are removed from the markets available liquidity and added to the markets traded volume.
Usually, UK & Irish horse racing online betting markets have around £500K-1M matched on the Betfair exchange when they turn to inplay trading, with 10%-20% more being added while inplay during live betting. Bigger racing meetings like Royal Ascot, Cheltenham and Goodwood generate market volumes right up to around 5 million and more, in some races.
A typical English Premier League game and some other top flight European matches in the 1X2 windrawwin betting markets volume is usually around £3M-7M by the final whistle, with most of the market volume coming from inplay trading and live score betting.
There is however significant volume on other markets, available to trade both pre-match and during live score betting and inplay trading.  The image below displays the Betfair Exchange full match view, again during a Man Utd vs Newcastle EPL match.  On the left of the panel, over under 2.5 and any other goal amount markets are displayed along with numerous other markets.
Correct score markets, both teams to score, goal lines, half time, and the Asian handicap markets are usually well traded both pre-match and during live score betting and inplay trading too.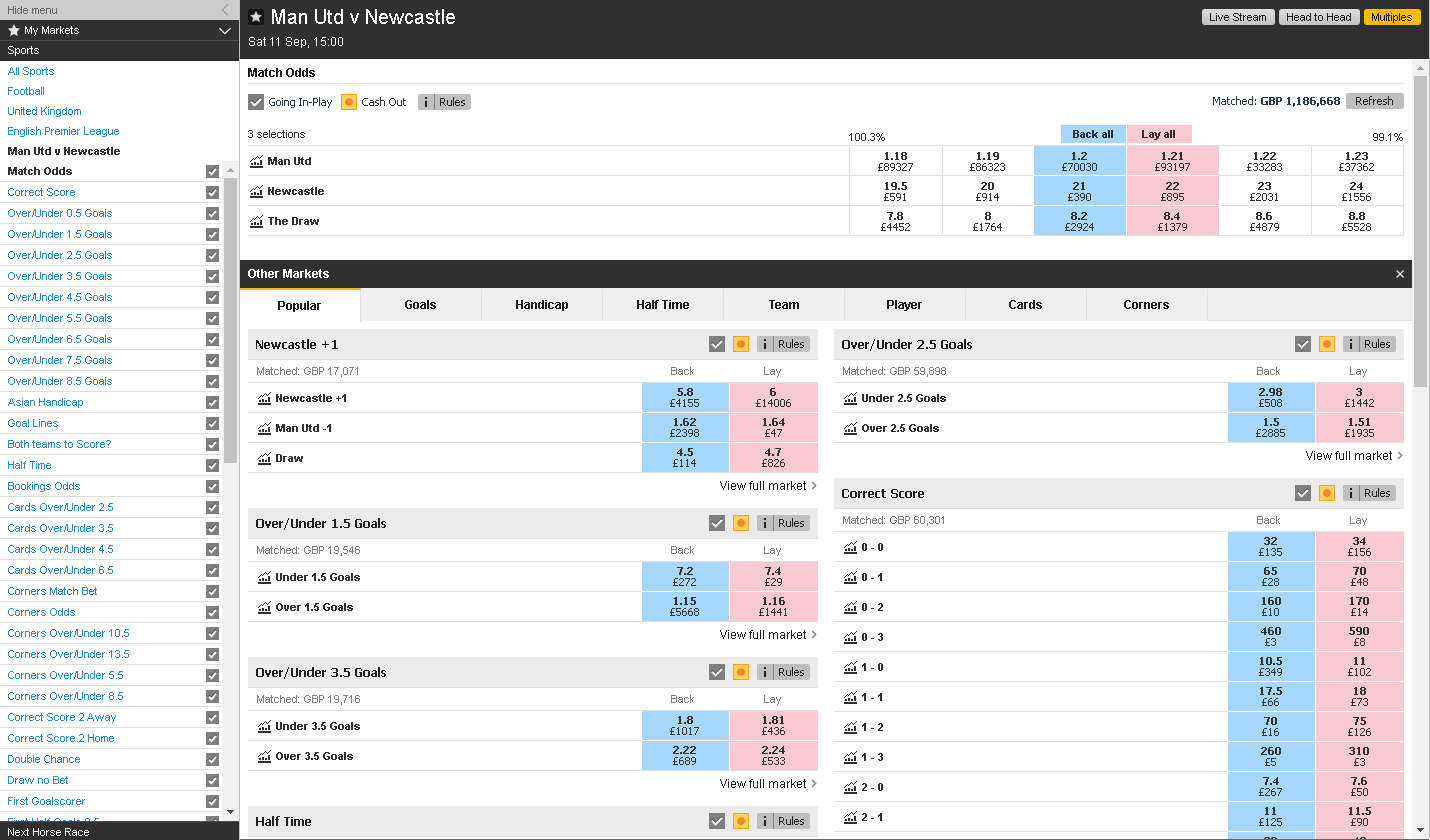 What Is a Sports Betting Exchange Commission?
Most sports betting exchanges charge a commission on winning bets returns.  A brief rundown on the top exchanges base rate commissions charged on winnings are as follows:
Betfair – 2% to 5%
BETDAQ – 2% – (0% on all sports betting markets, other than horse racing, greyhounds, football and cricket)
Matchbook – 2%
Smarkets – 2%
Promo codes are available for new players that offer a 0% commission for a set period, usually 30 days with most exchanges.  Also a package of additional offers including free bets is usually offered. For a more in depth look at exchanges commissions please check out our individual online betting exchange reviews and or our exchange bonus offer comparison page.
The actual commission charged may depend on a number of factors, including overall account winnings, player account reward tier selected, location of the actual event and location of the account.
Sports Betting Exchange and Bookmakers Cash Outs, the Key Differences?
While cash outs are available on both sports betting exchanges and bookies there are some key differences.
With the previously explained nature of overrounds on the aforementioned online betting venues markets, if the odds taken when the bet was initially placed were of a lower value than might have been available at an exchange, then odds when cashing out inplay are also likely to be worse, resulting in a poor value overround being applied to the bet twice.
While sports betting exchanges try to strictly follow live score inplay game data and events to suspend cash outs for any reason, such as a VAR, red card or a penalty decision in a football betting market. Some more unscrupulous online betting venues may suspend cash outs based on this live score betting inplay data, should it indicate that suspension of the market may help or protect their current liability or profit.
This is obviously not good for punters' live score bets and inplay trading, should they have been planning to cash out.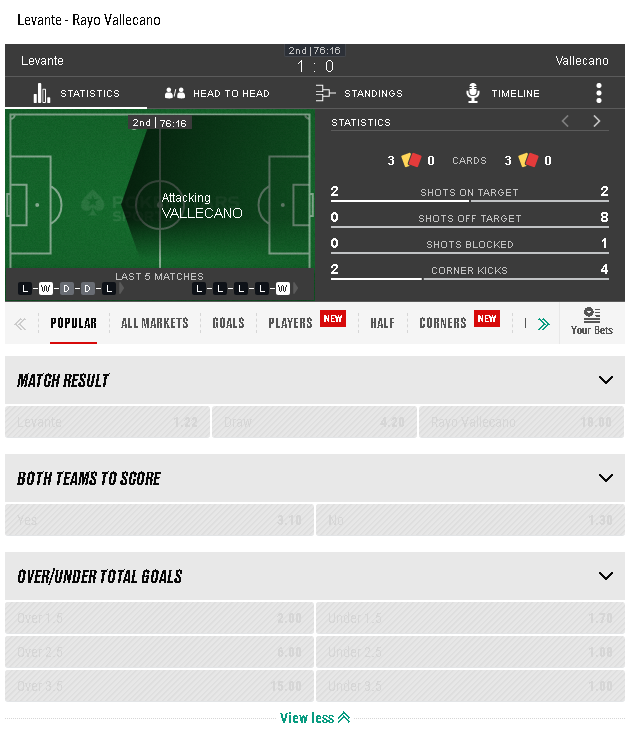 Bookies Multiples and Sports Betting Exchange Multiples, the Key Differences?
Multiples markets are only available on exchanges if they're listed and traded as individual markets. Due to the nature of the exchange trading system it's impossible for a sports betting exchange to offer customers the ability to pick and mix multiple bets.
The common bookmakers double, treble and ACCA bets aren't available at exchanges. Bet's like a Trixie, Yankee, Canadian, Heinz, Lucky 15, Lucky 31, Lucky 63, etc, cannot be offered on exchanges for the reasons explained in the following paragraph.
The betting exchange would need to create literally hundreds of thousands, possibly tens of millions of individually traded markets for some events. This would be required to enable them to cover all possible outcomes on markets and runners and also multiples across different events, which is what bookmakers allow players to do.
What bookies also allow is cash outs on ACCAs and other most types of other multiples at any point during the ACCAs duration, until it is settled as a win or loss. If a player had a 7-fold ACCA on the weekends football fixtures for instance, bookies will allow gamblers to cash out at any point throughout its duration.
Be that between games, or even when the selected fixtures are still inplay in most cases.
What Is Live Score Betting & Inplay Trading on a Sports Betting Exchange?
Inplay trading and live score betting on sports betting exchanges is becoming more and more popular as it offers one of the best ways to beat the house. Inplay trading can be done in a variety of different ways.
With football betting markets for example a player can watch the live event online or on TV, and use the live football statistics feeds available within online betting exchanges websites or elsewhere, to get a gauge on the game and place bets accordingly.
There are multiple websites available offering live score betting inplay statistics, and game data with a variety of different interfaces, and for a variety of different sports.  While live football game data is the most popular live game statistics for punters to follow, live sports stats are available for many other sports both on and off sports betting exchange websites, including:
Tennis, Cricket, Golf, Rugby
Formula 1, Formula E, Indycar
NFL American Football, NBA Basketball, MLB Baseball, NHL Ice Hockey, to name a few.
Some of these sites offer features such as alerts when a certain amount of shots have been reached, and unique indicators measuring each team's performance and a whole range of other live football statistics.
Pictured below is a popular live football score betting, Betfair Exchange market price, and football statistics scanner, InplayTrading.  IPT neatly delivers all football statistics in a single interface hooked up directly to associated markets on the Betfair Exchange, taking the user to that specific market with a single click.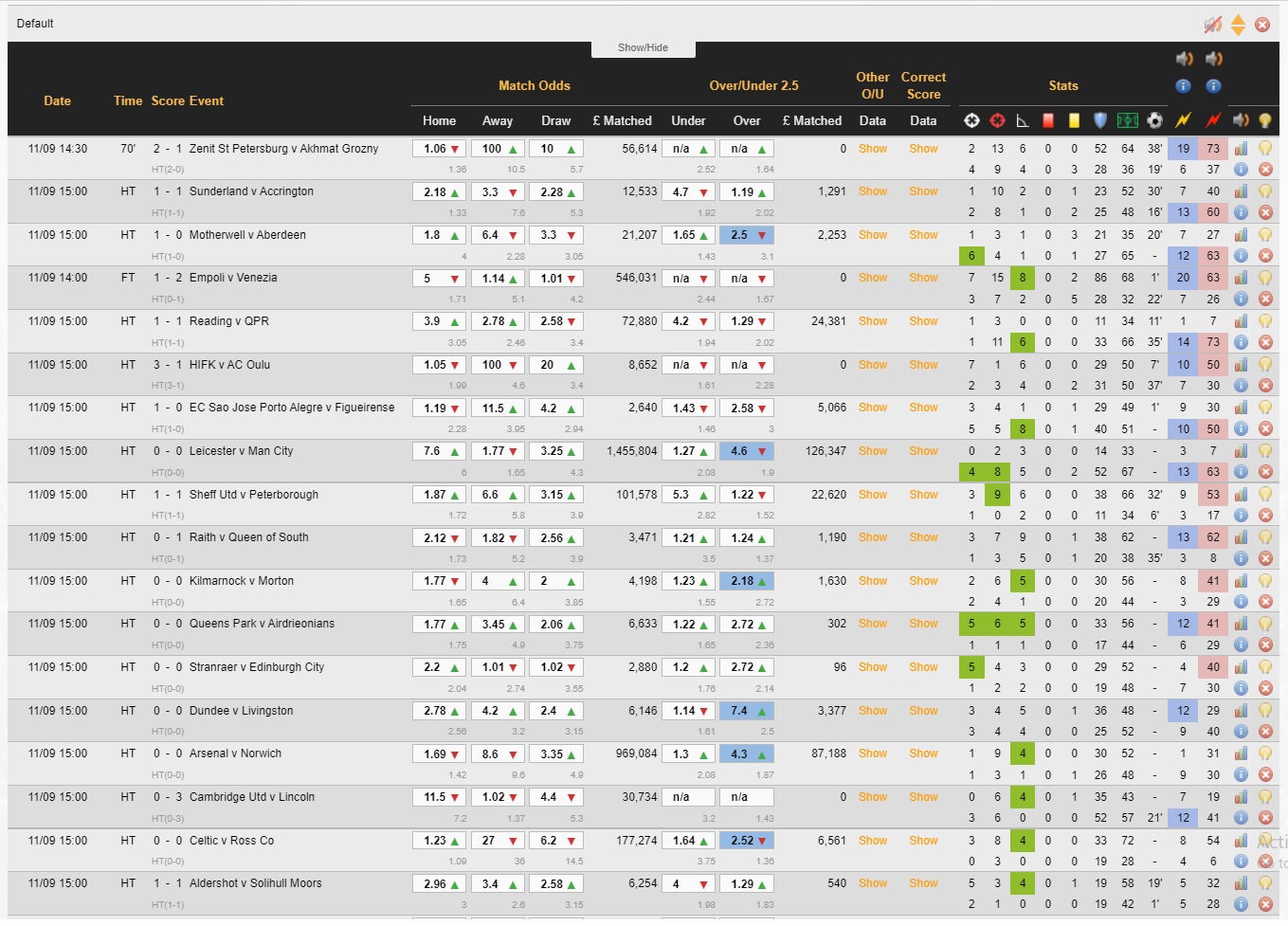 The main attraction to InplayTrading is the ability to filter the football betting markets to a given set of criteria, using the likes of shots on and off target, number of corners, red cards, dangerous attacks, the current score and game time and many other football statistical data attributes.
InplayTrading also have their own inhouse Pressure Indicators, PI1 and PI2, PI1 measuring shot intensity for a specific period and PI2 measuring dangerous attacks and corners.

For players wanting to stick with live score betting at the bookies, InplayTrading also has a bookies live football data scanner which can be configured much in the same way as the Betfair Exchange scanner.  The odds displayed are industry standard bookies prices on the windrawwin match odds market however, although goal lines are also available.
The bookies stats scanner contains a lot more games than those available at sports betting exchanges, almost all the exotic football betting markets found at bookmakers will be on the scanner.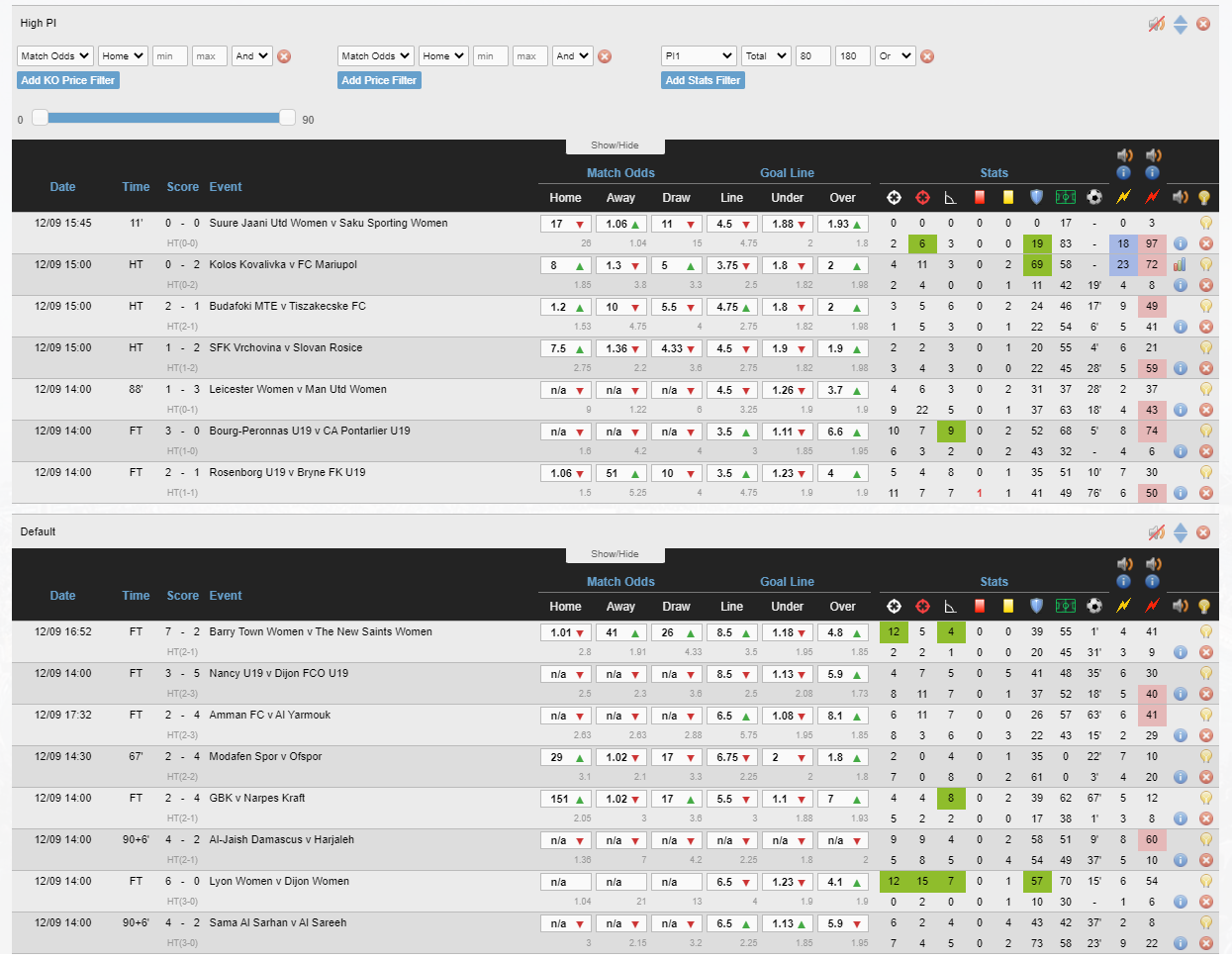 If this interests you, we have a full live score betting with inplay stats InplayTrading review to check out.  Even without on site live game statistics, inplay betting and trading is gaining more and more popularity in almost every sport that is broadcast online or via satellite, cable and TV as the delay in viewing is sometimes only a few seconds.
There are a number of other inplay football stats scanners available online, with InPlayGuru, and Statistics Sports proving very popular for inplay football betting on live matches.  These sites focus more on goal lines and the overs unders markets, and aim to generate inplay tips and predictions at a rapid pace.
While sites like Goal Profits and as we covered above, InplayTrading focusing more on inplay football trading with sports betting exchanges.  They're all very good sites for live football stats, with multi match heads up displays, and well worth checking out.  Most offer a free or heavily discounted first week.
The ability to both back and lay gives players the opportunity to get in and out of the market at any point during the event or game that they choose, and on any given outcome, be it win or lose. Inplay football trading and live football score betting is by far the most popular sport on betting exchanges, as it's widely broadcast with hundreds of events daily, and has historical and live statistics readily available.
Most live score betting statistics services also offer pre-match and inplay alert services, which provide alerts when a set pre-match or inplay stats criteria is met, sending out automated betting alerts via eMail, Telegram and other messaging services.  Some inplay stats scanners also have their own apps for mobile devices.
There are a multitude of services offering live sports statistics and historical sport and event data for football, horse racing and many other sports, check out or Sports Betting Services category for more details on some of these services.
Also inter-connectable to some of these services are betting bots, which will even go as far as to place a resulting bet triggered when the set alert criteria defined by the user has been met in specific games, events and markets.
Betting bots come in a variety of different forms and cover the Betfair Exchange, BETDAQ, and Matchbook exchanges for automated triggered betting.  To take a closer look at the various gambling bots available, look no further than our Betting Bots category.
One of the most popular football betting bots around is SoccerSupervisor 2, which hooks up directly to the InplayTrading live score betting statistics feed.  Take a look at our full SoccerSupervisor 2 review.
How Do Sports Betting Exchanges Offer the Ability to Trade the Market?
As sports betting exchanges have the ability to back and lay, or lay and then back, both pre-market and inplay on individual or multiple selections within markets. It is possible to open a position on a team, runner, etc and secure a guaranteed profit no matter what the eventual outcome.
So should any price shorten or drift, provided a back or lay position has been opened in the corresponding price direction it is possible to close this with a trade out bet or a hedge bet to secure a trade or guaranteed profit.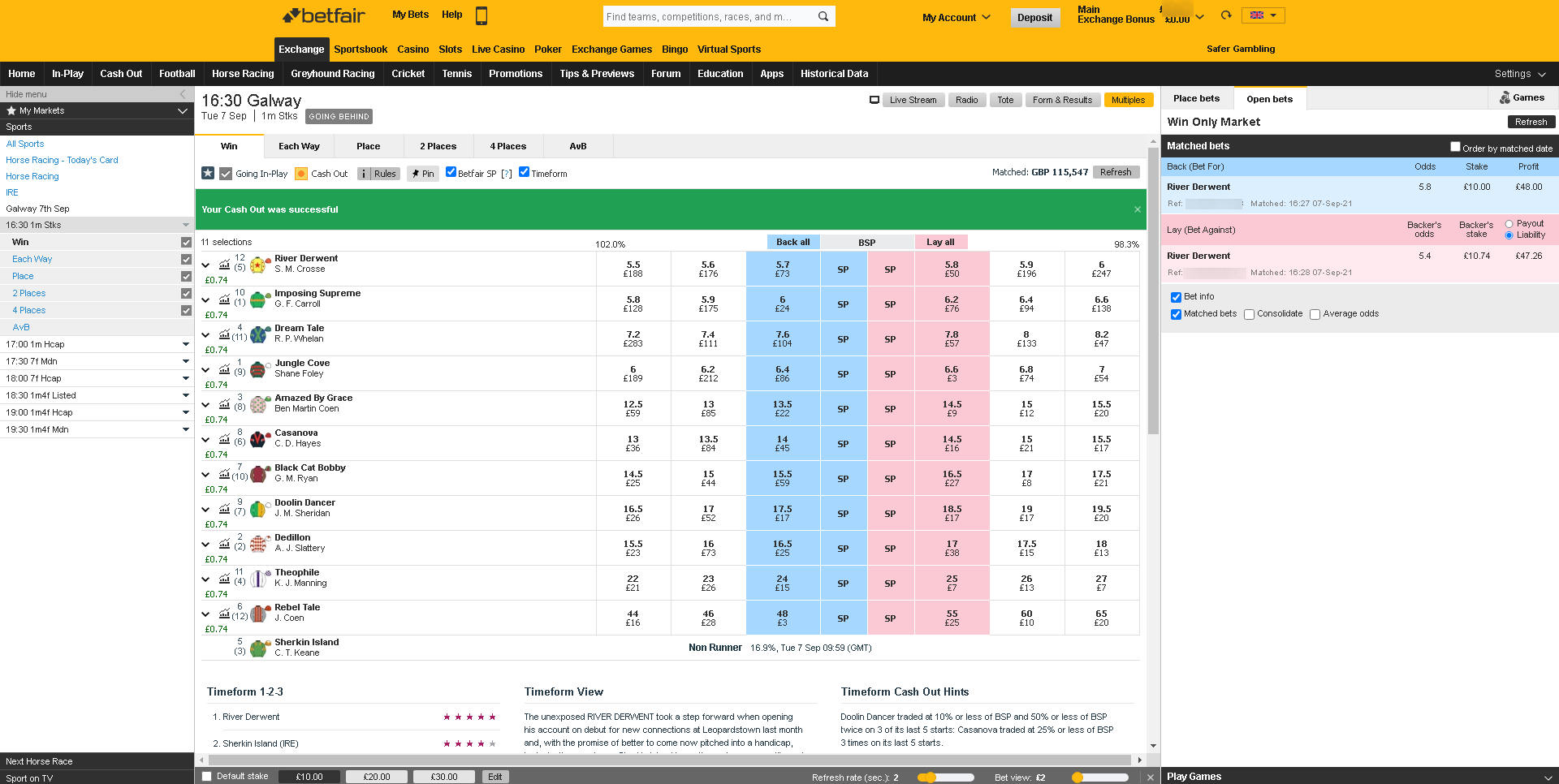 The exchange trading process can be repeated as many times as a player wants provided the market is open. It's possible to bet on multiple players, cash out on players that don't perform holding positions on those that do, and to cover multiple outcomes with differing amounts, or any other strategy a trader wishes to use.
With the huge selection of markets available for some events and the massive array of different events, competitions and sports for players to gamble on, the opportunities are limitless.
The most popular sports to trade on an online betting exchange are horse racing, football, cricket and tennis. They can all be traded both premarket and are open for inplay trading and live score betting. Depending on the sport there can be substantial moves in prices before the event even starts.
Horse race betting markets and greyhound betting are the two most common pre-market sports to trade, pre-market football trading has a substantial following too.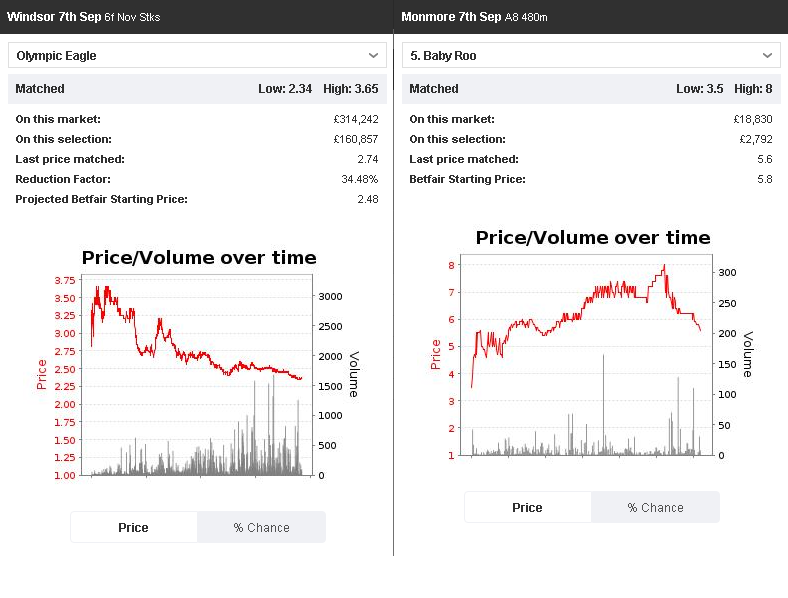 The picture above displaying the greyhound market and runner, Baby Roo, shows a price move from around 5.0 to 8.0 where a premarket bet and subsequent hedge could have been placed locking in a profit before the race even starts. As greyhound races are usually run from between 15 to 50 seconds they are not turned inplay and as such inplay trading is not available.
Events that have live betting inplay markets after the event starts can be traded inplay and bet on live, depending on what happens while the event is inplay there can be huge swings in prices for players to trade and profit from, with the use of back and lay bets or lay and back bets a profit can be locked in with a trade out or hedge bet regardless of the markets eventual outcome.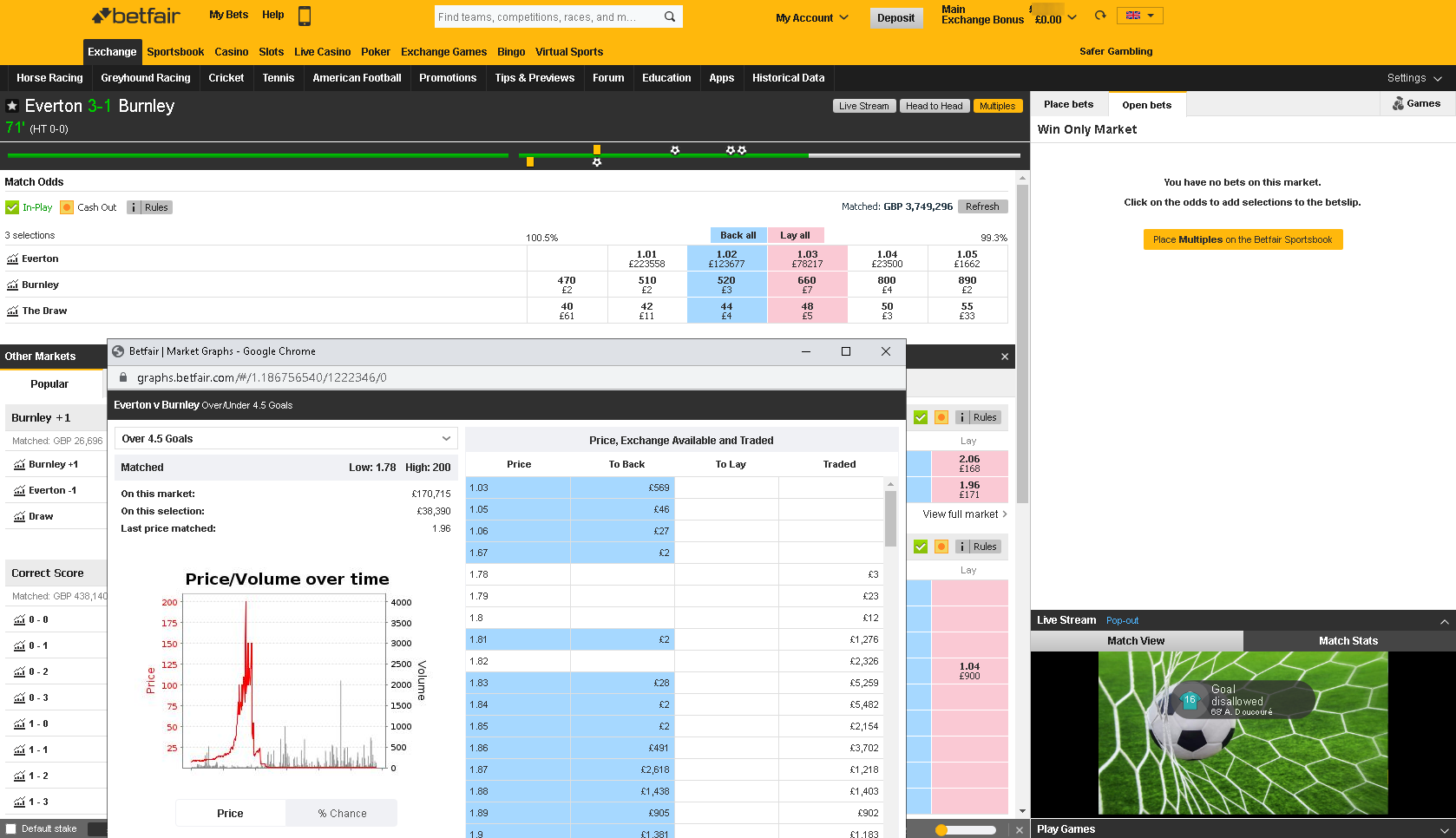 In the image above, the English Premier League match, Everton vs Burnley would have made for good live score betting. A hedge bet can be placed after a goal is scored, guaranteeing a profit no matter what the eventual outcome.
The price was right up to a massive 200 before coming into 1.78 after four goals, and almost closing out the 200 over 4.5 market had a goal not been disallowed in the 68′ minute. Although, it would have been an extremely good idea to hedge out for a very nice profit after just one, two, three or four of the goals!
Horse racing betting markets are very popular, in the image below a pre-race back bet has been placed with a subsequent lay bet before the race started, unfortunately the horses price went in the opposite direction intended of the pre-race trade.
Predicting price movements within these markets is an art form in itself, one strategy some traders may use is to monitor newspaper tipster and popular online tipsters picks for the day, as the prices are likely to shorten significantly while gamblers back the tips before the race turns inplay.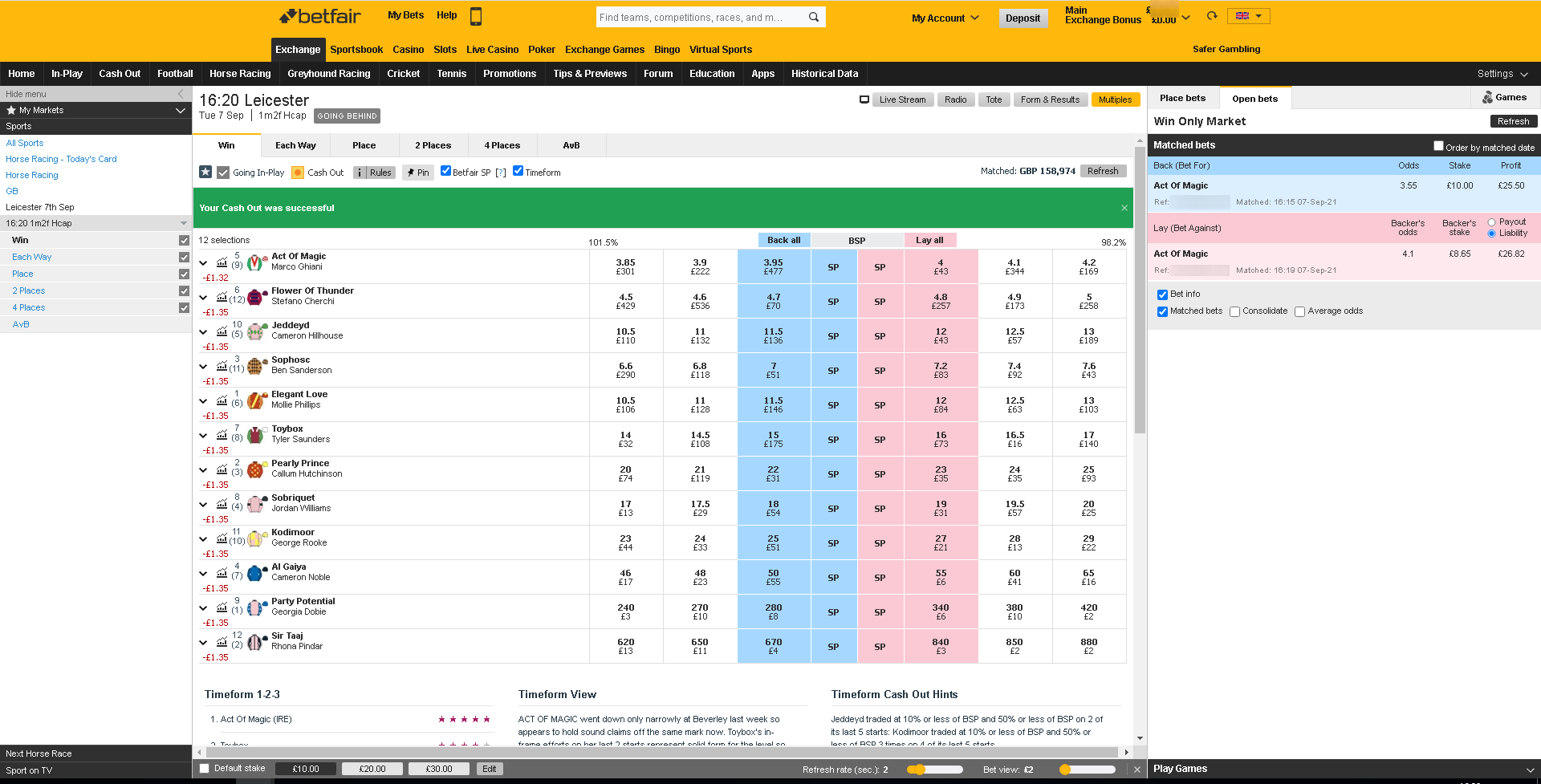 What Is Greening Up, Hedging, Taking Out the Red and Trading out?
Generally there are two ways to lock in a profit or remove any potential loss.  Sports betting traders call these greening up or hedging, trading out and taking out the red. This is because on sports betting exchanges profit is shown in green, and losses in red.
Alternatively if the trade is in a losing position, a sports betting trader may prefer to red out a position, this means closing the position for a loss.
Greening Up / Hedge Bet: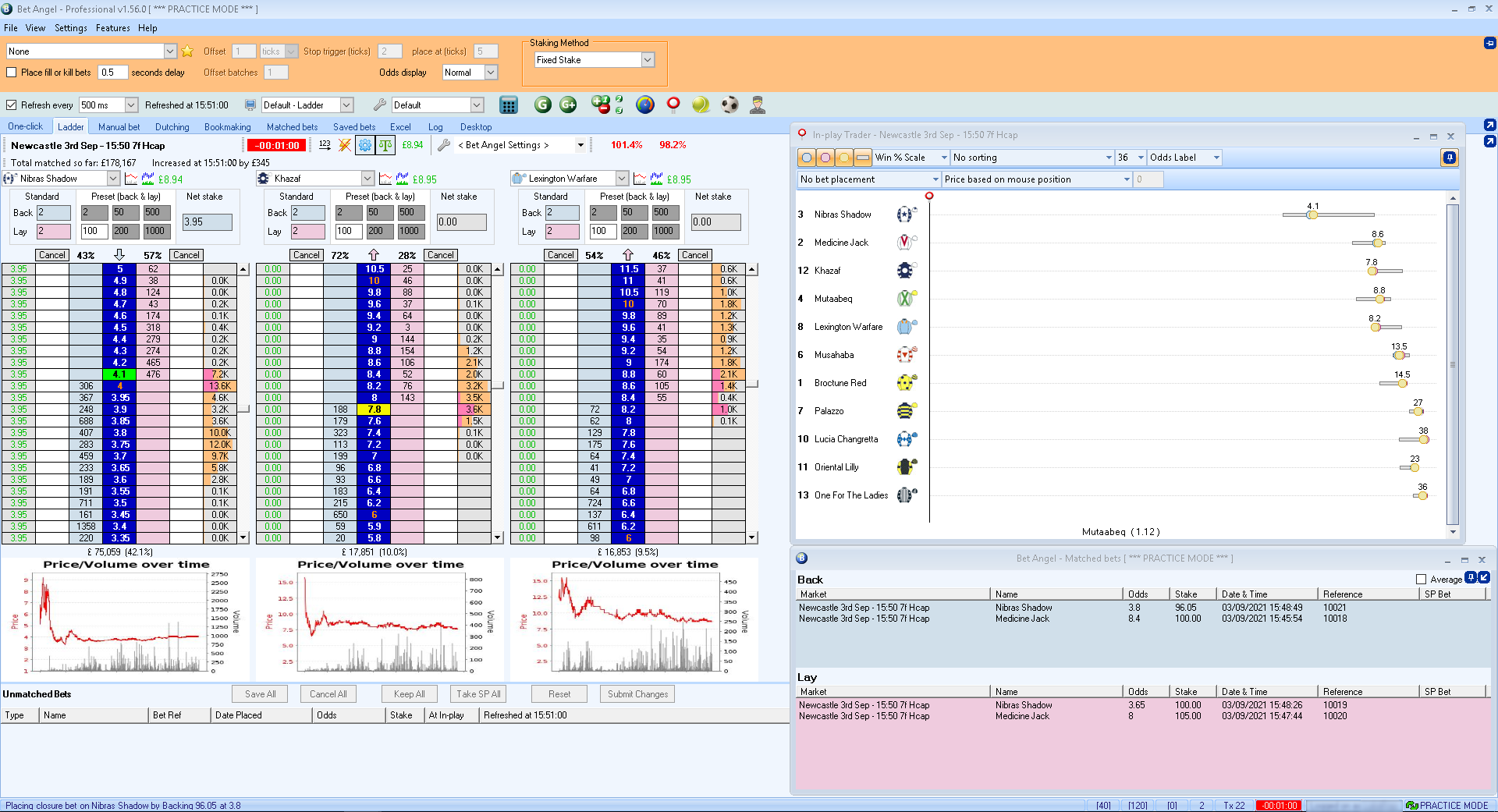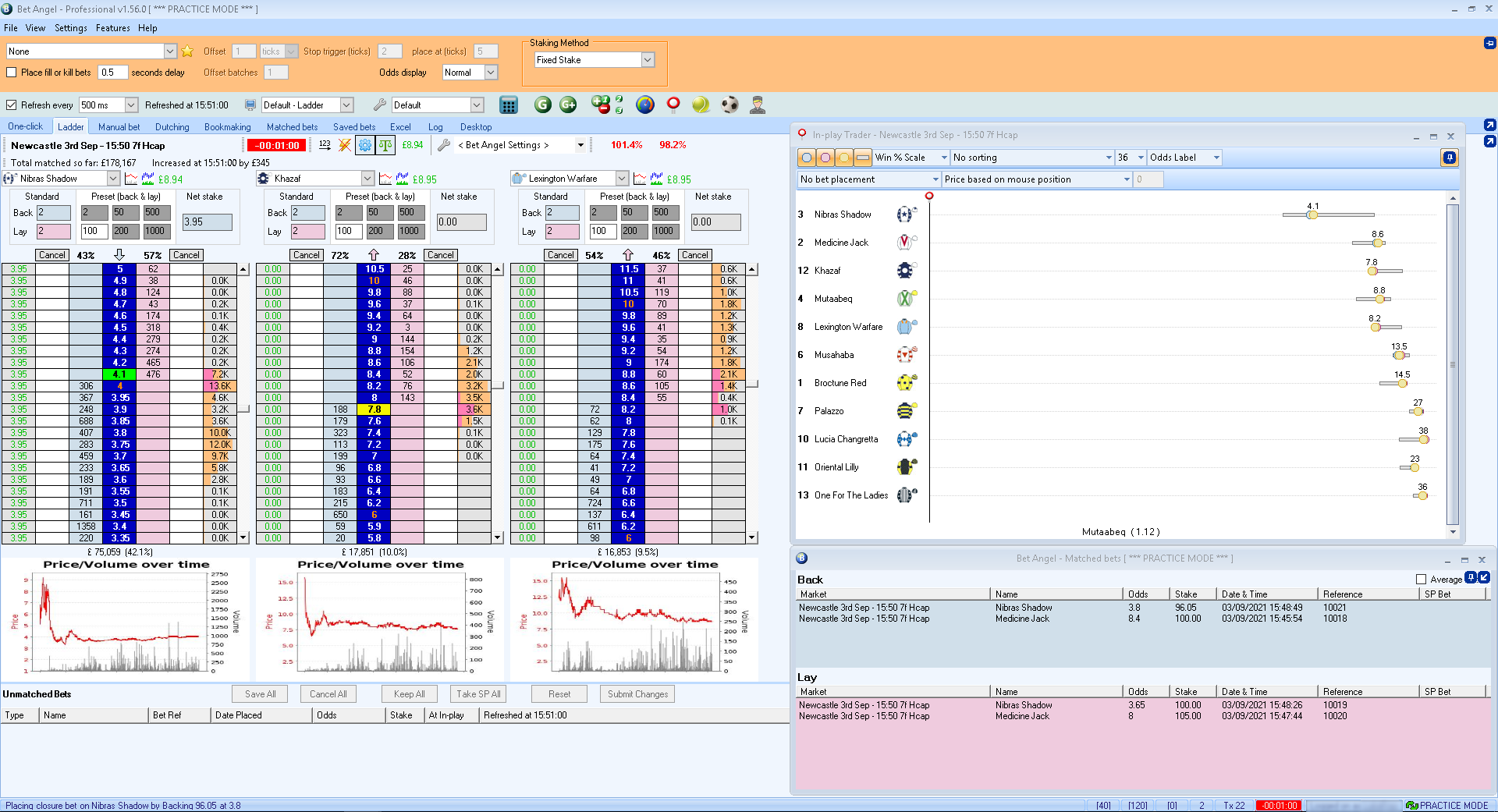 The Bet Angel sports betting app was used on the Betfair exchange to secure a profit on the trade no matter what the outcome. Two runners were backed, Nibras Shadow and Medicine Jack.  Hedge bets (lay bets) were then placed, securing a pre-race profit of £8.94.
Red taken out / Trade Out bet: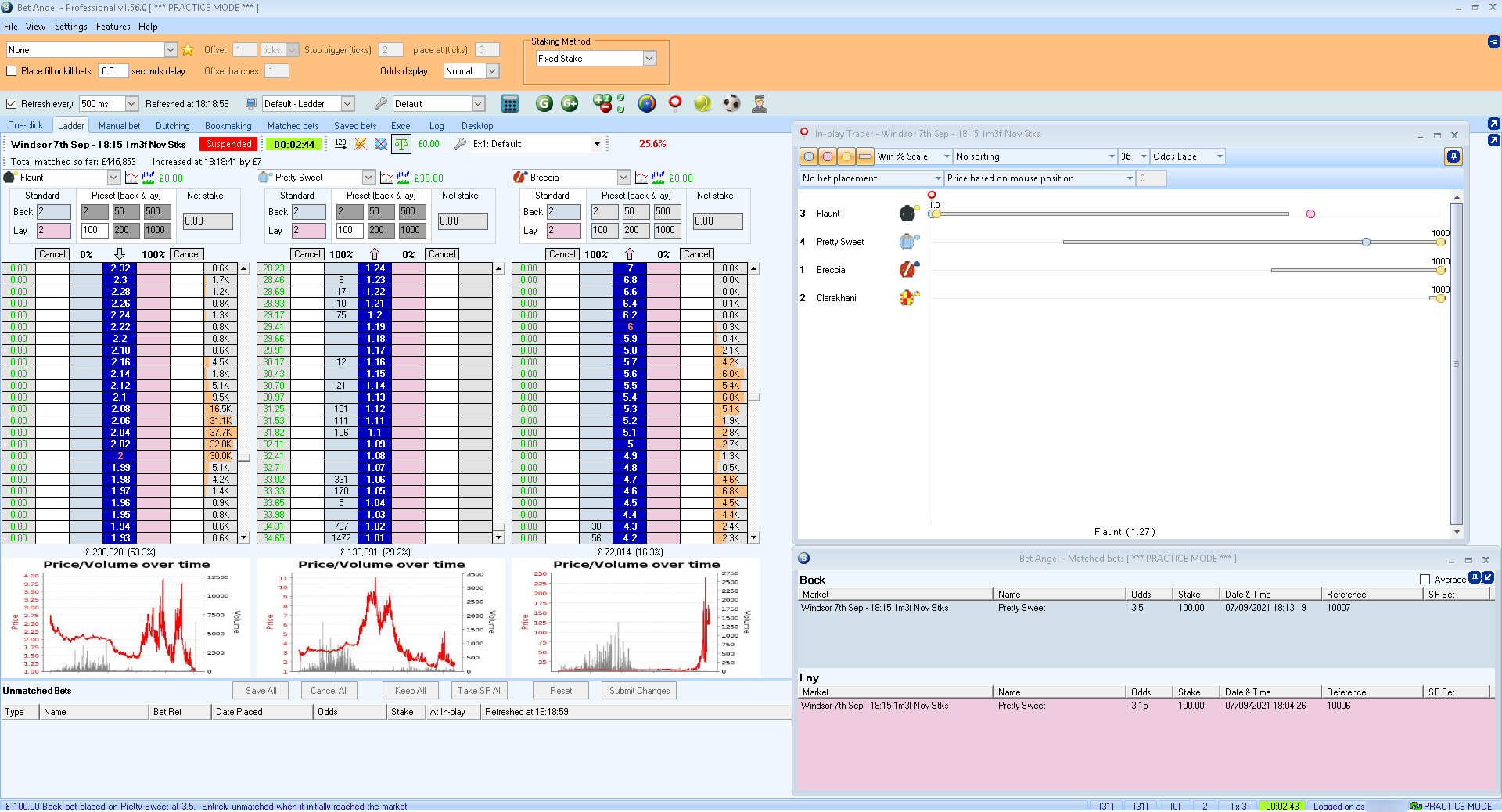 The Bet Angel trading software was used in this trade to take out any potential loss on the specific selection, but the outcome must still be in the traders favour to secure a profit. Pretty Sweet had a lay bet placed with a subsequent back bet, to lock in a risk free bet.
As you can see in the Price/Volume over time graph, Pretty Sweet very nearly won the race which would have resulted in a £35.00 risk free profit. The price in running came right into 1.25 which wasn't quite a win, but there was no loss due to the red being taken out with a trade out bet.
Red Out the Position / Close for a loss: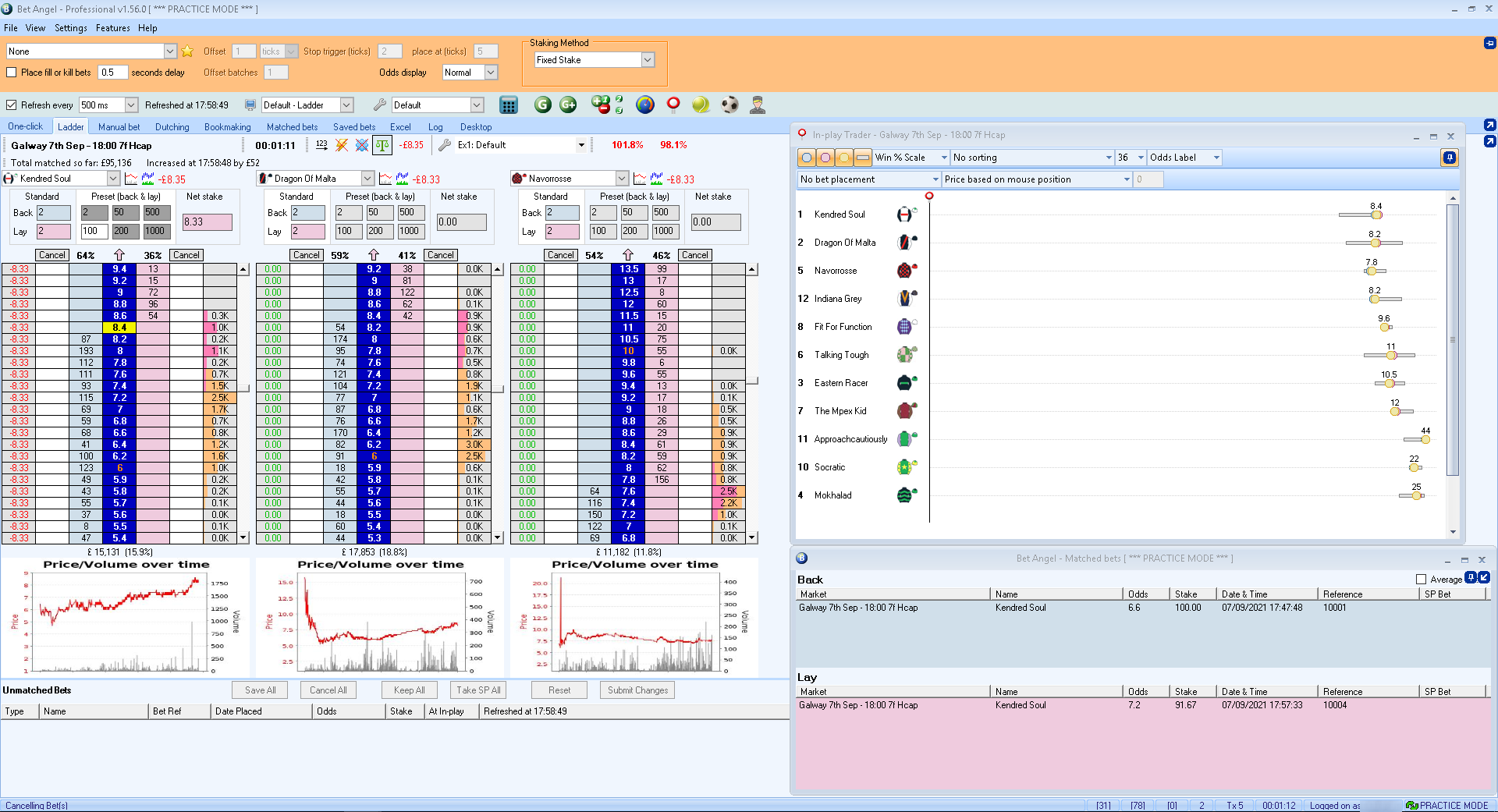 Unfortunately in the example above, when the Bet Angel sports exchange trading software was used, the runners price moved in the opposite direction intended.  The runner and market was closed for a loss with a lay bet before the race went inplay, limiting any further potential loss.
Depending on the event and number of runners, teams or selections sports traders may hold a number positions on multiple selections and use a combination of all of the above each with their own profit and loss depending on what the eventual outcome is. Or once a good profit is secured on some selections, gamblers may prefer to green up the entire market.
As pictured above, exchange trading software should be used in practice mode until traders feel comfortable with their strategy.
Sports traders generally use sports exchange trading software and online betting apps to achieve this, as the various exchange websites' own interfaces don't provide the necessary tools and features to successfully trade more complex markets efficiently.
There are some more details on the sports trading software available later on in this article, or you can check out the exchange trading software category.
Alternatively, sports betting exchange betting bots can be used to automate the process.  They lack the ability to carry out more complex reading of the market and trades however, but focus on quantity and automation rather than more in depth planning, reading, and trading of sports exchange markets.
A brief rundown on betting bots available to gamblers can be found in the following section of this article, or you can check the betting bots category for the finer details.
What Are Betting Bots on Sports Betting Exchanges?
A betting bot, short for robot, is a piece of sports betting app software designed to automatically place bets on exchanges following a given set of rules defined by the user. Football gambling bots and horse racing bots are the most common, although some bots can be configured to place bets on any market available with an online betting exchange.
The Betfair exchange has the widest selection of markets available for both pre-market and live score betting.
Only the Betfair exchange, BETDAQ and Matchbook have betting bots available, Smarkets API is still under development. A sports betting exchanges API, short for Application Programming Interface is a connection method bot software can use to directly interface, place bets, check balance, list markets, etc with the exchange without the need to login to the website directly.
Read on for more details on some of the betting bot reviews available on TheBetMatrix.Win
The Betfair exchange is the most widely supported, with most betting bots only supporting Windows operating systems. Some of the most popular betting bots and sports betting apps are:
BfBotManager – (Any market – Betfair, BETDAQ, Matchbook)
BettingDev – (Football betting bots, horse racing bots and a greyhound bot – Betfair)
TheBetEngine – (Horse racing bot – Betfair)
Excel Betting Bots – (Horse racing bot – Betfair / BETDAQ)
MarketFeeder Pro / Time Machine – (Horse racing bot – Betfair)
Betting bots will only function as well as certain aspects of an exchange's functionality. Liquidity, overrounds, API restrictions and any additional market and event data bots offer, play an important role in creating any successful betting bot strategy.
Check out our betting bot category page for more details, and take a look at the individual betting bot reviews for more precise information on what each bot has to offer. We also have a comparison [INNERLINK] page for a quick look at which bot may be most suitable for various markets, purposes, and to each individual gambler.
What Is Sports Betting Exchange Trading Software?
Betting exchanges websites & their in-house apps allow the placing of both back bets & lay bets, also cashing out, but their focus is on usability and as such they provide quite a simple betting interface.
This is fine for just placing the occasional back or lay bet, but when it comes to using betting exchange strategy and trading markets or placing more than a small number of bets, it's essential that betting exchange trading software is used.
Betting exchange software comes in a variety of shapes and sizes, all providing slightly different features. The software's available offer varying functionality with some much more advanced than others. Some are limited to only a single exchange, other betting bot developers have a version for each exchange.
More precise details of which are covered on our comparison [INNERLINK] page, each piece of trading software outlined below also has an individual in depth betting app review covering what makes their software unique for the user.
Most sports betting app software is Windows only and the Betfair exchange is by far the most popular.
Sports Exchange Trading Software – Windows Apps:
BetAngel – (Betfair, BETDAQ)
GeeksToy – (Betfair, BETDAQ, Matchbook)
FairBot / DaqBot – (Betfair, BETDAQ)
Advanced Cymatic Trader – (Betfair)
Sports Exchange Trading Software – Mac & Linux Apps (Windows App also available):
BetJetPro – (Betfair)
SmartProTrading – (Betfair)
Sports Exchange Trading Software – Android Mobile & Tablet Apps (Windows App also available):
As you can see there is a wide variety to choose from, please check our trading software category for the individual sports trading software reviews. Picking the correct software to suit your exact sports exchange gambling requirements is essential for successful sports trading and live score betting.
We've categorised online betting exchange apps into two categories, Trading Software and Exchange Software.
The trading software category contains fully functional trading apps with more advanced sports trading features fully implemented out of the box. Whereas the exchange software category contains a more basic ladder interface and is more suited to the attachment of excel trading sheets, or more basic betting exchange trading techniques.
All software supports the Betfair Exchange and we have betting app reviews covering all of the above in the trading software category, and a brief summary for the exchange software listed below in the exchange software category.
Exchange Software – Basic Ladder Interface (Windows):
Gruss – (Betfair, BETDAQ)
Cymatic – (Betfair)
Why Use Bookies / Bookmakers Over Betting Exchanges?
Bookmakers have a much wider reach geographically, than sports betting exchanges in terms of the countries they're available in. Exchanges are only officially licensed in a handful of countries, they do however offer their services elsewhere dependent on more localised rules and regulations.
For a list of which countries individual sports betting exchanges are supported, check out our guide here. [INNERLINK]
As mentioned earlier in the article, the main differences between bookies and a sports betting exchanges functionality is the ability to place lay bets, differing overrounds and worse odds, event liquidity and the opportunity to trade sports markets, either manually or using betting bots or algorithms triggered by hand.
If gamblers can deal with these differences and use bookies effectively without those features, then perhaps online betting exchanges aren't suited to them.
Another huge difference between the functionality of a bookmaker and a sports betting exchange is the availability of ACCA's and other multiples for the reasons mentioned in the multiples section earlier in the article.
The best multiple markets a punter will usually find on an exchange would be a double or possibly triples (in bigger races) including two or three specifically defined runners, and perhaps a predefined straight forecast and tricast.
For the same reason, some forecasts like reversed forecasts, combination forecasts, and tricasts which are common bets in horse racing betting markets are not available. Exchanges do offer place, each way, extra place and several other markets in most cases however.

ANTEPOST betting exchange markets don't form until much later than bookies prices are up and ready to accept bets. In most cases ANTE POST markets on sports betting exchanges don't form properly on the back and lay side of the book with the low overround figures online betting exchange users come to expect, until perhaps a month or so before the day to day horse racing betting markets form.
The same can be said for some other markets, most likely, more exotic markets. Bookies may be offering prices before a market has properly formed on a sports betting exchange, which gives punters the chance to spot good prices and get their bet on before the market reacts, and prices start dropping significantly. A lot of more exotic markets available with bookmakers don't get listed on exchanges.
There are oddschecker and arbitrage tools available for those wanting to pick out these opportunities, perhaps to back a team with a bookie and lay it off on a betting exchange at a lesser price to secure a risk free profit.
Oddschecker and arbitrage tools can however be used at any point during a betting exchange market's lifespan, be that pre-market or live score betting and inplay trading.  We have a sports betting services category with much more detail on this.
In almost every case however when events are due to start or shortly before turning inplay for live betting, the odds found on betting exchanges will almost always be significantly better than those found when gambling at a bookmakers.
The Betfair exchange usually has the most liquidity, most exchange betting markets, lowest overrounds and best prices available.  Check out the screenshot below from an odds comparison website.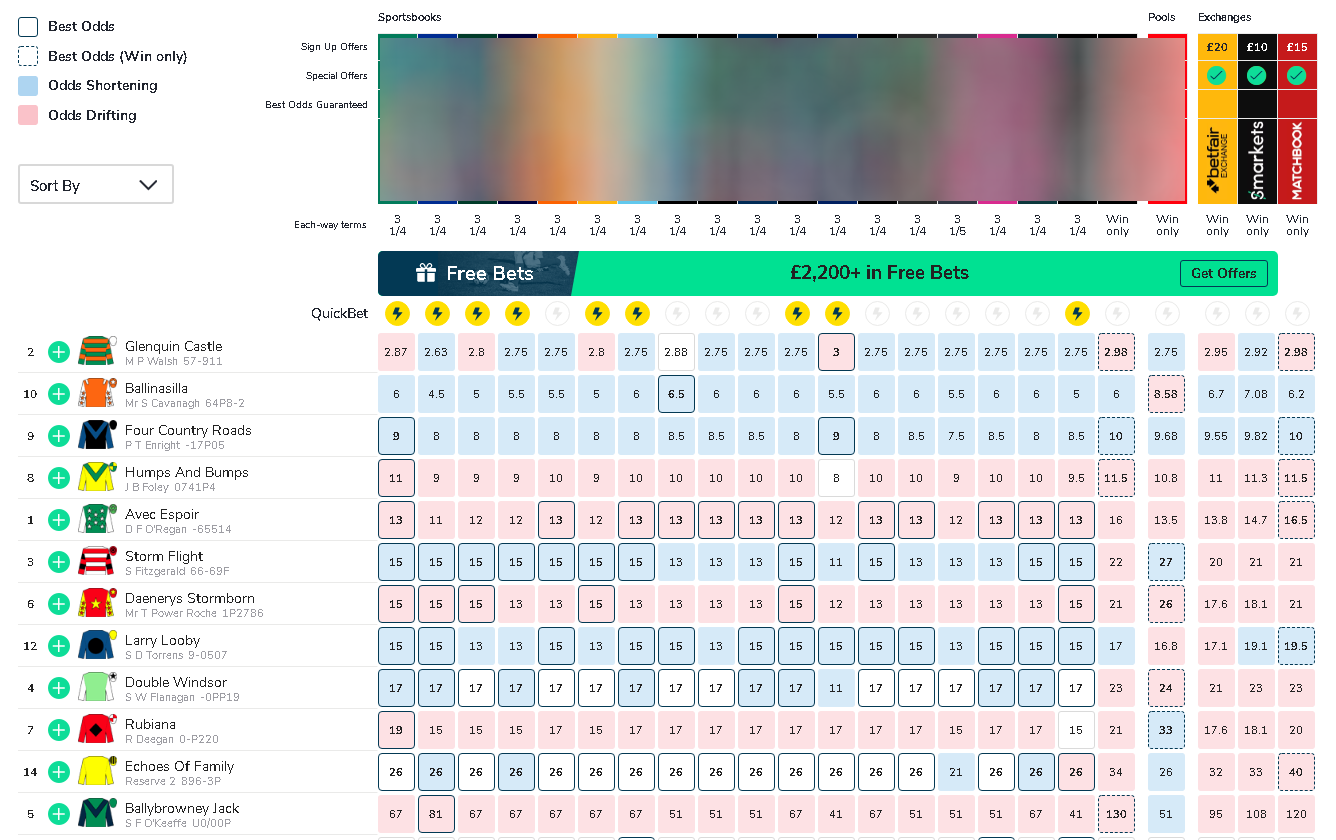 Why Choose Sports Betting Exchanges Over Bookmakers?
With the best odds available for sporting events online, using sports betting exchanges should be a simple choice for any punter to make. Coupled with the ability to bet on both the win and lose outcomes of events with back and lay betting, multiple other angles are opened for any serious gambler to take advantage of.
Additionally, the availability of specifically designed sports trading exchange software and online betting software, a vast array of betting bots to suit all purposes, no betting limits or account gubbing, and much easier inplay trading and live score betting, it really isn't a difficult choice to make.
Check out our sports betting exchange reviews in the betting exchanges category to find the best exchange to suit your needs, all come with special signup offers and new account bonuses, so even if you find betting exchanges aren't for you, there's still some great value to be had!
Check those links for the latest promotional sign up bonuses on offer, or our sports betting changes comparison table for a brief breakdown on the key differences between exchanges.
If better betting odds, higher bet limits, inplay trading, live score betting, automated betting bots, sports betting apps, no account gubbing, and the ability to trade sports markets is something you're interested in, there's no better time than now to make the move to online betting exchanges.
Did we mention the odds at betting exchanges can be 50% to 200% better than those found elsewhere?
In case you missed the last link, we have details of the various sports betting exchanges signup promotions here.  Or for a more in depth look and individual sports betting exchange reviews follow the links below:
Our sports betting exchange category articles are full of useful information, and you'll find more details on the apps and bots available for exchanges in the betting exchange apps and betting bots sections of TheBetMatrix.Win!
---
IMPORTANT NOTE: Don't forget to LIKE and FOLLOW us on the various social media channels we post updates on, also on our homepage we have a Newsletter Subscription form.  Like, Follow us & join the Newsletter to be sure you don't miss a thing!
Feel free to use the social sharing buttons included on this page, they're there for your use.
Thanks for visiting TheBetMatrix.Win – We've plenty more sports betting content, available at your convenience.
---
Frequently Asked Questions (FAQ):
What is a betting exchange?
Betting exchanges offer the ability to place both back & lay bets. A lay bet is a bet placed on the opposite outcome, that a horse will lose a race for instance. This creates a trading exchange which is not found at traditional bookmakers/sportsbooks.
What's the difference between bookies and betting exchanges?
The key difference between sportsbooks/bookmakers and a betting exchange, is the ability to place a lay bet along with conventional back bets. A lay bet is a bet for a selection to lose rather than win, while back bets are identical to traditional win bets.
What is a lay bet on betting exchanges?
A lay bet is the opposite of a traditional win/back bet. Lay bets are placed on selections to lose rather than win. While they can create a higher exposure, they form the backbone that betting exchange markets function with.
What is the Betfair Exchange?
The Betfair Exchange is a betting exchange, primarily focused on sports betting. Operated by Flutter Entertainment plc, it's the largest betting exchange in the world!
Are better odds available at betting exchanges?
As with the nature of betting exchanges and the trading markets they create, with the availability of both back and lay bets. Much better odds may be found, due to the low overround book % 's this creates.